RSNA Board of Directors Report
Providing education and tools to meet the needs of the 21st century radiologist
BY MARY C. MAHONEY, MD, RSNA BOARD CHAIR
October 01, 2019
---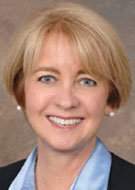 ---
The RSNA Board of Directors met in June to update the Strategic Plan and consider a number of initiatives aimed at developing the Society's offerings and positioning RSNA members for success in a changing health care environment.
RSNA Strategic Plan
The Board adopted a new five-year Strategic Plan outlining major goals and objectives for the organization. The four goals of the plan focus RSNA's efforts on leading innovation and providing our members with the necessary resources to remain at the forefront of radiologic science. Read the full Strategic Plan at RSNA.org/about/reports.
Expanding Education for All Radiologists
As we seek to expand radiology educational opportunities around the world in a meaningful way, RSNA introduces the Global Learning Centers (GLC) program. Over a three-year period, we will partner with a selected host institution to establish a GLC and improve its department through education, including hands-on training, virtual and onsite didactic lectures, conferences and other tactics. The program aims to create an effective, sustainable way to share knowledge and tools in countries with limited resources.
In addition to our growing family of Radiology journals, the RSNA Case Collection will launch in 2020 to provide a robust point-of-care solution for radiologists as well as a powerful education tool. An editor search is underway and radiologists will be invited to submit cases for consideration in the collection. To learn more and sign up to receive email updates, visit RSNA.org/Case-Collection.
Reaching all radiology professionals and helping them achieve their professional goals is important to us. The RSNA Committee on Diversity and Inclusion (CDI) has been working on initial recommendations and priorities for RSNA staff and volunteers. The CDI met in September to develop plans to raise RSNA members' awareness of diversity, equity and inclusion issues; identify educational gaps; and advise on RSNA policies regarding diversity and inclusion. Look for a report from CDI Chair Carolyn Meltzer, MD, in the November/December issue of RSNA News.
"Along with a commitment to innovation comes a level of responsibility for thoughtful exploration of the implications of adopting new technology."
Mary C. Mahoney, MD, RSNA Board Chair
Commitment to Innovation
A primary goal of RSNA's strategic plan is to advance innovation in radiologic science. To that end, the Board is moving forward on several initiatives. RSNA and the American College of Radiology (ACR) will launch a new medical 3D printing clinical data registry to collect 3D printing data at the point of clinical care. A joint RSNA-ACR committee will govern the registry intended to pilot this fall. The RSNA 3D Printing Special Interest Group (SIG) proposed the collaboration in order to collect data in support of the appropriate use and value of the technology in clinical decision making. To learn more about the 3D SIG activities, visit RSNA.org/Membership.
Along with a commitment to innovation comes a level of responsibility for thoughtful exploration of the implications of adopting new technology. RSNA has joined with a number of North American and European organizations in the Multisociety Statement on Ethics of AI in Radiology, which contends that ethical use of AI in radiology should promote well-being, minimize harm, and ensure transparency and accountability.
The Quantitative Imaging Biomarkers Alliance (QIBA) has been testing the feasibility of a certification program for conformance to the Small Lung Nodule QIBA profile. The program aligns with QIBA's goal to provide standardized, quantifiable markers that will ultimately improve patient care, and the Board approved funding to assist in publishing the findings of the pilot program. The funds will be matched by Accumetra.
Your RSNA leadership continues to seek inventive ways to provide you, as members, with valuable resources to advance your career and to keep radiology a leading-edge specialty in an ever-shifting health care climate. We welcome your insights into how RSNA can help you in your professional growth. We are looking forward to learning along with many of you at RSNA 2019, where we will convene to "See Possibilities Together."