The following are highlights from the current issues of RSNA's peer-reviewed journals.
Contrast-enhanced US of the Liver and Kidney: A Problem-solving Modality
Contrast-enhanced US (CEUS) has an important role as a supplement to CT or MRI in clinical practice, with the main established uses in the liver and the kidney.
The primary advantages of CEUS compared with contrast-enhanced CT or MRI relate to its superior contrast resolution, real-time continuous scanning, pure intravascular nature, portability and safety—especially in patients with renal impairment or CT or MRI contrast agent allergy.
In a study published in Radiology, Mostafa Atri, MD, Toronto General Hospital, Toronto, and colleagues focused on the use of CEUS in the liver and kidney. CEUS has been used in clinical practice for about 25 years and has become a routine adjunct to grayscale and color Doppler US for the detection and characterization of lesions. In the liver, CEUS may help characterize lesions that were indeterminate at other modalities, providing definitive diagnosis and more accurate staging in some instances.
In the kidney, it can help accurately differentiate solid from nonsolid nodules, provide highly accurate characterization of solid renal masses and improve Bosniak classification of cystic masses. CEUS has the highest contrast resolution of any clinical imaging modality. In routine clinical practice, a typical injection includes approximately 108 microbubbles, and the visualization of individual microbubbles is readily possible. Therefore, CEUS can depict a minute amount of flow, enabling differentiation of avascular debris from small hypovascular solid nodules in the complex cysts or detection of a very small volume of endoleak from an aortic endograft. As a result of this high contrast resolution, the negative predictive value of CEUS in excluding the presence of flow in a structure is close to 100%.
"CEUS should be considered a targeted cross-sectional imaging modality in any organ accessible with US when the presence of vascularity is indeterminate in a lesion with other modalities," the authors conclude.
Read the full article at RSNA.org/Radiology. Follow the Radiology editor on Twitter @RadiologyEditor.
Imaging Intracranial Aneurysms in the Endovascular Era: Surveillance and Posttreatment Follow-up
While most intracranial aneurysms (IAs) remain asymptomatic over a patient's lifetime, those that rupture can cause devastating outcomes. The increased usage and quality of neuroimaging has increased detection of unruptured IAs and driven an increase in surveillance and treatment of these lesions. IAs are increasingly treated with coil embolization instead of microsurgical clipping; more recently, flow diversion and intrasaccular flow disruption have further expanded the versatility and utility of endovascular IA treatment.
In an article published in RadioGraphics, Charlotte Chung, MD, PhD, Departments of Radiology and Imaging Sciences, Emory University School of Medicine in Atlanta, and colleagues reviewed the imaging techniques and reporting elements pertinent to IA evaluation and surveillance in the endovascular era, contemporary treatment modalities, and the expected and unexpected appearance of treated IAs at conventional imaging.
According to the authors, the International Subarachnoid Aneurysm Trial and the Barrow Ruptured Aneurysm Trial shifted treatment of ruptured IAs from microsurgical clipping toward endovascular coiling by demonstrating higher one-year probability of disability-free survival and lower mortality in the coiling group compared to the clipping group. While no prospective randomized evaluation of treatment modalities has been undertaken for unruptured IAs, the trend toward endovascular treatment of unruptured and ruptured IAs has continued. Recently published data highlight a change in clinical practice toward endovascular treatment in the U.S. from 2004 to 2014, with endovascular IA treatment increasing as a percentage of total IAs treated from 37% to 68% for ruptured IAs and from 52% to 73% for unruptured IAs.
"A working knowledge of early and late posttreatment complications as well as protocol recommendations for noninvasive evaluation for untreated and treated IAs are necessary to properly care for increasing numbers of these patients," the authors conclude
Read the full article and accompanying editorial at RSNA.org/RadioGraphics. The article is also available for CME at RSNA.org/Learning-Center. Follow the RadioGraphics editor on Twitter @RadG_Editor.

Deployed Deep Learning Kidney Segmentation for Polycystic Kidney Disease MRI
Autosomal dominant polycystic kidney disease (ADPKD) is the most common inherited renal disease, affecting 12.5 million people worldwide and comprising 5 to 10% of end-stage renal disease. Total kidney volume (TKV) indexed to patient height (htTKV) is an important imaging biomarker for assessing ADPKD severity. Imaging patients with ADPKD requires accurate, reproducible, kidney volume measurements for calculating htTKV. In patients at risk for rapid progression of cystic kidney disease based on age, creatinine level and htTKV, the drug tolvaptan can slow the rate of progression. The importance of htTKV for determining tolvaptan therapy eligibility and for following patients taking tolvaptan has resulted in increased demand for MRI measurements of TKV.
In a study published in Radiology: Artificial Intelligence Akshay Goel, MD, Weill Cornell Medicine, New York, and colleagues developed, validated and deployed deep learning for automated TKV measurement on T2-weighted MRI studies of ADPKD. The model performance on validation MRI studies demonstrated a Dice similarity coefficient greater than 0.97 and Bland-Altman mean percentage difference in TKV less than 3.6%. Prospective assessment in 53 patients showed a 51% reduction in radiologist time for model-assisted segmentation compared to segmenting without the model.
"Our deployed artificial intelligence pipeline accurately performs automated segmentation for TKV estimation of polycystic kidneys and reduces expert contouring time," the authors conclude.
To read the full article, go to RSNA.org/AI. Follow the Radiology: Artificial Intelligence editor on Twitter @Radiology_AI.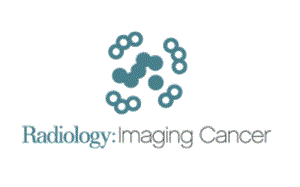 18F-Fluciclovine versus PSMA PET Imaging in Primary Tumor Detection during Initial Staging of High-Risk Prostate Cancer: A Systematic Review and Meta-Analysis
Prostate cancer is the most common noncutaneous cancer and second leading cause of cancer death in men in the U.S. About 15% of patients with prostate cancer present with high-risk disease, which has a high propensity for local or system recurrence despite optimal treatment. Fluroine 18 (18F)-fluciclovine and prostate-specific membrane antigen (PSMA) tracers are commonly used for localizing biochemical recurrence of prostate cancer, but their accuracy in primary tumor detection in the initial staging of high-risk prostate cancer has not been established.
In a study in Radiology: Imaging Cancer, Divya Yadav, MD, University of Texas MD Anderson Cancer Center, and colleagues conducted a systematic review of the electronic databases for original studies published between 2012 and 2020. They included those in which 18F-fluciclovine or PSMA PET was used for initial staging of patients with high-risk prostate cancer. They collected diagnostic performance data for primary tumor with histopathologic results as a reference standard. They used the Quality Assessment of Diagnostic Accuracy Studies–2 tool for quality appraisal and used a random-effects model to summarize the effect size and evaluate the difference between two groups. Overall, 28 studies met the eligibility criteria, and 17 were included in the meta-analysis. Of the 17 studies, 12 were judged to have a high risk of bias in one of the evaluated domains and nine studies were deemed to have applicability concerns.
"18F-fluciclovine and PSMA PET demonstrated no statistically significant difference in diagnostic accuracy in primary tumor detection during initial staging of high-risk prostate cancer," the authors conclude.
To read the full article, go to RSNA.org/Imaging Cancer. Follow the Radiology: Imaging Cancer editor on Twitter @RadIC_Editor.