Radiology in public focus
Press releases were sent to the medical news media for the following articles appearing in recent issues of RSNA Journals.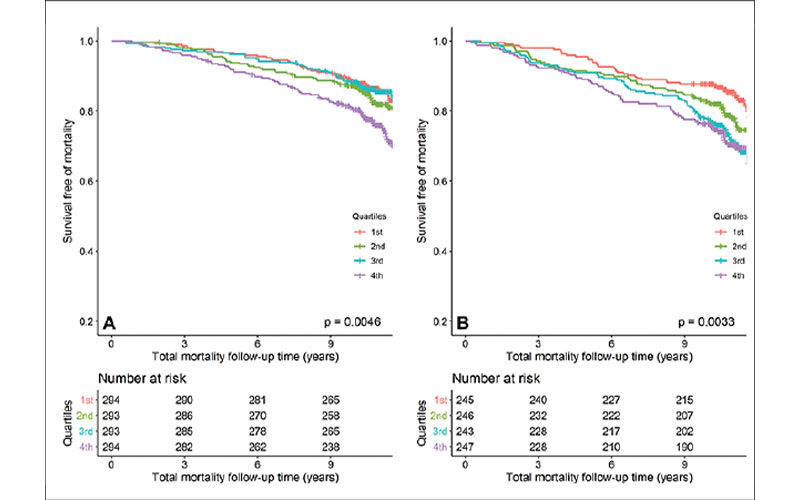 Increased Aortic Diameter Raises Risk of Heart Attack, Stroke
The diameter of the thoracic aorta is a biomarker for heart attacks and other adverse cardiovascular events, according to a new study published in Radiology.
The thoracic aorta grows as we age, but changes of vessel size and structure have a systemic nature involving hemodynamic and biological processes also linked to cardiovascular disease.
For the study, senior author Maryam Kavousi MD, PhD, from the University Medical Center Rotterdam in Rotterdam, the Netherlands, and colleagues assessed these associations in 2,178 participants from the population-based Rotterdam Study.
Participants underwent multi-detector CT scans between 2003 and 2006 and were followed for nine years, on average. Thoracic aorta diameters were indexed for body mass index (BMI). Larger BMI-indexed ascending and descending thoracic aortic diameters were significantly associated with increased risk of adverse cardiovascular outcomes like stroke and death. In women, greater ascending aortic diameter was associated with 33% higher cardiovascular mortality risk. Remodeling of the aging aorta seems to be different between women and men with faster deterioration in women.
The study findings suggest that cardiovascular risk assessment associated with thoracic aortic size among asymptomatic women and men could lead to effective, sex-specific prevention strategies.
"As the aortic diameter is significantly related to body size, use of aortic diameters indexed for body measurements could improve its prognostic value for cardiovascular outcomes," Dr. Kavousi said.
For More Information
Access the Radiology study, "Thoracic Aortic Diameter and Cardiovascular Events and Mortality among Women and Men," and the related Radiology editorial, "Sex-based Differences in Outcomes Related to Thoracic Aorta Dimensions."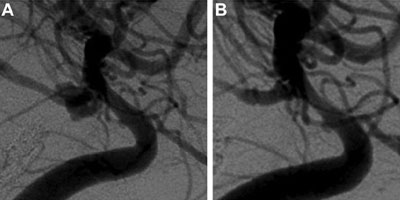 Novel Treatment Effective for Sidewall Brain Aneurysm
A novel mesh plug traditionally used to treat brain aneurysms occurring where the blood vessels branch out was found to be equally effective in treating aneurysms on the side of the vessel, according to a study in Radiology.
Aneurysms result from a weakness in the blood vessel wall typically where the vessel bifurcates. A common treatment involving the placement of tiny platinum coils into the aneurysm has limitations. A braided wire device known as the Woven EndoBridge (WEB) was developed to overcome those limitations.
For the study, Nimer Adeeb, MD,from the Department of Neurosurgery and Interventional Neuroradiology at Louisiana State University in Shreveport, LA, and colleagues compared the WEB device in bifurcation and sidewall aneurysms using a large database spanning more than 10 years from the WorldWide-WEB consortium, a group of 23 academic institutions in North America, South America, Australia and Europe.
Prior research on the WEB device's use in wide-necked sidewall aneurysms has been limited to studies with a small number of cases. A total of 683 intracranial aneurysms were treated using the WEB
device in 671 patients. Of those, 572 were bifurcation aneurysms, and 111 were sidewall aneurysms. Propensity score matching resulted in 91 bifurcation and sidewall aneurysms pairs.
"We found out that there is no significant difference using the WEB device in sidewall aneurysms compared with bifurcation aneurysms," Dr. Adeeb said. "The results show that the WEB device is safe and effective to use for sidewall aneurysms."
For More Information
Access the Radiology study, "Multicenter Study for the Treatment of Sidewall versus Bifurcation Intracranial Aneurysms with Use of Woven EndoBridge (WEB)."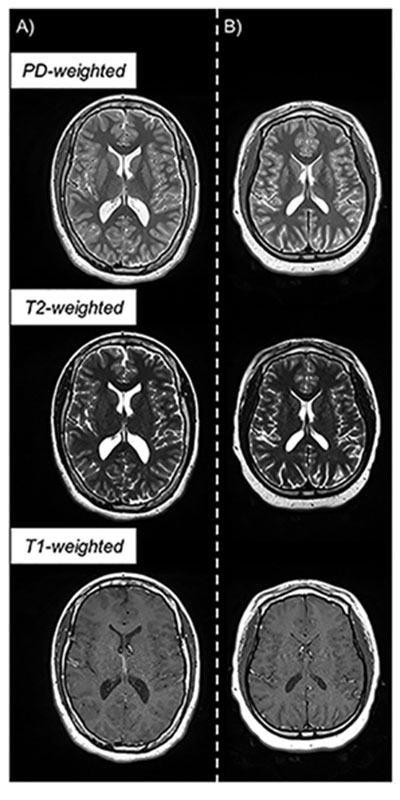 MRI Identifies Markers of Atypical Brain Development in Children Born Preterm
Premature babies who develop abnormalities like autism and cerebral palsy as teenagers have subtle differences in brain structure detectable on quantitative MRI (qMRI), according to a study in Radiology.
Twenty years ago, researchers launched a study known as the Extremely Low Gestational Age Newborn-Environmental Influences on Child Health Outcomes (ELGAN-ECHO) to better understand the effects of preterm birth.
For the new study, Hernán Jara, PhD, professor of radiology at Boston University School of Medicine. and colleagues used qMRI to assess the brains of adolescents who had been born extremely preterm. The researchers collected data from MRI scanners at 12 different centers on females and males, ages 14 to 16 years. They compared the qMRI results between atypically versus neurotypically developing adolescents. They also compared females to males.
Of the 368 adolescents in the study, 252 developed neurotypically while 116 had atypical development. The atypically developing participants had differences in brain structure visible on qMRI. For instance, there were subtle differences in white matter related to proton density that corresponded with less free water.
"This might be the tip of the iceberg since the amount of free water is highly regulated in the brain," Dr. Jara said. "The fact that this difference was observed more in females than males may also be related to the known comparative resilience of females as demonstrated in findings from earlier ELGAN-ECHO and other studies."
For More Information
Access the Radiology study, "Quantitative MRI Characterization of the Extremely Preterm Brain at Adolescence: Atypical vs Neurotypical Developmental Pathways."
Media Coverage of RSNA
In March, 997 RSNA-related news stories were tracked in the media. These stories had over 687 million audience impressions.
Coverage included Yahoo! News, U.S. News & World Report, Daily Mail (UK), MSN.com, UPI.com, Drugs.com, Kaiser Health News, ScienceDaily, Medscape, Radiology Today, Radiology Business, Medical News Today, AuntMinnie.com, Applied Radiology and Health Imaging News.
To view links to select RSNA-related news stories, visit RSNA.org/Media.
New Pediatric Content: Share RadiologyInfo.org With Your Patients
Visit
RadiologyInfo.org
, the public information website produced by RSNA and ACR, for easy-to-read patient information about Pediatric Cecostomy and Gastrostomy Tube procedures.