---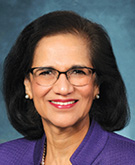 ---
R&E Board of Trustees Welcomes New Chair, Officers and Members
Vijay M. Rao, MD, is the chair of the RSNA R&E Foundation Board of Trustees (BOT).
An international authority on head and neck imaging, Dr. Rao is the David C. Levin Professor and Chair of Radiology at Sidney Kimmel Medical College of Thomas Jefferson University and senior vice president and chair of Enterprise Radiology and Imaging at Jefferson Health in Philadelphia.
Dr. Rao served on the Foundation's BOT 2008-2011 and 2016-2020. She is an active RSNA member, serving on the Board of Directors from 2011 to 2017 and as RSNA president in 2018.
Dr. Rao is a leader across organized radiology having served as president of the Association of Program Directors in Radiology (APDR), president of the American Society of Head and Neck Radiology (ASHNR), and president of the American Association for Women Radiologists (AAWR). She is a researcher, lecturer and author who has shared her expertise as an editorial board member of several radiology journals. Among her many awards, Dr. Rao received the APDR annual achievement award, the Association of University Radiologists (AUR) gold medal, and the AAWR Marie Sklodowska-Curie Award.
The BOT also welcomed new members, Lori L. Barr, MD, Austin, TX, and Marta E. Heilbrun, MD, Atlanta. Reginald F. Munden, MD, DMD, Winston- Salem, NC, was appointed treasurer. Ronald L. Arenson, MD, Mill Valley, CA, was reappointed secretary, and Trustee Michael J. Harsh, Wales, WI, was appointed to a second term.
Other BOT members include Stamatia V. Destounis, MD, Rochester, NY, Thomas M. Grist, MD, Madison, WI, Bonnie N. Joe, MD, PhD, San Francisco, Umar Mahmood, MD, PhD, Winchester, MA, Satoshi Minoshima, MD, PhD, Salt Lake City, and Mitchell D. Schnall, MD, PhD, Philadelphia.
The BOT direct the work of the R&E Foundation, which provides a critical source of support for investigators seeking to improve patient care through radiologic research and education. Since it began in 1984, the Foundation has awarded over $66 million to fund more than 1,600 grant projects.
R&E Foundation Grant Applications Open
Applications for 2021 R&E Foundation grants are being accepted.
Deadline: February 3
Opportunity for Diverse Medical Student Grant Applicants
The R&E Foundation invites medical students who identify as minorities underrepresented in medicine (UIM) to apply for grant funding through the RSNA Research Medical Student Diversity Grant.
Visit RSNA.org/Foundation to discover the available grants, learn how to apply and read about current and past funded projects. Questions about the grant submission process should be directed to Keshia Osley, at 1-630-571-7816 or kosley@rsna.org.