Overview
The William W. Olmsted Editorial Fellowship for Trainees is for residents and fellows in training interested in scholarly publication and editorial processes at medical journal offices.
As an Olmsted fellow, you'll learn about manuscript preparation and editing, peer review, journal production, printing and digital publishing. At the end of the fellowship, you'll complete a program evaluation and prepare a follow-up report on your experiences during and after the fellowship.
Application and deadline
Applications for the Olmsted Fellowship are closed and will reopen again in 2024.
Fellowship details
The fellowship lasts for approximately one week. During this time, the Olmsted fellow will:
Spend two days working with the editor of Radiology in New York City
Visit Phoenix to work with the editor of RadioGraphics for one day
Have a virtual visit with the editors of the RSNA subspecialty journals
Meet the RSNA publications department in Oak Brook, Illinois, and learn about the production process
Assist the editors and attend editorial meetings during the RSNA annual meeting in Chicago
Eligibility
To be eligible for the Olmsted Fellowship, you must:
Be an RSNA member
Still be in training (resident, fellow)
Have a record of publications in scientific and/or educational peer-reviewed journals
Each department or institution should nominate only a single candidate for the fellowship in any given year. Interested individuals should coordinate their application with their department's administration.
Award
One fellow is selected each year and is awarded a stipend of $3,000 to cover travel, lodging and expenses.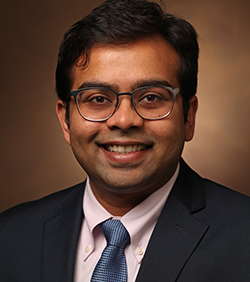 2022 Olmsted fellow
Dhairya A. Lakhani, MD, is the 2022 William W. Olmsted Trainee Editorial Fellow.
Dr. Lakhani is chief resident in the Department of Radiology at West Virginia University (WVU) in Morgantown. He received his medical degree from Sumandeep University in Gujarat, India, and later completed a postdoctoral fellowship and an internal medicine internship at Vanderbilt University in Nashville. Dr. Lakhani was also a visiting postdoctoral research fellow at Mayo Clinic in Jacksonville, FL.
Dr. Lakhani has received a variety of awards from RSNA and other organizations including Best Student Research and Academics from the Indian Medical Association. He is active with various WVU organizations including the institution's Graduate Medical Education Resident Forum. He serves as vice president of the West Virginia Radiological Society Resident Fellow Students group. Dr. Lakhani is a peer reviewer for RadioGraphics and several other imaging journals. He has authored or co-authored nearly 50 publications.
Contact us
For questions, please email editfellowships@rsna.org.
| | |
| --- | --- |
| 2021 Kaitlin Marie Marquis, MD | 2012 Mai-Lan Ho, MD |
| 2020 Anna Trofimova, MD, PhD | 2011 Tara Ann Morgan, MD |
| 2019 Matthew D. Alvin, MD | 2010 Amy M. Fowler, MD, PhD |
| 2018 Elizabeth George, MD | 2009 Samantha Lynn Heller, PhD, MD |
| 2017 David Ballard, MD | 2008 Dino P. Massoglia, MD, PhD |
| 2016 Karen Buch, MD | 2007 Christopher Whitlow, MD, PhD |
| 2015 Manisha Bahl, MD | 2006 Anu Bansal, MD |
| 2014 Andrew Degnan, MD | 2005 Joseph P. Erinjeri, MD, PhD |
| 2013 Sina Tavakoli, MD | |