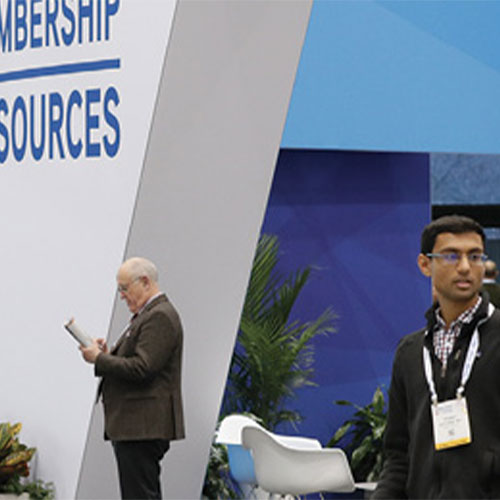 Use Career Connect to Find Jobs, Fellowship Positions
RSNA's online resource, Career Connect, makes it easy for residents and practicing radiologists to search for positions by specialty, location and institution.
There are more than 190 job listings currently available from nearly 100 employers. RSNA members can log in and conduct a personalized search by entering key words such as institution name, state or specialty. Read institutional profiles to find out if positions are available and access contact information. Career Connect also provides a print feature and save option that allows members to store search results for later viewing.
To access RSNA's Career Connect visit jobs.RSNA.org
If you have any questions, contact the RSNA customer service team at customerservice@rsna.org or 1-877-RSNA-MEM (1-877-776-2636) or 1-630-571-7873 outside the U.S. and Canada.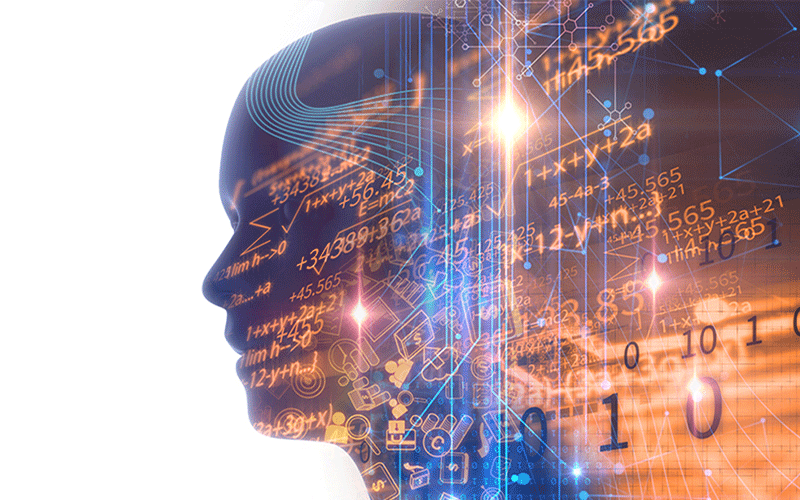 AI Challenges Planned for 2022 and beyond
The Prostate MRI AI Challenge is being planned in partnership with Society for Abdominal Imaging. This challenge will use multi-parametric magnetic resonance imaging (mpMRI) to develop AI algorithms that detect and classify prostate lesions.
The Spine Challenge series is being planned in partnership with the American Society of Neuroradiology. The initial challenge will use cervical CT to develop models that identify cervical fractures. The subsequent challenge will use lumbar MRI to develop models to classify degenerative disk disease.
The Breast Imaging Challenge series is being planned in partnership with the Royal College of Radiologist (RCR) and University of Nottingham. The initial challenge will use mammography screening images to build models to classify potential breast lesions. The subsequent challenge will focus on classifying lesions found through Digital Breast Tomosynthesis studies.
Learn more about current and past AI Challenges at
RSNA.org/AI-Challenge.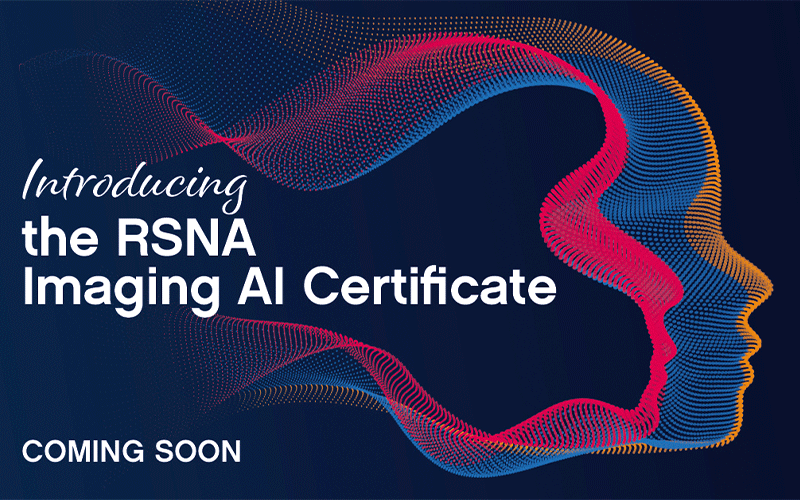 RSNA Announces New Imaging AI Certificate
To help radiologists understand artificial intelligence (AI) and to adopt it into clinical practice, RSNA has developed its Imaging AI Certificate program to deliver a pathway for radiologists, including those who don't consider themselves technologically savvy, to understand and learn how to apply AI to their practices.
Launching in 2022, the RSNA Imaging AI Certificate program offers a convenient online curriculum designed to help radiologists understand how to integrate AI into their practice, especially in terms of diagnostic radiology and workflow efficiency.
This radiologist-centered program will incorporate cased-based modules to demonstrate making diagnostic decisions and using AI to help balance workload. Radiologists won't just "watch" how AI is integrated into a clinical setting. They will practice using AI algorithms in realistic and interactive ways designed to demonstrate how AI is relevant to their current clinical practice.
Following course completion, participants will receive an RSNA Imaging AI Certificate that recognizes their ability to understand AI algorithm development and to illustrate issues with AI algorithms within clinical practice.
RSNA will offer continued education to help participants refresh their skills, including additional coursework and a pathway toward additional certificates.
Visit RSNA.org/AI-Certificate to learn more and follow updates about the program and registration.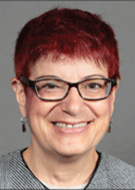 Meltzer To Receive Academy Gold Medal
Carolyn C. Meltzer, MD, will receive the Academy for Radiology & Biomedical Imaging Research (Academy) 2021 Academy Gold Medal. The Academy Gold Medal is awarded for extraordinary contributions in advocacy and advancing the cause of radiology research. She is the William P. Timmie Professor and chair of the Department of Radiology and Imaging Sciences, executive associate dean of faculty academic advancement, leadership and inclusion and chief diversity officer at Emory University School of Medicine, Atlanta.
Dr. Meltzer is a former Academy president. She is currently the RSNA Board of Directors Liaison for Science. She is a former chair of RSNA's Quantitative Imaging Biomarkers Alliance (QIBA) task force and of the Research Development Committee.
Dr. Meltzer is also a past president of the American Society of Neuroradiology. Dr. Meltzer has held numerous national leadership roles and served on professional and advisory boards, including the advisory council for the National Institute for Biomedical Imaging and Bioengineering, the ACR board of chancellors, the Association of University Radiologists Board of Directors, and the International Society of Strategic Studies in Radiology Executive Committee.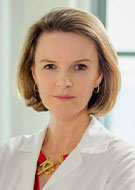 McGinty Appointed Senior Associate Dean at Weill Cornell Medicine
Geraldine McGinty, MD, MBA, has been appointed senior associate dean for clinical affairs at Weill Cornell Medicine, New York. She will remain an associate professor of clinical radiology at Weill Cornell Medicine and the chief strategy officer and chief contracting officer of the Weill Cornell Medicine Physician Organization. In her new role, Dr. McGinty will provide strategic counsel and work on the institution's clinical enterprise.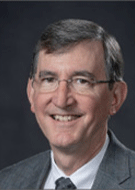 Brink Named Chair at Brigham and Women's Hospital
James A. Brink, MD, has been appointed chair of the Department of Radiology at Brigham and Women's Hospitals, Boston. He will also serve as Massachusetts General Brigham chief of enterprise radiology. Dr. Brink will retain his role as radiologist-in-chief at Massachusetts General Hospital. Dr. Brink is an RSNA 2021 plenary lecturer on radiology's role in value-based health care. He is a member of the RSNA Public Information Advisors Network and a RadioGraphics manuscript reviewer.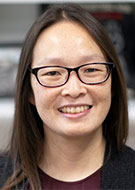 Tao Named Chief of Pediatric Radiology at Washington University
Ting Y. Tao, MD, PhD, has been named chief of the Pediatric Radiology Section of the Department of Radiology at Washington University School of Medicine, St. Louis. She will also be the radiologist-in-chief at St. Louis Children's Hospital.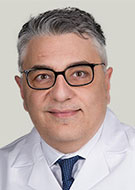 Oto named Dean at UChicago Medicine
Aytekin Oto, MD, has been named chief physician of the University of Chicago Medicine Physicians, dean for clinical affairs at the University of Chicago and head of the faculty practice plan. Dr. Oto will retain his current position as chair of the Department of Radiology.
RSNA/AAPM Physics Modules Review
RSNA thanks the following institutions whose volunteers dedicated time to assist in updating 10 RSNA/AAPM Physics Modules. The RSNA/AAPM Physics Modules are self-guided online education modules that explore important physics concepts. They are designed to help supplement physics education during radiology residency and assist with continued self-study for radiologists worldwide. On an annual basis a select group of modules undergo peer review to ensure they remain aligned with current best practices and standards. Visit RSNA.org/Education/Trainee-Resources/Physics-Modules to access the updated modules
CT Image Quality and Protocols
Mayo Clinic
Joel G. Fletcher, MD
Lifeng Yu, PhD
Estimating Cancer Risk from Imaging Procedures
Mercy Catholic Medical Center
John Babu, PhD
Aparna Srinivasa Babu, MD, MRCS
Oleg M. Teytelboym, MD
Image Quality and Dose in Radiography
West County Radiology Group/Children's Mercy Kansas City
Mohammed Aljallad, PhD, DABR, DABSNM
Grace Mitchell, MD, MBA
Zachary Hill, MD
MRI: Gadolinium-based Contrast Agents
Medical College of Georgia at Augusta University
Thomas Estes Jr., MD, DABR
Anobel Maghsoodpour, PhD, DABR, MRSE
MRI: Instrumentation
Mayo Clinic Florida
Chen Lin, PhD
Daniel Wessell, MD, PhD
Ali Agely, MD
Jonathan P. Lam, MD
Shengzhen Tao, PhD
MRI: Special Acquisition Methods
University of Kentucky
Peter Hardy, PhD, DABMP, ABMRS
Rashmi Nair, MBBS, MD, MRMD
Anders Andersen, PhD
Mauro M. Hanaoka, MD
Flavius Raslau, MD
Radiation Dose and Safety in Interventional Radiology
Thomas Jefferson University
Robert Adamo, MD
Jaydev Dave, PhD, DABR, MS
Patrick E. Hann, MHP
Lukas M. Trunz, MD
Radiographic Image Receptors
Baylor College of Medicine/Stanford University
Stewart Bushong, ScD
Kevin Yuqi Wang, MD
Nikita Consul, MD
Radioisotopes and Radiopharmaceuticals for Nuclear Medicine
Louisiana State University
Kenneth L. Matthews II, PhD, DABR
Aran Toshav, MD, DABR
John-Paul Grenier, MD
Stephen J. Lokitz, PhD
SPECT/SPECT-CT/Image Quality
Emory University School of Medicine
Erin Grady, MD, CCD, FACNM
Jonathon Nye, PhD
James Galt, PhD
Gbenga Shogbesan, MD, FWACS