About the RSNA GLC program
Over a three-year period, a team of RSNA members works with an institution to develop a customized learning plan including a curriculum with in-person, hands-on training, didactic lectures (virtual and in person), conferences, online courses and other education offerings. Equipment and technical assistance are also provided.
Since the program's introduction in 2019, RSNA has established four GLC sites, in South Africa, Tanzania, Ecuador and Indonesia.
Continue below to learn about our current GLC sites and find out how to become a host institution, team member or volunteer. Plus, be sure to check out the achievements of our
recently completed GLC program in South Africa
.
Current RSNA GLC locations
Become a GLC host institution
RSNA will consider partnering with host institutions from countries classified as low- to middle-income by the World Bank.
Institutional hosting requirements
Past host institutions from the International Visiting Professor Program in eligible countries are strongly encouraged to apply.
Upon selection, the GLC will be responsible for local coordination during site visits. The GLC may be asked to provide IT and procurement services.
GLC program participants will be required to become RSNA members.
To be considered as a GLC, applicant institutions must:
Be a university or hospital
Be located in eligible countries (classified as low- to middle-income by the World Bank)
Demonstrate a need for radiology education and resources
Have an established radiology department (defined as staffed with at least one radiologist)
Have a designated team lead who will serve as a primary contact with English fluency
GLC host application
Submit an application to become the next GLC host institution! Host applications are accepted on a rolling basis.
Become a GLC volunteer
A team of up to four RSNA volunteers will be selected from our pool of applicants to match the needs of the GLCs that need staffing:
Teams consist of:
A program director
Visiting faculty
These volunteer faculty will collaborate with onsite radiologists to design a learning plan customized to the needs of the GLC using RSNA's educational resources. Faculty will execute the learning plan with lectures, hands‐on training and point‐of‐care opportunities. Education will be both virtual and in person at the GLC.
Faculty applications are accepted on a rolling basis. Applicants will be matched with a GLC program based on whether their area of subspecialty aligns with GLC needs. Faculty are selected in December for new programs beginning the following year. New faculty are selected for existing GLCs in spring (April/May).
View the faculty requirements below and apply today!
Apply for a faculty position
Volunteer requirements
To be considered for an RSNA GLC visiting faculty position, applicants must:
Be an RSNA member in good standing
Be an expert in his or her field/subspecialty
Have a minimum of three to five years of teaching experience
Have experience working in low- and middle‐income countries and/or current RSNA outreach programs
The GLC program director will be expected to serve for three years, while supporting team members may apply for 18-month terms. Please inform us if you would like to be considered for the program director role, visiting faculty role or both.
RSNA's GLC programs leave a lasting legacy
We proudly celebrate the outstanding achievements of our first Global Learning Center.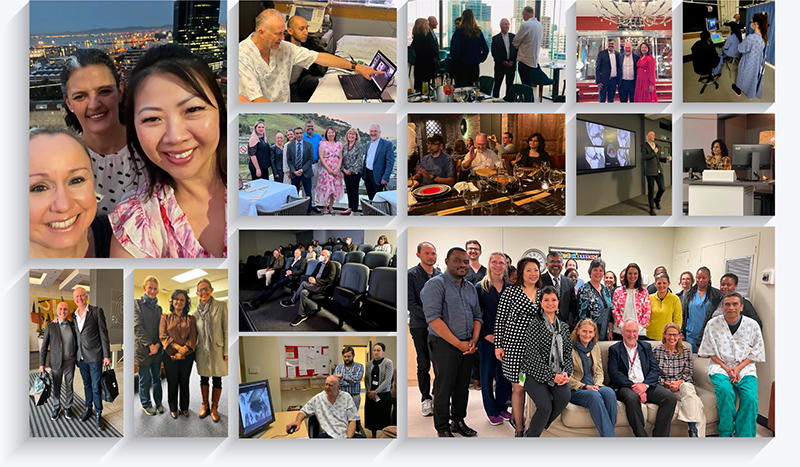 Stellenbosch University/Tygerberg Hospital
July 2020 – June 2023
Focused on musculoskeletal and cardiothoracic imaging

The inaugural RSNA GLC site launched in South Africa under the leadership of four RSNA volunteer radiologists and four members of the GLC's radiology department.

Despite challenges posed by the COVID-19 pandemic, the team pivoted and rapidly developed a customized curriculum for cardiothoracic and musculoskeletal imaging, starting with online education and progressing to in-person teaching. This effort resulted in strengthened relationships, improved insight into local needs and a more impactful curriculum.

The team also made technologic upgrades, enabling a smart classroom and the use of an app for remote control of an ultrasound probe—a valuable tool for teaching musculoskeletal imaging techniques.

Although the program has ended, colleagues spanning two continents continue to stay in contact and develop their skills by maintaining their online educational activities.
Inside Stellenbosch
Read more in RSNA News
Become a volunteer
Interested in getting involved with RSNA's GLC program, but unable to commit to long-term work?

Add your name to our GLC volunteer list! If a short-term opportunity arises that matches your area of expertise, we will contact you.
Sign up for volunteer opportunities