Closing the Breast Cancer Screening Gap for Uninsured Patients
Radiologists can use community outreach tactics to help increase awareness and encourage mammograms
BY MARY HENDERSON
October 04, 2023
---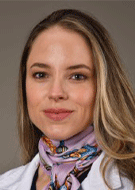 ---
In concert with the RadioGraphics monograph, RSNA News shares the latest in breast cancer research, intervention and patient education.
Breast imagers know better than anyone the value of screening mammography. After its implementation in the late 1980s, mortality from breast cancer decreased by 41%. But one group consistently falls through the cracks when it comes to accessing the screening exam: uninsured women.
In her RadioGraphics article, "Community Outreach in Breast Imaging: What Radiologists Can Do to Close the Gap for the Uninsured Population," Claudia Cotes, MD, identified strategies radiologists can deploy to increase screening mammography utilization among women disproportionally affected by a lack of insurance coverage.
Her research is based in part on her experience as a breast imager at The Rose, a nonprofit breast health care organization in Houston that provides access to screening, diagnostics and treatment services to any woman regardless of her ability to pay.
"I saw how neglected the uninsured population was and how these patients struggled following a diagnosis," said Dr. Cotes, who is also an assistant professor of radiology and chief of breast imaging at UTHealth Houston. "Too often we saw patients late in their breast cancer journey when treatment options are few."
"As breast imagers, we know the power of screening mammography to decrease breast cancer mortality. It's tough to realize there are women who deserve this technology but don't have access to it."
CLAUDIA COTES, MD
Looking at the Stats
According to Dr. Cotes, there are little available data on uninsured women and detail and granularity are often lacking, limiting outcomes analyses.
"There's even a disparity in research on this patient population. They've been neglected by all of us," she said. "We need to talk about and be fully aware of these patients. If we don't know who they are, we won't be able to target them."
In her article, Dr. Cotes detailed the population in terms of race, ethnicity, geographic location, income level and health literacy. Although insurance rates increased across all races in 2022, Black, Hispanic, American Indian/Alaska Native (AIAN), and Native Hawaiian/other Pacific Islander women were disproportionately affected by a lack of insurance compared to white and Asian women.
Uninsured rates for these groups ranged from 9.6% to 18%, compared to 5.7% and 5.8% for white and Asian women, respectively. Low-income women have lower rates of mammography utilization compared to higher-income counterparts, even after controlling for race, ethnicity and insurance status.
Other factors that negatively affect breast cancer screening access include being older or belonging to a racial or ethnic minority.
Compounding the lack of access to mammography are worse outcome rates for specific groups based on tumor biology. Black, AIAN and Hispanic women are more likely to die from breast cancer than white women, despite lower incidence rates for the disease.
"It's a well-known fact that women who are uninsured or underinsured, those from lower socioeconomic backgrounds, or those who lack a regular source of health care are the least likely to receive appropriate screening for breast cancer," she said. "How to provide appropriate education to explain the need for screening and then access to screenings is a constant struggle."
Accelerating Access to Education and Early Breast Cancer Detection
In a recent
RadioGraphics
Podcast
, Dr. John Scheel and Dr. Wei Yang share their dedication to improve early detection of breast cancer and help flatten the cancer curve globally. They focus on providing equitable care and training in underserved communities to boost health care access worldwide. This episode is sponsored by GE HealthCare. Find this and more
RadioGraphics
Podcast episodes wherever you listen to podcasts.
Communication, Navigation And Availability Are Key To Improvement
Based on her research, Dr. Cotes said radiologists might consider interventions targeting three groups of women facing the greatest barriers to screening mammography: those from racial and ethnic minority populations, immigrants and those from lower-income strata.
According to Dr. Cotes, evidence-based strategies to improve care to these groups include conversing one-on-one with patients and striving for a more diverse radiology staff.
"Effective physician-patient communication increases rates of screening mammography," she said. "Having a diverse staff allows radiologists to communicate with a wider range of patients in their native language, which instills comfort, comprehension and trust."
In addition to improving communication skills, Dr. Cotes said media training for radiologists is also important.
"The media is important for helping to share breast cancer detection messages," she said. "It offers opportunities to work with local TV stations to spread the word on cancer prevention and detection."
Outreach to referring physicians and the community through health fairs and women's symposia are other ways to close the gap for the uninsured population.
"If you're promoting the importance of screening mammography at an outreach event, it's important to provide a way to access the service at the same time, either by providing a phone number or making an appointment at that time," Dr. Cotes said. "Otherwise, your effort will be less effective."
Two other important services for increasing screening mammography utilization are mobile mammography and patient navigation.
"Mobile mammography is a key component to reaching underserved populations in rural and urban areas," Dr. Cotes said.
While many imaging centers use patient navigation for the insured, Dr. Cotes said navigation programs should also be designed and deployed for vulnerable populations.
"We must have a good understanding of the problems uninsured patients face in accessing care and find solutions to make it easier," she said.
Joining legislative and advocacy efforts at the local and state level is another way to help diminish health disparities.
"You don't have to focus on all of these strategies, you can just pick one," Dr. Cotes said. "Everyone can find their own niche, whether it's using social media to create awareness or organizing a community event."
She suggests radiologists brainstorm ideas for interventions that fit their patient population—including the uninsured.
"As breast imagers, we know the power of screening mammography to decrease breast cancer mortality," Dr. Cotes said. "It's tough to realize there are women who deserve this technology but don't have access to it. In addition to the women who come through our doors, here are other women who need us. We have to think about them too."
For More Information
Access the RadioGraphics article, "Community Outreach in Breast Imaging: What Radiologists Can Do to Close the Gap for the Uninsured Population."
Read previous RSNA News articles on breast imaging: