RSNA to Host a Town Hall on 3D Printing and Women's Imaging
Open discussion will focus on how to incorporate 3D printing into the management of breast cancer
---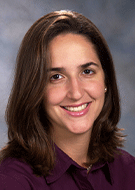 ---
RSNA will hold an online Town Hall to discuss the use of 3D printing in the management of breast cancer. The Town Hall will take place on Tuesday, May 11 at noon (Eastern). Registration is required to participate.
This session will review how 3D-printed breast models are generated from medical imaging data as well as the clinical scenarios that benefit most from their use. The open Town Hall style format will follow a case-driven presentation. Common questions about the technical aspects of creating 3D-printed breast models will be addressed, including source imaging, anatomy to be included in the model, as well the surgeon's perspective on design and utilization.
Audience members are encouraged to bring their own questions in order to make this session as interactive and useful as possible.
The event will be hosted by Christina Checka, MD, Department of Breast Surgical Oncology at MD Anderson Cancer Center and Elsa M. Arribas, MD, Department of Breast Imaging at MD Anderson Cancer Center.
The event is sponsored by RSNA's 3D Printing Special Interest Group (SIG), which is designed to help promote 3D printing for medical applications via education, research and collaboration.
For More Information
Learn more about how to join the RSNA 3D Printing SIG.
Watch this video about how 3D printing technology is used in medical imaging.
Read previous RSNA News stories on 3D printing: