RSNA Webinar Will Showcase Virtual Tours of 3D Printing Labs
Virtual tours will demonstrate the organization and function of 3D printing labs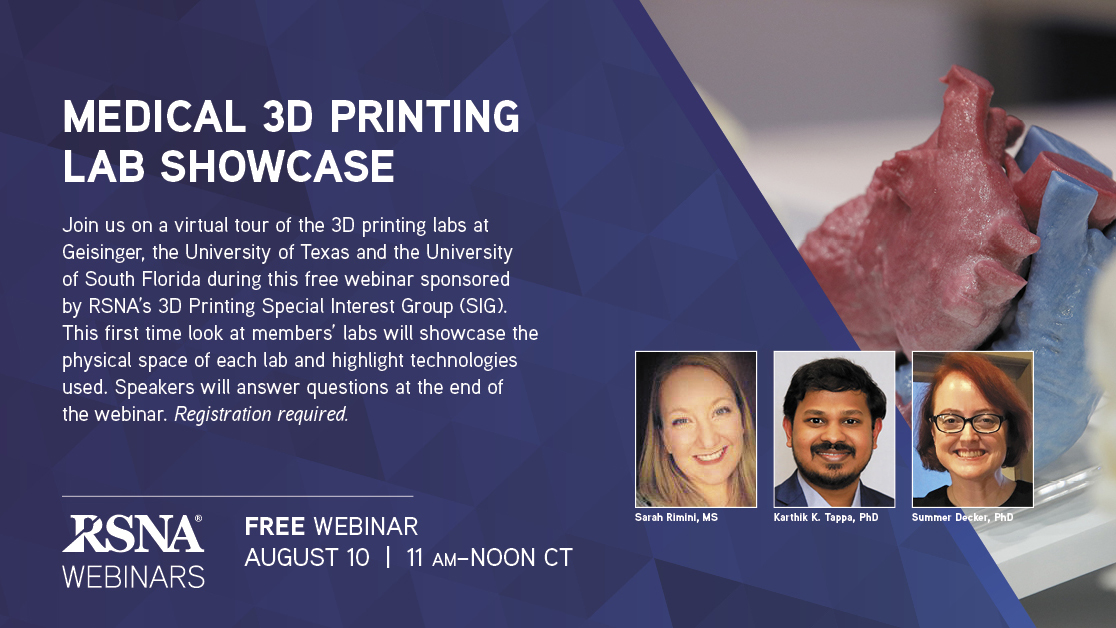 The RSNA 3D Printing Special Interest Group (SIG) will host a virtual tour webinar of several 3D printing labs at different institutions. This free, hour-long webinar will be held on Tuesday, Aug. 10 at 11 a.m. (CT). Registration is required.
The webinar will showcase virtual tours of the 3D printing labs at Geisinger Commonwealth School of Medicine in Danville, PA; The University of Texas MD Anderson Cancer Center, in Houston; and the University of South Florida, in Tampa.
This is the first time the 3D Printing SIG will be showcasing members' labs, and it will help to demonstrate the organization and function of these labs at different institutions. Specifically, the physical space of each lab will be shown and the technologies utilized will be highlighted.
Speaking and providing the virtual tours will be:
Sarah Rimini, MS

Program Director, 3D Lab
Geisinger Commonwealth School of Medicine

Karthik K. Tappa, PhD

Anatomic 3D Specialist
Anatomic 3D Printing and Visualization Program
The University of Texas M.D. Anderson Cancer Center
Summer Decker, PhD
Vice Chair for Research and Director of 3D Clinical Applications
University of South Florida Morsani College of Medicine
After the virtual tours, the speakers will be available for questions.
For More Information
Learn more about the RSNA 3D SIG.
Search for 3D printing-related education content at the RSNA Online Learning Center.
Read previous RSNA News articles on 3D printing: