Unveiling Trends in Radiology Science and Education | RSNA 2023
Find RSNA 2023 sessions highlighting the latest advances in medical imaging
BY LYNN ANTONOPOULOS
November 01, 2023
---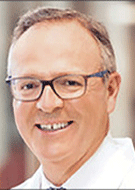 ---
RSNA 2023: Leading Through Change will bring together an international community of medical imaging professionals and industry partners and will help you stay up to date with the latest radiology advancements.
Featuring over 300 educational courses and more than 3,500 scientific papers, education exhibits and science posters, RSNA 2023 will also include an engaging line-up of plenary speakers sharing insights on the topics that are most relevant to today's radiologists.
This year, the Technical Exhibits halls are home to more than 650 exhibitors, including over 100 first-time exhibitors. This group of welcome newcomers is comprised of recruiters and academic institutions as well as a variety of industry partners who are excited to share their products and services with you. Come see their offering of next-generation imaging modalities, AI, interoperability, workflow, 3D printing, automation and staffing solutions.
To help attendees plan for RSNA 2023, Jorge Soto, MD, chair of the RSNA Annual Meeting Program Planning Committee (AMPPC) provides a preview of this year's trending topics. Dr. Soto notes that regardless of your subspecialty or career stage, there is something for everyone at RSNA 2023.
"Members of our committee performed an exhaustive review of the hundreds of abstract submissions," Dr. Soto said. "It is exciting to have a first-hand look at the breadth and depth of work being done by our global colleagues and to realize the impact this work might have on our profession."
Watch Dr. Soto discuss this year's RSNA 2023 meeting highlights: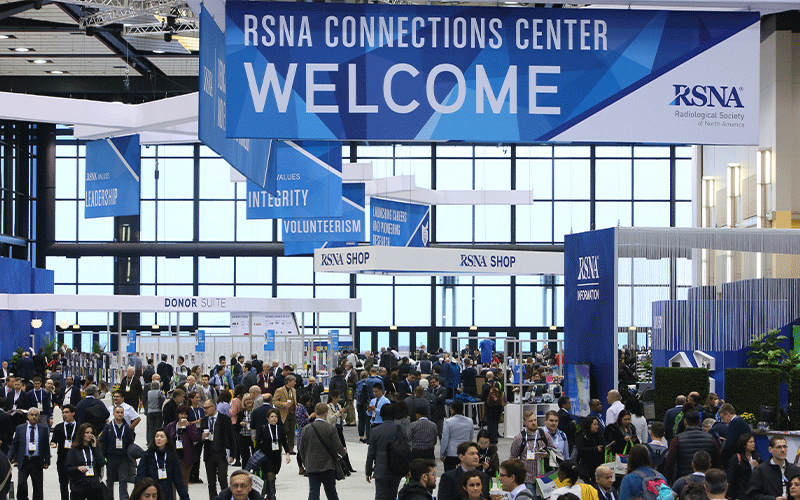 In addition to a strong response to the initial call for abstracts, many submissions were received for a second abstract call that focused on late breaking research in the areas of generative AI, sustainability in imaging, imaging of immunotherapy and theranostics.
Sessions selected from the second call will be featured in the Learning Center theaters throughout the week. "After introducing the Learning Center Theater last year for the presentation of research selected during our second call, we are pleased to announce the addition of a second Learning Center Theater to accommodate schedules and seating for this popular new feature," Dr. Soto said.
Which topics are trending for RSNA 2023?
"Trends vary somewhat, depending on your subspecialty, but applications of AI and photon-counting CT have been popular across nearly every subspecialty," Dr. Soto said. "Theranostics is also increasing in popularity along with the use of large language models for a variety of different uses."
Attendees will also enjoy a wide selection of non-interpretive sessions that will help them sharpen skills beyond imaging. With radiology professionals continuing to focus on ensuring equitable access to health care for all patient populations and understanding diversity, equity and inclusion, sessions throughout the week will be available for attendees interested in making changes at their own institutions and practices.
"We'll have several experts sharing useful insights and ideas for improving in the areas of DEI and health equity," Dr. Soto said. "These sessions can be thought-provoking both from the research and clinical perspectives."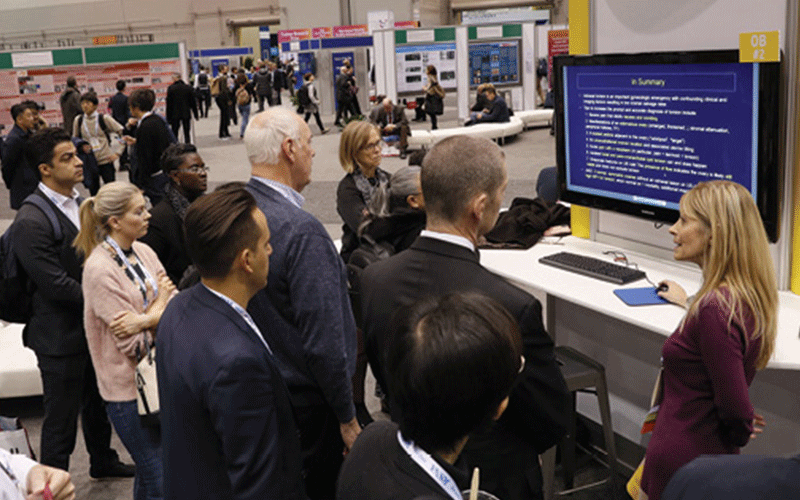 Dr. Soto noted that in addition to the latest research, attendees can also rely on the annual meeting for a robust offering of CME opportunities. "Both in-person and virtual participants will experience an immersive week filled with chances to discover, connect, learn and grow," Dr. Soto said. "We look forward to providing this world-class experience to our world-class attendees."
Wondering where to get started? Use this handy quick-reference guide developed with the assistance of AMPPC members to find trending topics and recommended sessions by subspecialty.
Trends by Subspecialty Practice Area
Annual Meeting Planning Committee
Information for this preview was provided by annual meeting program planning committee members:
Jorge A. Soto, MD, chair
Breast Imaging
Stamatia V. Destounis, MD, chair
Hiroyuki Abe, MD
Wendy B. Demartini, MD
Thomas H. Helbich, MD, MBA
Cherie M. Kuzmiak, DO
Katja Pinker-Domenig, MD, PhD
Cardiac Imaging
Karen G. Ordovas, MD, MS, chair
Carole J. Dennie, MD, FRCPC
Diana Litmanovich, MD
Michael F. Morris, MD
Ming-Yen Ng, MBBS
Prabhakar Rajiah, MD, FRCR
Chest Imaging
Ioannis Vlahos, FRCR, MBBS,
chair
Saurabh Agarwal, MD
Kristopher W. Cummings, MD
Travis S. Henry MD
Jane P. Ko, MD
Anastasia Oikonomou, MD, PhD
Emergency Radiology Imaging
Manickam Kumaravel, MD, FRCR, chair
Krystal Archer-Arroyo, MD
Christina A. LeBedis, MD
Koenraad H. Nieboer, MD
Claire K. Sandstrom, MD
Scott D. Steenburg, MD
Gastrointestinal Imaging
Courtney C. Moreno, MD, chair
Lauren M. Burke, MD
Aya Kamaya, MD
Avinash R. Kambadakone, MD, FRCR
Jeong Min Lee, MD, PhD
Motoyo Yano, MD, PhD
Genitourinary Imaging
Antonio C. Westphalen, MD, chair
Tharakeswara K. Bathala, MD, MS
Atul B. Shinagare, MD
Kerry L. Thomas, MD
Angela Tong, MD
Stefanie Weinstein, MD
Head & Neck Imaging
Hillary R. Kelly, MD, chair
Paul M. Bunch, MD
Nicholas A. Koontz, MD
Luke N. Ledbetter, MD
Osamu Sakai, MD, PhD
Xin Wu, MD
Imaging Informatics
Christopher J. Roth, MD, chair
Imon Banerjee, PhD
Dania Daye, MD, PhD
Marta E. Heilbrun, MD, MS
Felipe C. Kitamura, MD, PhD
Nina E. Kottler, MD, MS
Interventional Radiology
Julius Chapiro, MD, PhD, chair
Rony Avritscher, MD
Juan C. Camacho, MD
Anne M. Covey, MD
Elika Kashef, FRCR
Gloria M. Salazar, MD
Multisystem
Margarita V. Rezvin, MD, MS, chair
Ichiro Ikuta, MD, MMedSc
Yuliya Lakhman, MD
Nariman Nezami, MD
Stacy E. Smith, MD
Carolyn L. Wang, MD
Musculoskeletal Imaging
Linda Probyn, MD, chair
Hillary W. Garner, MD
Andrew J. Grainger, MD, FRCR
Soterios Gyftopoulos, MD, MBA
Emma L. Rowbotham, FRCR, MBBChir
Reto Sutter, MD
Neuroradiology
Ajay Gupta, MD, chair
Hediyeh Baradaran, MD, MS
Nancy Pham, MD
Luca Saba, MD
Achala S. Vagal, MD
Max Wintermark, MD
Noninterpretive/Practice Management
Stella Kang, MD, MSc, chair
Matthew D. Bucknor, MD
Cheri L. Canon, MD
Melissa A. Davis, MD, MBA
Jessica G. Fried, MD
Jeffrey G. Jarvik, MD, MPH
Jay R. Parikh, MD
Vinay Prabhu, MD, MS
Nuclear Medicine & Molecular Imaging
Don C. Yoo, MD, chair
Esma A. Akin, MD
Pedram Heidari, MD
Phillip H. Kuo, MD, PhD
Helen R. Nadel, MD, FRCPC
Aileen O'Shea, FFR(RCSI), MBBCh
OB/Gynecology Imaging
Deborah Levine, MD, chair
Susan M. Ascher, MD
Edward R. Oliver, MD, PhD
Liina Poder, MD
Caroline Reinhold, MD, MSc
Elizabeth A. Sadowski, MD
Pediatric Imaging
Andrea S. Doria, MD, PhD, chair
Teresa Chapman, MD, MA
Emilio Inarejos Clemente, MD
Amy R. Mehollin-Ray, MD
Ricardo Restrepo, MD
Marcelo S. Takahashi, MD
Physics
Guang-Hong Chen, PhD, chair
James M. Kofler, Jr., PhD
Ke Li, PhD
Zheng Feng Lu, PhD
Erin B. Macdonald, PhD
Lifeng Yu, PhD
Radiation Oncology
Anna Shapiro, MD, chair
Megan J. Kalambo, MD
Simon S. Lo, MBBCh
Suresh K. Mukherji, MD, MBA
Tarita O. Thomas, MD, PhD
Meng X. Welliver, MD
Vascular Imaging
Kate Hanneman, MD, MPH, chair
Bradley D. Allen, MD, MS
Jordi Broncano, MD
Nicholas S. Burris, MD
Brian B. Ghoshhajra, MD, MBA
Jody Shen, MD