Radiology Education Following the COVID-19 Pandemic
Training programs were selective in which COVID-19-related education strategies to keep and which to discard
BY LYNN ANTONOPOULOS
July 12, 2023
---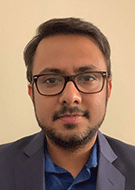 ---
This story is part of an RSNA News special focus on the new optimized and engaging education of the next generation of radiologists. Read part one, part three and part four.
At the peak of the COVID-19 pandemic, radiology trainee education was restructured to address safety concerns while maintaining academic rigor and providing adequate clinical preparation. Program directors relied on virtual education resources and developed creative approaches to scheduling conferences and rotations.
Today, many residency training programs have suspended or discarded some of the adapted educational tools and practices that helped them persevere during the pandemic. However, some tools and practices have endured and are now part of the next generation of radiology education.
"Having access to a 100% virtual environment for a nearly three-year period has made access to high quality digital educational content—particularly recorded lectures, online modules and question banks—even more important to our learners," said Erin Gomez, MD, assistant professor of diagnostic imaging and program director for the Diagnostic Radiology and Molecular Imaging Residencies at Johns Hopkins University (JHU) School of Medicine in Baltimore. Dr. Gomez is also co-director of the JHU School of Medicine diagnostic radiology elective.
"We have struck a nice balance between taking advantage of the technology that permitted us to continue working during COVID and acknowledging the importance of togetherness and hands-on experience," she said.
"Our faculty have acknowledged via stakeholder surveys and discussions with the program leadership that while virtual teaching is more convenient from a scheduling perspective, in-person teaching is more likely to promote meaningful relationships with the residents."
ERIN GOMEZ, MD
Ongoing Use of Virtual Platforms
Perhaps the most enduring change in radiology education has been the use of virtual meeting platforms including Microsoft Teams and Zoom. As with professionals across most industries, radiology faculty and trainees became accustomed to the convenience of remote participation in classes and conferences.
"During the pandemic, we were doing daily teaching conferences remotely over Teams; read outs were done via Teams or phone, and attendings were either in another room in the department or at home," said Vanessa Starr, MD, diagnostic radiologist and program director at Santa Clara Valley Medical Center in California. "Our conferences are now in person although we continue to log into Teams when anyone off-service or any interviewees want to join."
According to Dr. Gomez, a small percentage of radiology faculty at JHU work remotely and use Teams to handle readouts. They also leverage the software's file and data collaboration capabilities.
"Our faculty have begun housing resources and lecture materials on Teams pages for easy access by residents," she said.
Teams and Zoom have also been useful for programs hosting guest speakers delivering remote lectures. Still, across institutions, the return to in-person participation has been a top priority.
"We returned to in-person read outs and conferences relatively early—as early as hospital guidelines allowed," Dr. Starr said.
Advantages of in-person learning for trainees include the ability to receive more direct, personalized support and feedback as well as building closer connections between faculty and peers.
"Our faculty have acknowledged via stakeholder surveys and discussions with the program leadership that while virtual teaching is more convenient from a scheduling perspective, in-person teaching is more likely to promote meaningful relationships with the residents," Dr. Gomez said.
At Mercy Catholic Medical Center in Darby, PA, chief resident Shambo Guha Roy, MBBS, MD, said that until as recently as the latter half of 2022, all didactic learning and case conferences at his institution were held virtually via Teams.
"Now, we are mostly in-person. We use virtual systems sometimes, but not hybrid," Dr. Guha Roy said. "Personally, I favor in-person meetings. Radiology is an isolated specialty anyway, and some human connections during the conferences are nice."
Dr. Gomez agreed.
"In light of the isolation that many of us felt during the pandemic, our program leadership has also placed an increased emphasis on resident wellness, social gatherings and providing opportunities to develop and hone real-world skills that are best facilitated in an in-person environment, such as interdisciplinary communication and practical aspects of daily life as a radiologist," Dr. Gomez said.
Benefits of a Robust Virtual Education
The pandemic has shown that radiology education can adapt to new challenges, and educators can continue to provide quality education despite a major disruption.
"There was a slight setback in trainee education, but after returning to in-person conferences, we quickly made up for lost time," Dr. Starr said.
Dr. Guha Roy said that, at his institution, a two-year loss of case volume presented the biggest challenge.
"To address the loss and allow for maximum clinical exposure for residents during the pandemic, we made sure almost all cases were read by residents, not just by attendings alone," Dr. Guha Roy said.
At JHU, Dr. Gomez noted that radiology residents made the most of the virtual educational experiences during the pandemic and that, now after having adjusted to in-person activities, her residents are performing exceptionally well on the clinical services.
"We have seen no significant decrease in their skills at the workstation, in-service exam scores, or CORE exam pass rates," Dr. Gomez said. "I think this is a testament to the robust education provided virtually during the height of the pandemic, as well as the dedication of our residents and faculty to our training mission."
As radiology moves forward with the rest of the medical community in the post-COVID era, Dr. Starr hopes that the balance of these new and old ways of learning will result in more powerful education experiences.
"Harnessing the power of new virtual education, communication and resource consolidation, while also continuing to grow from traditional in-person education, feedback and clinical experiences, will allow for more robust and connected radiology training than we could have ever previously imagined," she said.
For More Information
Read part one and part three of the special focus on the next generation of radiologists.
Read previous RSNA News stories on radiology residents during COVID-19: