RSNA Launches New Program to Address Inequities in Patient Care
NNSA-funded program will help mitigate deficiencies and barriers in radiology education and practice
---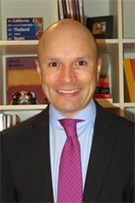 ---
RSNA kicked off its Building Connections Across the Americas: Addressing Access to Radiology program during RSNA 2022.
The goal of the program, which is funded by the U.S. Department of Energy's National Nuclear Security Administration (NNSA), is to help address deficiencies and barriers in radiology education and practice across the Americas and to improve the quality and safety of patient care.
The program aims to provide opportunities for radiology practitioners, physicists, educators, government health representatives, industry personnel, and other stakeholders to identify challenges, share ideas, and create global partnerships and working relationships to find sustainable solutions.
"Working together, we have the power to turn challenges into opportunities," said Carlos H. Torres, MD, who provided the keynote address. "We have the chance to re-imagine how radiology global outreach can be conducted and delivered by creating bridges between countries and also between generations of radiologists."
This event, the first of three, was focused on efforts in various resource-limited populations to assess and address inequities across the Americas, particularly regarding health care access, equity and radiation safety.
The RSNA Global Learning Center in Quito, Ecuador, was the site of the second part of the Building Connections Across the Americas program, which featured opportunities for hands-on learning and networking. The third event will be held during the Sociedade Paulista de Radiologia e Diagnóstico por Imagem (SPR) annual meeting, the Jornada Paulista de Radiologia (JPR 2023), which will provide further opportunities for radiology practitioners and government health representatives to share ideas and establish working relationships.
For More Information
Learn more about the Building Connections Across the Americas program.
Read previous RSNA News stories on access and equity in radiology: