Changes Needed to Make Health Care Screenings Equitable
Imaging screenings for breast, colon and lung cancers not reaching patients with most need
BY MARY HENDERSON
April 07, 2023
---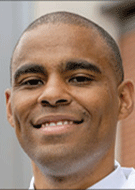 ---
This is the first in a series of articles addressing health care equity issues in radiology. Read part two and part three.
Routine screening for breast, colon and lung cancer is one of the most effective ways to reduce cancer mortality at the population level. Yet not all segments of the U.S. population benefit from these important screening tools equitably.
Radiologists around the country are working to remove the barriers to equitable screening and to educate both patients and health care providers on the value of risk assessment and early detection for breast, colorectal and lung cancer.
Breast Cancer Equity For Early Detection
Identifying breast cancer in its early stages through screening is one of the reasons the breast cancer mortality rate has declined 43% since 1989. Despite this success, studies show that the screening continues to be underutilized, particularly by patients with a high school education or less, those categorized as low-income and those without insurance.
Randy Miles, MD, chief of breast imaging at Denver Health in Colorado confronts these types of health care inequities on a daily basis.
"Of our patient base, 20% are commercially insured and Spanish is the primary language of 30%," he said. "These challenges can severely impede their ability to take advantage of breast cancer screening."
To increase access to and the utilization of screening mammography, Dr. Miles and his team have adopted a multipronged strategy including:
• Distributing educational videos and printed materials written at the sixth grade level on the importance of screening.
• Hiring a grant-funded patient navigator to help uninsured women enroll in programs to help cover the cost of follow-up imaging, biopsies and cancer care.
• Obtaining grant funding for Lyft rides for patients who lack transportation.
• Offering a mobile mammography van that visits the hospital's community clinics outside the city.
Denver Health also calculates the breast cancer risk for every patient who undergoes a mammogram and shares the information with both the patient and their referring provider. This step is important, according to Dr. Miles, as certain groups have a higher risk for breast cancer. For example, compared with white women in the U.S., Black women are twice as likely to develop breast cancer before the age of 35 and 42% are more likely to die of breast cancer.
"When it comes to educating the patient, my philosophy is to meet the patient where they are and help them understand their breast cancer risk and the pros and cons of different screening protocols," Dr. Miles said. "We want women to be able to participate in shared decision-making with their provider."
Increasing the Rate of Colorectal Cancer Screening
The overall annual rate of colorectal cancer (CRC) diagnosis has declined since the mid-1980s, largely because of screening and the reduction of lifestyle-related risk factors.
In 2020, 71% of U.S. adults between the ages of 50 to 75 were up-to-date with CRC screening, using one of four options: stool tests, sigmoidoscopy, colonoscopy or CT colonography. However, about 20% of adults in the same age range had never been screened for CRC.
According to the U.S. Centers for Disease Control and Prevention, participation in CRC screening was less than 60% among low-income adults. According to research, other individuals less likely to undergo CRC screening include those who live in rural areas, are uninsured, have not earned a high school education or have immigrated to the U.S. within the last 10 years.
Although the incidence of CRC has been falling an average of 1.8% annually since 2018, diagnosis rates have been increasing for individuals under 50. Disparities also remain for specific subgroups, including Blacks and Native Americans, both of whom are commonly diagnosed late and are more likely to die from the disease.
"Black patients are more likely to get early-onset colorectal cancer and less likely to receive the newest chemotherapy treatments for the disease," said Judy Yee, MD, chair of radiology at Montefiore and professor of radiology, Albert Einstein College of Medicine, Bronx, NY.
In recognition of increasing rates of early-onset CRC, the American Cancer Society (ACS), the American College of Gastroenterology, and the United States Preventive Services Task Force (USPSTF) all now recommend beginning screening for CRC at age 45.
"Not all physicians are consistently recommending per the guidelines and getting younger patients to come in," Dr. Yee said. "Health care providers need more education about the latest guidelines and why it's important to adhere to them."
Dr. Yee said radiology practices can help break down the barriers to CRC screening and developing culturally and linguistically appropriate communication with patients, building a diverse workforce so that patients see health care staff who look like them and develop trust. Practices can also ensure that residents and fellows are exposed to a curriculum that addresses health care disparities.
"You have to look at the community you're serving and adjust your strategies to the subset of patients you're trying to impact," Dr. Yee said. "It requires getting out into the community and working with trusted members of the community, local health centers, businesses, and religious institutions, similar to the vaccination efforts for COVID-19."
Lung Cancer Screening Rates Remain Low
More than 14 million Americans meet the USPSTF guidelines for annual screening with low-dose CT (LDCT), yet, only 5.8% of eligible Americans were screened in 2021. In some states, screening rates were as low as 1%. Lung cancer has one of the lowest five-year survival rates because it is often found at later stages when it's less curable.
According to the ACS, screening individuals at high risk for lung cancer with LDCT could reduce mortality by up to 20%.
Efren Flores, MD, RSNA Health Equity Committee co-chair, said there are several reasons why so few Americans are being screened, including the social stigma associated with smoking.
"Smoking, whether patients are still smoking or have quit, has negative stereotypes associated with it," said Dr. Flores, associate professor of radiology at Harvard Medical School, Boston. "Therefore, to avoid dealing with pressure to quit smoking or being made to feel inadequate because of past behavior, patients avoid lung cancer screening. It will take grassroots advocacy efforts to de-stigmatize smoking and get more patients into screenings."
According to ACS data, screening utilization is lower in rural and less densely populated areas where people may face transportation barriers or lack proximity to a screening facility. Hispanic, Black and lower-income populations are also less likely to undergo LDCT screening. The stigma associated with smoking might prevent patients from providing accurate smoking history, which creates another barrier to screening access.
Making Screenings Equitable Moving Forward
"When we think about decreasing the disparity in cancer screening, we must recognize the social determinants of health that impact how a patient navigates the health care system," Dr. Flores said. "The goal is to optimize what the health care system offers, so that when a patient enters the system, they have access to the screenings they need."
In an ideal world, patients could get all their preventive care screenings accomplished in a single morning.
"Coordinated cancer screening is a model for health care transformation in radiology," Dr. Flores said. "We want to offer as many services as possible at one time, so people don't have to overcome the burdens of dependent care, transportation and taking time off work on multiple occasions."
For More Information
Explore RSNA's Health Equity Resources, including news, education, multimedia and research.
Read the RSNA News equity series and previous articles on equity: