Opportunities Await Radiology Trainees at RSNA 2022
Select programming targets trainee needs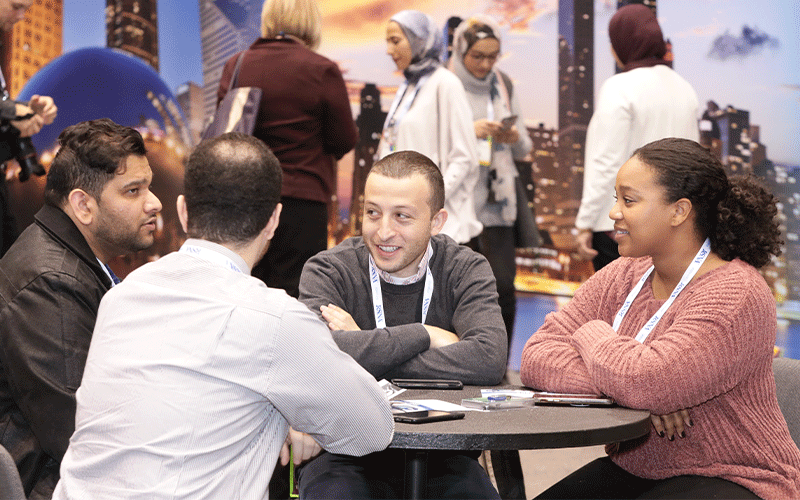 Residents, fellows and medical students will find a focused selection of scientific and educational programming to meet their needs at RSNA 2022.
The annual meeting also provides networking opportunities, like the Residents Reception, that help develop connections across the specialty as well as sessions that explore early career development topics. All times are in the Central time zone.
Residents Lounge
RSNA members in training and non-member trainees are offered a place to relax and network while enjoying complimentary refreshments. Open Sunday through Thursday, the Residents Lounge, located in the Lakeside Learning Center, will host events planned by the RSNA Resident and Fellow Committee to provide trainees with mentorship opportunities and career guidance.
Residents Lounge Hours:
Sunday 9 a.m. – 6 p.m.

Monday-Wednesday 7:30 a.m. – 6 p.m.

Thursday 7:30 a.m. – 4:30 p.m.
Scavenger Hunt
The first ten participants to complete this Scavenger Hunt will win exclusive RSNA swag. To participate in the Scavenger Hunt, be sure to visit @RSNATrainees via Twitter on Sunday, Nov. 27th.
Residents Reception
Connect with your peers and network with longtime RSNA members and radiology leaders. This popular event, held in conjunction with the American College of Radiology, will take place on Tuesday, Nov. 29, from 4 to 5 p.m. in the Connections Center, Lakeside Center East, Level 3.
Opportunities for Residents with RSNA Publications
Sunday, Nov. 27, at 12:15 p.m.
Join Jeffrey Klein, MD to learn how trainees can get involved as authors or trainee board members for RSNA journals.
Day in the Life of a Radiology Resident
Monday, Nov. 28, 10 a.m.
Attend Day in the Life of a Radiology Resident, a panel discussion covering diagnostic and interventional radiology residency, taking place in the Residents Lounge.
Kahoot! Radiology Competition
Monday, Nov. 28, 11 a.m.
Join the fun on your personal device as trainees compete in a trivia game using the Kahoot! platform. Meet in the Residents Lounge for this informal competition.
Resident Competition
Monday, Nov. 28, 2-3 p.m.
Residents vie for top bragging rights at this engaging team-based competition moderated by Omer Awan, MD, Erick England, MD, and Erica Lanser, MD in the Discovery Theater.
How Do Radiologists Arrive at a Diagnosis?
Tuesday, Nov. 29, 1:30-2:30 p.m.
Join moderator Petra Lewis, MD, in the Residents Lounge for this interactive session highlighting the significant role of imaging in several real-life clinical cases.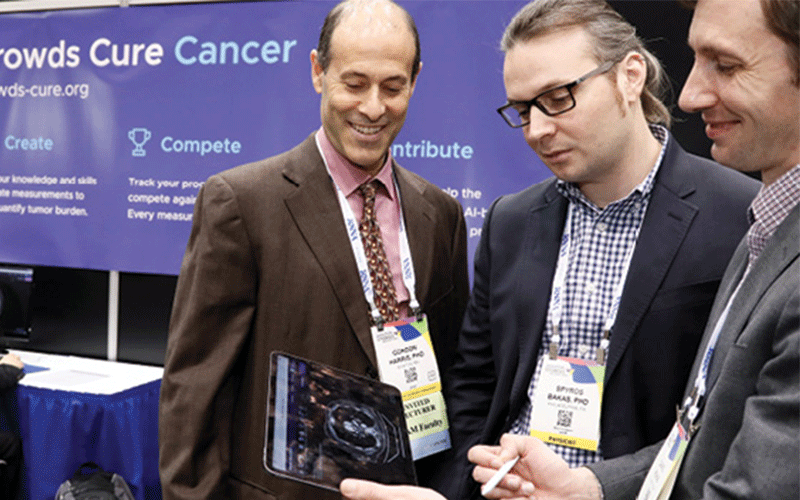 Education Exhibits in the Learning Center
• How to Navigate a Breast Tumor Board: A Resident and Fellow Primer
• 3D Printing from Medical Imaging Data: What the Resident Needs to Know
• Introduction to Oncology Imaging: A Primer For Residents and Fellows
• The Spectrum of Interpretive and Perceptual Biases in Abdominal Radiology
• Pitfalls in Prostate MRI: How to Avoid These Common Errors of Under and Over Diagnosis
• A Beginners Guide to Liver Iron Quantification: What a Radiology Resident Ought to Know
• Non-traumatic Spine Emergencies–A Primer for the On-Call Radiology Resident
Additional Sessions of Interest
• The URM Trainee Experience: Resident, Fellow and Medical Student Perspective (Sponsored by the RSNA Committee on Diversity, Equity & Inclusion)
• Building A Career in Academic Radiology: A Dialogue on the Trajectory from Residency Onward (Sponsored by the RSNA Resident and Fellow Committee)
• Shaping Your Online Brand through Social Media Use, Analytics, and Research
• Shielding from Burnout with Financial Health: Fundamentals on Financial Literacy and Investments
Wellness First at RSNA 2022
To get the most out of the annual meeting, take time between sessions to relax and unwind. Whether participating in person or online, take frequent breaks to stretch and hydrate.
While at McCormick Place, visit the Discovery Theater to enjoy one of the many musical performances scheduled. You may also enjoy quiet reflection and self-guided yoga in the Zen Zone, located in N230A.
Virtual attendees should take time to look away from the monitor periodically and focus on a distant object to avoid eye fatigue. A short walk, fresh air and meditation are all ways to stay sharp while enjoying the annual meeting experience.
For More Information
Register for the meeting at RSNA.org/Annual-Meeting.
Review the RSNA 2022 Program at RSNA2022.RSNA.org.
Read previous RSNA News stories related to trainees: