2022 RSNA Editorial Fellows Announced
Fellows will work with 'Radiology' and 'RadioGraphics' Editors, Staff
---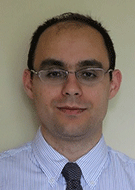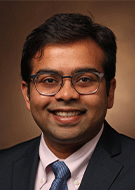 ---
Pejman Jabehdar Maralani, MD, has been named the 2022 RSNA William R. Eyler Editorial Fellow, and Dhairya A. Lakhani, MD, is the 2022 William W. Olmsted Trainee Editorial Fellow.
Dr. Maralani is a neuroradiologist at Sunnybrook Health Sciences Center in Toronto. He is also as an associate professor and clinician investigator in the Department of Medical Imaging, Division of Neuroradiology at the University of Toronto. Dr. Maralani earned his medical degree at Tehran University of Medical Sciences in Iran. He completed his residency in diagnostic radiology at the University of Ottawa, Ontario and a neuroradiology fellowship at the University of Pennsylvania in Philadelphia.
Dr. Maralani has received several awards for outstanding teaching in radiology residency and neuroradiology fellowship programs and has been the primary supervisor for two RSNA R&E Foundation Research Medical Student Grant recipients. He serves as a manuscript reviewer for multiple journals including RadioGraphics. An experienced lecturer and researcher, Dr. Maralani has also authored or co-authored more than 80 peer-reviewed papers. In 2015 he established and has since maintained his own independently funded lab focused on the central nervous system and spine oncology.
Dr. Lakhani is chief resident in the Department of Radiology at West Virginia University (WVU) in Morgantown. He received his medical degree from Sumandeep University in Gujarat, India, and later completed a postdoctoral fellowship and an internal medicine internship at Vanderbilt University in Nashville. Dr. Lakhani was also a visiting postdoctoral research fellow at Mayo Clinic in Jacksonville, FL.
Dr. Lakhani has received a variety of awards from RSNA and other organizations including Best Student Research and Academics from the Indian Medical Association. He is active with various WVU organizations including the institution's Graduate Medical Education Resident Forum. He serves as vice president of the West Virginia Radiological Society Resident Fellow Students group. Dr. Lakhani is a peer reviewer for RadioGraphics and several other imaging journals. He has authored or co-authored nearly 50 publications.
Both fellows will meet with Radiology Editor David A. Bluemke, MD, PhD, in Madison, WI, and RadioGraphics editor Christine O. (Cooky) Menias, MD, in Phoenix, AZ. The Eyler Editorial Fellowship lasts one month and the Olmsted Trainee Editorial Fellowship lasts one week. Each fellow will visit the RSNA Publications Department at RSNA headquarters in Oak Brook, IL, and will meet with the Radiology editorial team during RSNA 2022.
For More Information
Learn more about the RSNA Journals Editorial Fellowships.
Read about the RSNA Journals Impact Factors in RSNA News.