Pain Management for Patients Who Can't Undergo Joint Replacement
Cooled ablation may provide long-lasting pain relief in the hip and shoulder
BY EVONNE ACEVEDO
July 12, 2022
---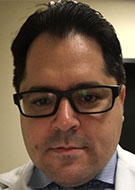 ---
For patients with chronic osteoarthritis pain, cooled radiofrequency ablation (CRFA) can offer relief when joint replacement surgery isn't the leading option.
"This procedure provides an alternative treatment that did not exist before to help patients who have exhausted minimally invasive ways to treat their joint pain," said Felix M. Gonzalez, MD, diagnostic and interventional musculoskeletal radiologist at AdventHealth Medical Group and former clinical site director of the musculoskeletal division at Emory University Hospital Midtown, both in Atlanta.
"Many patients do not qualify for a surgical intervention because of coexistent comorbidities such as an unsafe body mass index range," Dr. Gonzalez explained. "With the existent opioid abuse epidemic, treatments like these offer a lot of hope for improvement in quality of life."
"CRFA can make a difference in the lives of patients who can't undergo, or are waiting for, joint replacement surgery, or for those who still have persistent pain after surgery."
FELIX M. GONZALEZ, MD
Hip and Shoulder Pain Greatly Reduced
The CRFA procedure, detailed by Dr. Gonzalez and colleagues in RadioGraphics, uses internally cooled electrodes to generate larger ablative zones than standard ablation techniques, allowing interventionalists to target groups of articular sensory nerve branches during treatments of the hip and shoulder, particularly for osteoarthritis (OA). The article illustrates CRFA of the suprascapular, axillary, and lateral pectoral branches in treatment of the glenohumeral joint, and of the obturator and femoral branches during treatment of hip articulation.
In the U.S., some ablation devices are now cleared for treating low back pain and knee OA, added Dr. Gonzalez.
"At this point, the procedure is slowly becoming a more established treatment," he said, noting that CRFA has demonstrated relatively long-lasting pain relief and symptomatic control.
For patients with severe arthritis in the hip, Dr. Gonzalez and colleagues reported a positive response six months after CRFA, with patients reporting approximately 70% improvement in pain and stiffness scores.
The same investigators, in a separate study, also found reasonable improvement in patients who underwent the procedure in a shoulder—50-60% improvement after six months.
"In both studies, no major complications were encountered," Dr. Gonzalez said. "No patients went on to re-treatment, surgery or other intervention."
In order to qualify for ablation, a patient must first have a positive response to a diagnostic lidocaine nerve block at the target sites—if pain abates with a nerve block, it correlates with a favorable response to CRFA.
Dr. Gonzalez encourages interventionalists to participate in hands-on training in CRFA, with both didactic lectures and utilization of synthetic or human cadavers, to familiarize themselves with techniques that can provide relief for "a multitude of painful conditions."
"CRFA can make a difference in the lives of patients who can't undergo, or are waiting for, joint replacement surgery, or for those who still have persistent pain after surgery," Dr. Gonzalez concluded.
For More Information
Access the RadioGraphics review, "Cooled Radiofrequency Ablation for Chronic Joint Pain Secondary to Hip and Shoulder Osteoarthritis," and accompanying editorial, "Percutaneous Radiofrequency Ablation of Articular Sensory Nerves for Management of Chronic Pain Due to Osteoarthritis."
Read previous RSNA News stories on joint pain: