Your Donation in Action: Avinash R. Kambadakone, MD
Chemoradiation in Patients with Pancreatic Cancer
---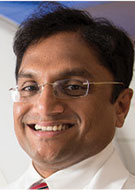 ---
For patients with borderline and locally advanced pancreatic cancer, the use of multiparametric DECT markers, including tumor size, iodine quantification and intratumoral heterogeneity as depicted using CT texture analysis, could allow assessment of treatment response to neoadjuvant chemoradiation.

With his 2016 Toshiba America Medical Systems/ RSNA Research Seed Grant, "Multi-parametric DECT Assessment of Therapeutic Response to Neo-adjuvant Chemo Radiation in Pancreatic Cancer Patients to Determine Surgical Resectability," Avinash R. Kambadakone, MD, chief, Abdominal Imaging at Massachusetts General Hospital and associate professor of radiology at Harvard Medical School, and his team found that morphologic markers such as tumor size and changes in degree of vascular involvement had a limited role in defining surgical resectability.
"The use of imaging biomarkers such as CT texture analysis in the presurgical determination of treatment response and surgical resectability in patients with borderline resectable and locally advanced pancreatic cancer has important management implications for triaging patients into surgical resection versus systemic therapy, determining treatment outcome and predicting prognosis," Dr. Kambadakone said.

The R & E Foundation grant was critical to Dr. Kambadakone's academic career as it provided an early boost to his research endeavors.
"With the mentorship of Dr. Dushyant Sahani, the funding support provided me with the impetus to really focus on exploring advanced imaging applications pertaining to two areas of my clinical and research interest — dual energy CT and the pancreas," Dr. Kambadakone said.
For More Information
Learn more about R&E Funding Opportunities.
Read last month's Your Donations in Action article.