Explore the Latest Innovations in the Technical Exhibits Hall
See the ideas and technologies that are redefining radiology at RSNA 2021
The RSNA 2021 Technical Exhibits Halls are the ideal setting to engage with industry experts and explore the latest medical imaging products and services. With exhibits from nearly 500 leading manufacturers, suppliers and medical information and technology developers, you will be immersed in medical imaging innovation.
AI Showcase
Discover the latest artificial intelligence (AI) solutions and connect with industry experts in the AI Showcase located in the South Hall. The AI Showcase features nearly 100 companies and provides exciting opportunities for attendees to see the newest AI software and product demonstrations and solutions. Enjoy hands-on learning and special engagement areas in this prime annual meeting destination.
The AI Showcase is sponsored by AIRS Medical, annalise.ai and neurophet.
RSNA AI Theater
Dive into the hottest topics in AI, machine learning and deep learning in the RSNA AI Theater, and get the training and networking opportunities you need to better understand the role of AI in medical imaging. The RSNA AI Theater is home to the AI-related resources and educational opportunities RSNA provides. Stop by for daily industry presentations. For the complete RSNA AI Theater event schedule, visit Meeting.RSNA.org.
Imaging AI in Practice Demonstration
Visit the Imaging AI in Practice booth to see the newly expanded Imaging AI in Practice demos. These multi-vendor interoperability demonstrations showcase new technologies and communication standards needed to integrate AI into the diagnostic radiology workflow. Interact with 22 vendors as they demonstrate new tools and practice enhancements enabled by AI in real-world clinical scenarios.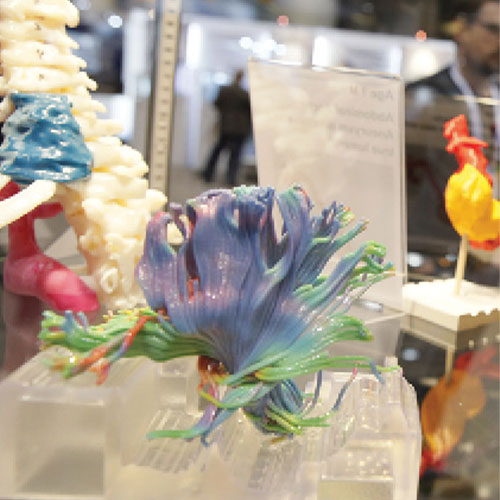 3D Printing & Mixed Reality Showcase
Located in the North Hall, the 3D Printing & Mixed Reality Showcase is the place to network with customers and partners engaged in 3D medical printing research and development. This showcase offers attendees the opportunity to see and interact with the latest products in 3D printing, 3D software and augmented and virtual reality.
First-Time Exhibitor Pavilion
This year, RSNA is welcoming 20+ new companies to the First-Time Exhibitor Pavilion. Connect with these annual meeting newcomers and see their products and services in a showcase area inside the South Hall. Throughout the Exhibit Halls, other first-time exhibitors will be identified with a First-Time Exhibitor logo.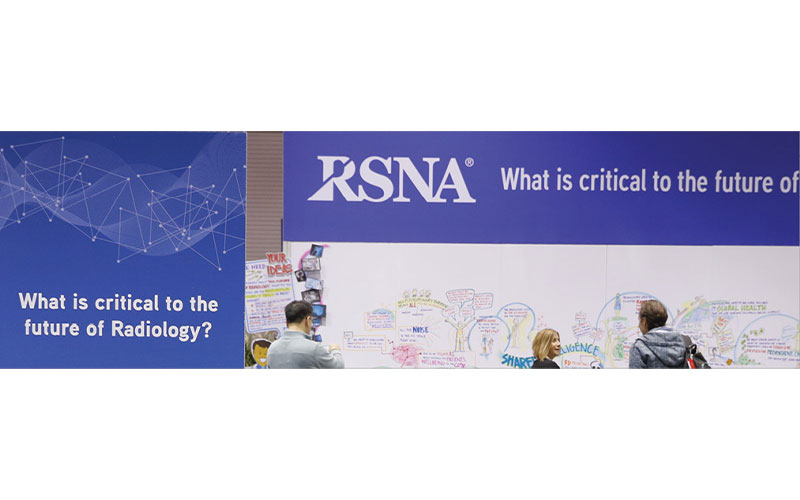 Recruiters Row
The annual meeting is the perfect place to connect with organizations and explore available career opportunities. Schedule time to connect with prospective employers who are on-hand to meet with candidates. Log on to RSNA's Career Connect to search for participating employers and learn more at RSNA.org/Careers.
While visiting Recruiters Row, update your headshot at the RSNA Portrait Studio.
Educators Row
Meet with representatives from educational institutions and leading medical associations from around the world in Educators Row, located in the South Hall. There you can also meet with RSNA publications staff who are available to answer questions about any of RSNA's peer-reviewed journals.
Corporate Symposiums
Participate in focused one-hour education sessions presented by RSNA exhibitors and sponsors throughout the week. Morning sessions are scheduled between 8 a.m. and noon; afternoon sessions are held from 1 to 4 p.m. See the complete listing of Corporate Symposiums with presenters and locations at Meeting.RSNA.org.
Vendor Workshops
Get first-hand experience on an exhibiting company's proprietary systems by attending user training and product instruction in classroom spaces located within the Technical Exhibits Halls. Vendor Workshops are scheduled between 10 a.m. and 5 p.m., Sunday through Wednesday.
Virtual Industry Presentations
Participate in educational sessions presented by sponsors during the 60-minute Virtual Industry Presentations and learn about specific exhibitor solutions during the 30-minute Virtual Product Theater Presentations. These are scheduled Monday through Wednesday. Check the Industry Program schedule at Meeting.RSNA.org.
Lunch & Learns
Participate in panel discussions, demonstrations and lectures with company leadership and medical professionals while you enjoy a mid-day meal. RSNA 2021 Lunch & Learns will be held Sunday through Wednesday. Visit Meeting.RSNA.org for the full schedule.
Virtual Exhibition
Visit even more exhibitors online in the Virtual Exhibition. Both in-person and virtual meeting attendees have access to industry programming and the complete Virtual Exhibition through April 30, 2022.
Innovation Theater
View the latest radiology innovations during these 15-minute open air theater presentations by exhibitors. Presentations will take place on Monday and Tuesday, beginning at 10:30 a.m. (CT). Details on the presentations are available in the online exhibitor listing.
Virtual Exhibitor Lounge
Visit this area to learn more about the virtual only exhibitors. Companies are featured by their logo, and a QR Code that will take attendees directly to the company's online exhibit. This area includes a lounge with built-in chargers for attendees to relax, recharge and engage with the virtual exhibitors.
Bistro RSNA
Enjoy this buffet dining experience offering an extensive gourmet menu and plenty of seating. Open Sunday through Wednesday from 11 a.m. to 2:30 p.m., Bistro RSNA has two locations in the Technical Exhibits Halls. Purchase advance tickets for $27 per meal at RSNA.org/Register.
For More Information
Learn more about the RSNA 2021 Technical Exhibits at RSNA2021.MapYourShow.com.
Register for RSNA 2021 at RSNA.org/Annual-Meeting.
Read recent RSNA News stories on RSNA 2021: