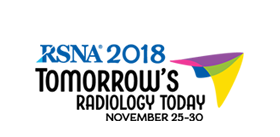 Join us for the 104th Scientific Assembly and Annual Meeting,"Tomorrow's Radiology Today." Whether you're looking to attend RSNA 2018 in-person or would like to take advantage of the Virtual Meeting, choose the option that's right for you.
Download our registration and hotel reservations brochure (PDF) for more information.
Need to convince your supervisor you should attend? Download and personalize the justification letter.
Register for RSNA 2018
Join us in Chicago or register for the Virtual Meeting.
If you're not already logged into your RSNA or AAPM account, you'll be asked to sign in or create an account to secure your spot.
Discover all our registration options designed to meet the needs of a variety of budgets. Choose the option that meets your educational and networking needs.
Members
Active, Associate and AAPM members
Standard: $160

The RSNA standard package includes everything you've come to expect from medical imaging's leading forum:
6 full days of conference access

440+ educational courses

1,700 oral scientific presentations

2,500 scientific and education posters

650+ technical exhibits

CME credits

Mobile app and Meeting Central

Networking opportunities
Deluxe: $320

The deluxe package includes all the benefits of the standard package plus complete Virtual Meeting coverage, including:
200 live-streamed and on-demand courses

Select CME-eligible courses on-demand

Extended access through April 2019

Case of the Day, education exhibits and more
Premium: $475 (limited availability)

The premium package includes all the benefits of the deluxe package plus a voucher to use toward:
Five Bistro RSNA tickets
$25 in Starbucks gift cards
25% discount on RSNA Shop purchases
Priority taxi boarding
Virtual only: $160

When you cannot attend the RSNA meeting in person, the Virtual Meeting is an ideal solution. With an incredible array of educational programming and scientific presentations, the virtual only package allows you to maximize your RSNA experience right from your own computer:
200 live-streamed and on-demand courses

Select CME-eligible courses on-demand

Extended access through April 2019

Case of the Day, education exhibits and more
Students and trainees
Standard: $0
The RSNA standard package includes everything you've come to expect from medical imaging's leading forum:
6 full days of conference access
440+ educational courses
1,700 oral scientific presentations
2,500 scientific and education posters
650+ technical exhibits
CME credits
Mobile app and Meeting Central
Networking opportunities
Deluxe: $27
The deluxe package includes all the benefits of the standard package plus complete Virtual Meeting coverage, including:
200 live-streamed and on-demand courses
Select CME-eligible courses on-demand
Extended access through April 2019
Case of the Day, education exhibits and more
Virtual only: $27
When you cannot attend the RSNA meeting in person, the Virtual Meeting is an ideal solution. With an incredible array of educational programming and scientific presentations, the virtual only package allows you to maximize your RSNA experience right from your own computer:
200 live-streamed and on-demand courses
Select CME-eligible courses on-demand
Extended access through April 2019
Case of the Day, education exhibits and more