Circulating Tumor DNA (ctDNA) Shows Promise as a Biomarker for Non-Small Cell Lung Cancer
R&E researcher investigates the role of ctDNA in guiding personalized treatment
BY ANNA KATE ANDERSON
May 21, 2021
---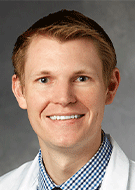 ---
While radiation therapy plays a critical role in managing non-small cell lung cancer, it has yet to be fully implemented as a tool in personalized medicine.
Despite advances in imaging and radiation treatment, it is challenging to monitor tumor response during radiation therapy for non-small cell lung cancer, the most common type of lung cancer.
To that end, Everett Moding, MD, PhD, an assistant professor of radiation oncology at Stanford University, CA, used funding from a 2019 RSNA Research Resident Grant to investigate the role of a promising non-invasive biomarker — circulating tumor DNA (ctDNA) — in monitoring the treatment response of non-small cell lung cancer.
"Right now, there is not an effective way to monitor how a patient is responding during radiation treatment," Dr. Moding said. "We hypothesized that circulating tumor DNA is a more specific indicator of how patients are responding during treatment than CT or PET scans and could be prognostic."
With more confidence in early biomarkers of treatment response, oncologists can make better informed clinical decisions, allowing timely changes in therapy that may result in better outcomes, he said.
In his research, Dr. Moding used CAPP-Seq (cancer personalized profiling by deep sequencing) to characterize ctDNA levels during chemoradiation therapy for locally advanced non-small cell lung cancer.
Dr. Moding investigated whether changes in ctDNA levels midway through chemoradiation predict progression-free survival. While a lower radiation dose can be effective in a significant number of patients, the key is knowing which patients may respond to that dose.
Personalizing Chemoradiation Therapy
The results were promising. The study showed that mid-treatment ctDNA levels may facilitate the personalization of chemoradiation therapy.
"ctDNA might tell us which patients may be cured with a lower dose of radiation and which patients could benefit from escalating treatment by adding treatments like immunotherapy," Dr. Moding said. "The earlier you know about potential relapse, the better your chances of being able to change treatment and cure the patient."
In the study, Dr. Moding used machine learning to improve prediction of patient outcomes. "Machine learning lets us combine multiple biomarkers and maximize prognostic value to better predict how patients will fare," he said.
Dr. Moding hopes the findings can be validated in prospective clinical trials and has used this research as preliminary data for career development award grant applications.
"Our results provide important evidence that ctDNA analysis may be able to guide personalized therapeutic approaches in non-small cell lung cancer," Dr. Moding said.
"We anticipate that our results in combination with the growing evidence that ctDNA levels are prognostic in other solid cancers, will lead to prospective clinical trials to test whether personalization of radiation therapy and/or adjuvant therapy based on ctDNA levels has clinical utility," he added.
"If these trials are successful, ctDNA-informed treatment has the potential to improve patient outcomes and reduce treatment toxicity," Dr. Moding added.
R&E Grant Leads to Further Research
Dr. Moding said that his RSNA Research Resident Grant has furthered his career in numerous ways, including motivating him to continue his research on the role of ctDNA in personalized medicine.
"The RSNA grant has provided critical support for my postdoctoral research training," Dr. Moding said. "And this research really got me excited about using ctDNA as a tool for personalized medicine."
Currently, Dr. Moding spends the majority of his time running a research lab at Stanford, where he focuses on molecular mechanisms that govern the response of tumors to radiation therapy. He is now studying whether ctDNA can be used to determine why some patients are cured with radiation therapy and others develop recurrent disease.
"Ultimately, I hope to establish a translational research program utilizing cancer genomics and ctDNA analysis of patient samples to guide basic science investigations in preclinical models," Dr. Moding said. "I hope this work will accelerate the discovery of personalized therapeutic approaches to improve outcomes with radiation therapy."
For More Information
Learn more about the RSNA R&E Foundation at RSNA.org/Research/Funding-Opportunities.
Read previous RSNA News articles on non-small cell lung cancer: