RSNA 2020 Program Highlights
Experience the wide variety of courses and formats for all career levels and subspecialties
RSNA 2020 offers unique session formats that allow you to attend the meeting at your pace and your convenience, with hundreds of educational courses, scientific posters and education exhibits to meet the needs of global attendees.
Each day, from 8 a.m. to 6 p.m. (CT) you can attend featured educational courses and science presentations. All provide the opportunity to interact with peers during the presentations, and several include live Q&A with the presenters.
After the scheduled appearance, featured sessions will be available on demand. And more than 200 additional educational courses and science sessions are available on demand, allowing you to access the content when it fits best into your schedule. There are also more than 1,000 scientific posters and 1,400 education exhibits included. Browse and explore the wide variety of sessions across all career levels and subspecialties.
RSNA is accredited by the Accreditation Council for Continuing Medical Education (ACCME) to provide continuing medical education for physicians. The RSNA designates this live activity for a maximum of 336 AMA PRA Category 1 Credits™. Physicians should claim only the credit commensurate with the extent of their participation in the activity.
Review the Program: At-a-Glance for more details.
Register for RSNA 2020 at: RSNA.org/Register.
Special Interest Sessions
The RSNA Board of Directors has determined these courses to be of particular importance.
• Building a Diverse Radiology Workforce (Sponsored by the American Association for Women in Radiology) – Sunday, Nov. 29 – SPSI22
• The Academy Imaging Shark Tank: Preparing Imaging Investigators to Dive Into the 'Shark Tank' (Sponsored by the Academy for Radiology & Biomedical Imaging Research) – Monday, Nov. 30 – SPSI21
• Exposing Our Blindside and Overcoming Unconscious Bias (Sponsored by the RSNA Committee on Diversity, Equity & Inclusion) – Tuesday, Dec. 1 – SPSI23
• A Call to Action in Health Equity: An Interactive Session on Health Disparities and Health Equity in Radiology – Wednesday, Dec. 2 – SPSI24
• Review of 2020: New Research that Should Impact Your Practice – Thursday, Dec. 3 – SPSI26
• Improving Patient Experience through Human Design Thinking (Sponsored by the RSNA Public Information Committee) – Friday, Dec. 4 – SPSI25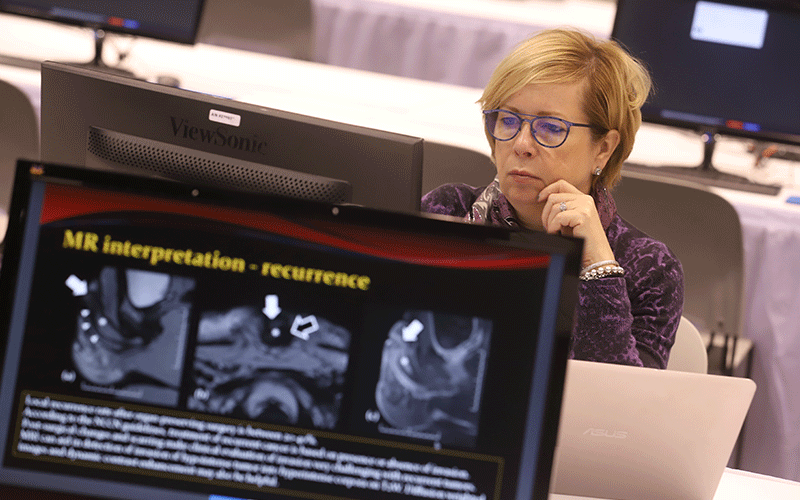 Hot Topic Sessions
Sessions are identified across all subspecialties that cover late-breaking discoveries. Highlights include:
• Artificial Intelligence-Decision Support: The Coronavirus Experience in USA and China – Sunday, Nov. 29 – SPSH53
• Neurological and Neuroimaging Manifestations of COVID-19 – Monday, Nov. 30 – SPSH55
• Artificial Intelligence and Implications for Health Equity: Will AI Improve Equity or Increase Disparities? – Tuesday, Dec. 1 – SPSH40
• Non-pulmonary Manifestation of COVID-19 – Tuesday, Dec. 1 – SPSH54
• Chest Findings of COVID-19 – Wednesday, Dec. 2 – SPSH56
• Department Readiness for Disasters-Lessons Learned from COVID – Thursday, Dec. 3 – SPSH57
• Integration of Novel Blood, CSF and Imaging Biomarkers for the Early Diagnosis of Alzheimer's Disease – Friday, Dec. 4 – SPSH52
• Integrated Diagnostics-Risk Predictions of Breast Cancer – Friday, Dec. 4 – SPSH51
• Stroke Imaging-How Recent Trials Are Changing Radiologists' Practices – Saturday, Dec. 5 – SPSH20
• Impact of COVID on Workforce Resilience – Saturday, Dec. 5 – SPSH58
Controversy Sessions
Sessions present opposing viewpoints on topics that are particularly controversial. Topics include:
• Radiology Report Substance, Structure and Style — Who's Right? – Sunday, Nov. 29 – SPSC20
• To Look or Not to Look—Does Every Woman with Newly Diagnosed Breast Cancer Need Axillary Imaging? – Monday, Nov. 30 – SPSC43
• Fractional Flow Reserve CT (CT-FFR) for Indeterminate Stenosis on Coronary CTA-Should It Replace CT Perfusion? – Tuesday, Dec. 1 – SPSC41
• Incidental Pancreatic Cyst Management – Wednesday, Dec. 2 – SPSC44
• Peer Review and Peer Learning-Are We Just Meeting Requirements or Are We Really Improving Our Practices? – Thursday, Dec. 3 – SPSC50
• Triple Rule Out Chest CT in the ER-Should It Be the 'One Stop Shop' for Chest Pain? – Thursday, Dec. 3 – SPSC40
• Platelet Rich Plasma (PRP) and Musculoskeletal Injectables-Show Me the Science – Friday, Dec. 4 – SPSC42
• Policy is Culture: Addressing Radiologist Productivity, RVU's, and Perverse Incentives – Saturday, Dec. 5 – SPSC30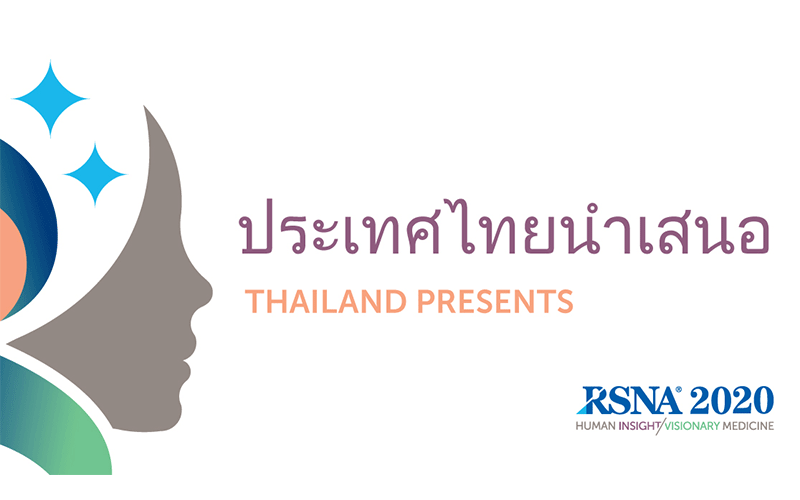 Thailand Presents
Members of the Royal College of Radiologists of Thailand will present on a diverse array of research, including specific topics affecting their patient population. Presentation highlights include MRI for the spine, aging brain imaging, nuclear medicine neuroimaging, interventional neuroradiology, emerging interventional radiology and pediatric tuberculosis. – SPCP31
Image Interpretation Sessions
These sessions are held over four days from 2 to 2:30 p.m. (CT) concentrating each day on a particular subspecialty.
• Neuroradiology & Head and Neck – Monday, Nov. 30 – PS12
• Chest & Breast – Tuesday, Dec. 1 – PS13
• Pediatric & Abdominal – Wednesday, Dec. 2 – PS14
• Nuclear Medicine & Musculoskeletal – Thursday, Dec. 3 – PS15
Fast 5
Five speakers present for five minutes each in this fast-paced session moderated by Richard E. Heller III, MD. The innovative, non-clinical topics were selected by popular vote.

Follow the conversation on social media at #RSNAFast5. – SPFF31
Fast 5 Topics and Speakers:
• International Medical Graduates in Radiology: Challenges & Opportunities, George K. Vilanilam, MBBS
• Culture Club: Why Radiology Practice Culture Matters More than Ever, Michael D. Fishman, MD
• What We Learned from the Pandemic: The Importance of Community, Jennifer S. Weaver, MD
• Can You Hear Me Now? A Resident's Perspective on Virtual Radiology Education, Aisling Fagan, MBBCh
• Talking to Thumbnail Images: Radiology Education Today (& Tomorrow?), Dyan V. Flores, MD
Deep Learning: A Hands On Introduction
This course provides attendees with an introduction to deep learning theory and basic application. Using as reference the Magician's Corner series published in Radiology: Artificial Intelligence, attendees learn how to run basic examples of deep learning and access more advanced examples.
Case-Based Sessions
These are multiple sessions intended to aid self-assessment and increase knowledge. Topics include abdomen, breast, cardiac, CT, head and neck, MR, musculoskeletal, neuroradiology, pediatric radiology, PET/CT, thoracic imaging and ultrasound.
Case of the Day
Each day a unique and challenging case is available online for meeting participants to submit answers. The correct answer is revealed the following morning. Answers must be submitted by midnight (CT) on the day the case is available online. Participants who submit the correct answer receive 0.5 AMA PRA Category 1 Credits™.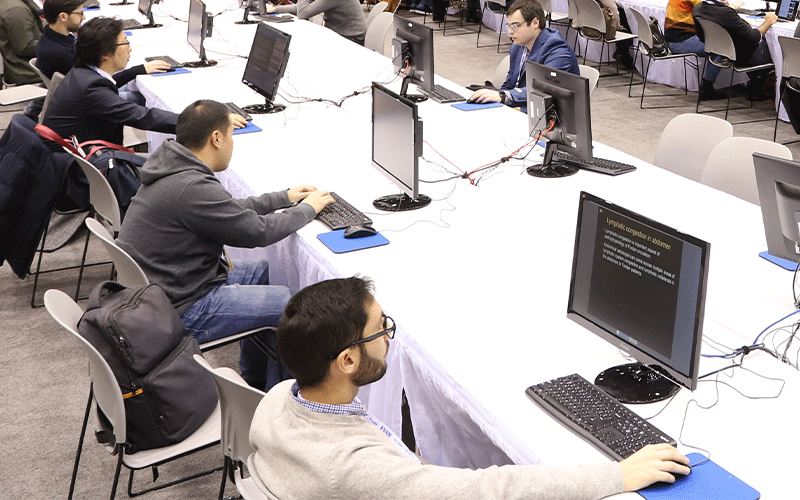 Corporate Programming
The industry presentations at RSNA 2020 allow attendees to explore cutting-edge products, services and solutions to enhance patient care, streamline operations and learn how to navigate today's health care landscape.
Access virtual exhibits starting Sunday, Nov. 29 through Saturday, Dec. 5. Exhibits are available 24 hours a day and booth staff is available each day between 8 a.m. and 6 p.m. (CT). You can also schedule one-on-one meetings with thought leaders and industry partners through the RSNA virtual networking platform at Meeting.RSNA.org.
Each day offers a robust schedule of industry presentations:
• Pre-show industry presentations: 7 – 8 a.m. (CT)
• Featured demonstrations: 8:30 – 10:30 a.m. and 2 – 5:30 p.m. (CT)
• Industry Hour and Lunch & Learns: 12 – 2 p.m. (CT)
Review the full schedule of industry presentations at RSNA.org/RSNA-2020-Program.
Professional Development
RSNA is accredited by the Accreditation Council for Continuing Medical Education (ACCME) to provide continuing medical education for physicians.
This year, the RSNA 2020 credit claim site is designed for self-service. RSNA members receive free Premium access. Non-members can register for Premium access and pay the fee. Premium access offers the flexibility to attend and claim partial credits for multiple live sessions held at the same time; access sessions and earn additional on-demand credits through April 30, 2021; and access the credit claim site from the RSNA 2020 meeting site (Meeting.RSNA.org). From the credit claim site, Premium attendees can review and adjust credit for education sessions attended, complete evaluations to provide RSNA valuable input, and print and save credit certificates and a certificate of attendance at any time.
Non-members with standard registration can access a certificate of attendance at RSNA.org/Register. On-demand access for standard attendees will be available through Dec. 5, 2020.
RSNA 2020 does not offer American Registry of Radiologic Technologists (ARRT) credits or Academy of Radiology Leadership and Management (ARLM) credits.
RSNA 2020 does not offer Self-Assessment Modules (SAMs). Members can visit RSNA's Online Learning Center (RSNA. org/Learning-Center) for opportunities to view and complete SA-CME credit through the year.