RSNA 2020: Stay Connected
Connect online and through social media during RSNA 2020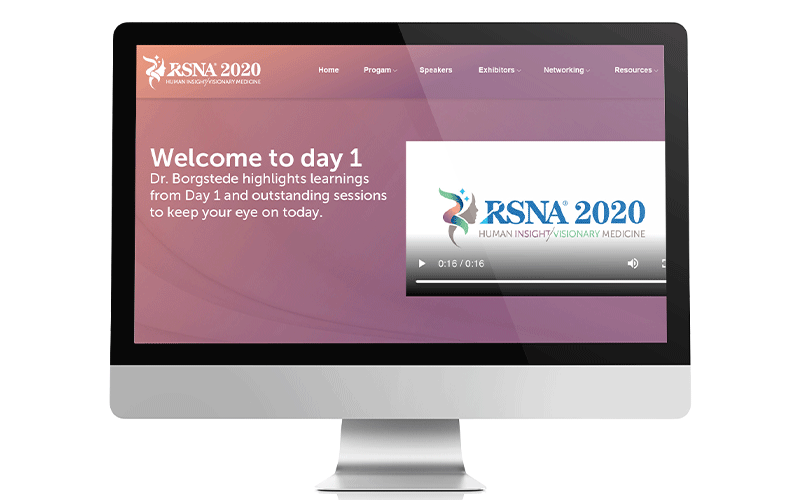 Now more than ever, attendees need technology to maximize learning and make those valuable human connections. The resources below will help you navigate RSNA 2020 and make the most of the meeting week. Make time throughout the week to connect with colleagues and company representatives, exchange ideas and enhance your learning. If you get stuck, we're here to help.
Virtual Assistant Offers Help 24/7
The RSNA 2020 Virtual Assistant will provide answers 24/7 to help attendees navigate the annual meeting and RSNA Virtual Exhibition. The tool helps you find sessions, identify exhibits, connect with other attendees and can assist with questions outside of meeting hours. Find the Virtual Assistant in the lower right corner on Meeting.RSNA.org.
The Virtual Assistant is sponsored by Change Healthcare.
Keeping Attendees Informed: Daily Bulletin
Access all the news of RSNA 2020 through Daily Bulletin, the official newspaper of the RSNA annual meeting.
Published online exclusively, the Daily Bulletin features session coverage and other news you need to stay informed and connected during the meeting.
Look for video interviews with featured presenters and interactive quizzes and polls. Get alerts on Daily Bulletin stories through social media at #RSNA20 on Facebook, Instagram or Twitter. Check your email at the close of each meeting day for meeting highlights featured in Daily Bulletin news articles.
Plan Your Meeting with the Program At-a-Glance
The RSNA 2020 Program At-a-Glance is your destination to stay up-to-date with all the meeting has to offer. Here you will find the complete schedule of featured programming and industry presentations lined up for each day.
RSNA 2020 Meeting Site
View the meeting program beginning on Nov. 29 at Meeting.RSNA.org.
Browse the full agenda of plenary sessions, educational courses, scientific presentations, education exhibits and industry presentations. Search by session number or presenter, or filter by day, session type and subspecialty.
Connect with Your Colleagues
Miss hanging out in the Connections Center or Resident and Fellow lounge? Find your friends and colleagues online through the meeting networking tool. Leave messages or schedule meetings by selecting Virtual Networking from the home page at Meeting.RSNA.org.
Virtual Exhibition
Learn about the companies unveiling the latest equipment and technology during RSNA 2020. Search the exhibitor listing by product category or name to find companies and visit their virtual booths. Schedule one-on-one meetings with thought leaders and industry partners through Virtual Networking.
The Virtual Exhibition will be open on Nov. 29 at Meeting.RSNA.org.
Get Social at RSNA 2020
RSNA 2020 offers many ways to stay connected with social media throughout the meeting.
• Join the Discussion: Use #RSNA20 on Twitter to follow and participate in conversations about the annual meeting. During last year's RSNA meeting, more than 29,000 tweets were sent about the meeting.
• Stay Up-to-Date: Following RSNA on Twitter (@RSNA) during the annual meeting will ensure you're getting the latest information. You can also follow RSNA on Facebook, Instagram, LinkedIn and YouTube.
RSNA Sessions Focus on Social Media
Want to increase your social media presence? Interested in learning more about how social media can connect you with colleagues, educate patients and advocate for the specialty and your practice? RSNA has you covered.
Sessions include:
• Medicine and Media in the Digital Age: Social Media's Impact on our Profession, Our Practice and Ourselves – RC516
• Social Media in Education – RC602
• Building a Social Media and Web Brand – RCC13
For More Information
Register for the meeting at RSNA.org/Register.
Read RSNA News stories about RSNA 2020:
· RSNA 2020: Program Highlights