RSNA Board of Directors Report
RSNA develops initiatives and resources to assist during COVID-19 outbreak
BY BRUCE G. HAFFTY, MD, CHAIRMAN OF THE BOARD
April 21, 2020
---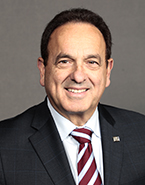 ---
This is a stressful and uncertain time for all of us. As COVID-19 began to spread around the world, and in the midst of increased burdens on your institutions and practices, our members responded in the way you do best, collaborating to ensure dissemination of the latest research, provide education, and connect radiologists. Since the beginning of this crisis, your Society has created several initiatives and resources.
Leading Through the Crisis
Two task forces were formed to quickly develop resources for members. The RSNA COVID-19 Task Force, chaired by Mahmud Mossa-Basha, MD, of the University of Washington Medical Center, has been working to identify and prioritize radiologists' needs related to the outbreak and to provide useful tools and resources. The RSNA AI COVID-19 Task Force, chaired by Matthew P. Lungren, MD, of Stanford University, is collaborating with several organizations to develop and implement a repository of COVID-19 imaging data. Read more about the task force volunteers and their work here.
A COVID-19 Resources page collects all available RSNA resources in one place for easy access to critical information. This page is updated weekly and you can subscribe to receive notifications.
RSNA opened the COVID-19 Community to connect the radiology community with peer-to-peer support and useful resources for managing the COVID-19 crisis, and hundreds joined the conversation in the first week.
Educational Resources
RSNA is well known for providing high quality education through many channels. We extended access to the RSNA 2019 Virtual Meeting and made it free to everyone through June 30. Additionally, all 600+ courses in the Online Learning Center are available to members for free through June 30.
Digital education, webinars and micro-learning opportunities are disseminating the most current knowledge about COVID-19. New peer-reviewed cases of COVID-19 from around the world are being published in the RSNA Case Collection each week. This unique diagnostic resource is helping radiologists understand disease progression over time and study cases with varying degrees of severity.
RSNA journals led the way with the first images of the novel coronavirus published on Jan. 31. Since that time, Radiology has received over 650 papers and is publishing COVID-19 articles within three to seven days of submission. Across all RSNA journals, 54 articles have been published since the outbreak began.
RSNA 2020
We know that many of you are wondering if the RSNA annual meeting will be held as planned at the end of November. At this time, we are cautiously optimistic that the COVID-19 outbreak will subside prior to RSNA 2020 and are proceeding with planning for the traditional meeting in Chicago.
We are fortunate to have some time to see how the situation evolves and to plan for possible scenarios. Be assured that we are closely monitoring developments and will consider recommendations issued by the U.S. Centers for Disease Control and Prevention (CDC), the World Health Organization (WHO) and state and local health authorities. The safety and well-being of attendees, exhibitors and staff is, and will remain, our top priority.
The RSNA Annual Meeting is recognized as the profession's best source of relevant education and scientific updates, and that is even more critical in this time of global pandemic. Although we are hopeful the outbreak will subside well before our meeting, we committed to enhancing and expanding our 2020 Virtual Meeting in the unlikely event that we are unable to hold the physical meeting. We will continue to update you if plans change here and at RSNA.org/Annual-Meeting.
On behalf of the RSNA Board of Directors, thank you for your efforts to provide a rapid response and important contribution to this unprecedented public health challenge. If you have ideas about additional educational needs or ways that RSNA can help, please send them to us at board@rsna.org.