RSNA 2020 Will Deliver an Unparalleled Virtual Experience
RSNA pivots from an onsite to an all-virtual meeting due to pandemic concerns
BY EVONNE ACEVEDO
October 28, 2020
---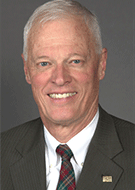 ---
In May, when RSNA made the decision to pivot its annual meeting to an all-virtual format to protect the safety of attendees during the COVID-19 pandemic, RSNA's leadership and staff quickly mobilized to deliver an exceptional, state-of-the-art event.
"We proudly recognize that our attendees rely on the RSNA annual meeting as a source for the latest research, premier professional education and cutting-edge radiologic innovation," said RSNA President James P. Borgstede, MD. "Connecting medical imaging professionals from around the world is more important than ever during this time, and RSNA is doing this in the best and safest way possible."
The RSNA annual meeting traditionally attracts approximately 54,000 attendees from 137 countries to Chicago. Transitioning the world's largest radiology meeting from an in-person event to an all-virtual meeting was no small undertaking, according to RSNA staff.
"This transition didn't mean taking all the components of the successful in-person meeting and moving them online," said Marissa Ritter, CMP, RSNA's director of meetings and convention services. "We knew we had to develop and implement RSNA 2020 as a comprehensive online event, which involves designing something unique from the ground up."
RSNA is no stranger to hosting virtual events, albeit on a smaller scale. In 2011, RSNA began offering a virtual component to its onsite annual meeting featuring a scaled back program of core courses and sessions.
In less than a decade, the RSNA Virtual Meeting has evolved into one of the most successful, influential virtual models in health care today. The goal for RSNA 2020: Human Insight/Visionary Medicine is to provide all content in a virtual format, offering a unique opportunity for attendees to learn and network and to provide opportunities for companies to showcase their offerings and engage with attendees online.
The annual meeting has been expanded to seven days (Nov. 29-Dec. 5). Staff and volunteers carried out RSNA's objective to plan and host an unforgettable event for tens of thousands of participants — all while working remotely.
RSNA began by forming a task force of subject matter experts in key areas. This approach allowed the group to move swiftly through the planning process and to prioritize projects.
Another key objective was creating a platform that would deliver a world-class event. Proposals were requested from six vendors that were later narrowed to two candidates. Ultimately, the task force chose Freeman, a global leader in event management with a long-standing history of working with RSNA for its annual meeting.
In terms of programming, RSNA will offer a wide spectrum of science and education content, with more than 350 educational and scientific presentations, and more than 2,000 scientific posters and education exhibits.
Select featured science and education sessions throughout the week include Q&A with presenters and chat features for networking. The popular Cases of the Day will continue to highlight the program. Five Hot Topic sessions will explore the latest findings related to COVID-19 and two sessions will focus on radiology department readiness and resilience. Special Interest Sessions will return and the RSNA Imaging Symposium will enable attendees to review both classic and outstanding imaging cases.
Creating a Virtual Exhibition
Featuring state of the art in technological advancements, RSNA's onsite Technical Exhibition experience is unparalleled. Attendees consider it the premier forum to shop for the latest in equipment, products and services, while exhibitors look to the event as the best opportunity to connect with attendees and form lasting business relationships.
Creating a virtual exhibition that still provides a great experience for attendees and exhibitors alike was a top priority for RSNA. For all seven days of the annual meeting, exhibitors will staff their virtual booths, offering a variety of networking tools — from live chats to private meetings — to help attendees connect with exhibitors in exciting new ways.
RSNA will dedicate two hours each afternoon for attendees to have a break from educational courses and to visit virtual exhibits and attend industry presentations. From noon to 2 p.m. Central Time (CT) each day, attendees are encouraged to participate in industry presentations and to explore the virtual exhibits.
Select exhibitors will also host pre-show presentations to give visitors a closer look at the technology. Accessible 24 hours a day, the Virtual Exhibition includes exhibiting companies offering a wide array of products and services.
RSNA 2020: Silver Linings
While transitioning to a virtual experience was challenging, it also offers a number of advantages. Hosting a virtual meeting means that RSNA can welcome more participants from around the world who may not have had the opportunity to join in the past.
In addition, CME will be offered for all featured sessions and on-demand content, and with premium registration access, extended viewing and CME opportunities will be available for four months after the live meeting ends. In addition, RSNA established a new rate structure that provides all aspects of the meeting free to members and significantly reduced the registration fee for non-members. And the planning experience has provided opportunities to look at the RSNA annual meeting in exciting new ways.
"We've been able to explore new content formats and really think about what attendees will expect from us in the future," said Adrianne Glowski, RSNA's director of marketing. "Moving forward, we expect the virtual component of our annual meeting to become stronger and stronger."
For More Information
View an infographic about how RSNA 2020 was shifted to an all-virtual meeting.
Learn more about RSNA 2020 at RSNA.org/Annual-Meeting.
Register for RSNA 2020 at RSNA.org/Register.
Learn more about the Virtual Exhibition.
Review the RSNA 2020 Program: At-a-Glance.