Mentoring and Education High on Priority List for RSNA Resident and Fellow Committee
Committee uses social media to connect and online resources for education.
BY JENNIFER ALLYN
April 11, 2019
---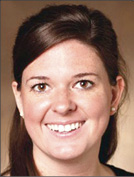 ---
Residents and fellows continue to place high importance on personal education and professional relationship development, according to the RSNA Resident and Fellow Committee (RFC), which met at RSNA headquarters in Oak Brook, IL, in March.
The committee discussed a wide-variety of topics that address the needs of radiology residents and fellows and also medical students who have expressed an interest in radiology.
"Radiology residents and fellows continue to place value on education and leadership opportunities," said Courtney Raybon, MD, chair of the RFC and diagnostic radiology resident at Vanderbilt University Medical Center in Nashville, TN. "RSNA affords both of these for trainees, helping us as we transition into our careers as radiologists."
Social Media Enhances Communication
Twitter continues to be the social media platform that most radiology residents and fellows use to quickly scan for topics of interest, while providing easy access to links for online education and scholarship and grant opportunities. RFC members prefer Twitter because hashtags allow them to easily find topics related to the specialty.
The RFC's Diversity and Inclusion Subcommittee is investigating how to best use hashtags to support the recruitment and retention of residents, fellows and medical students from backgrounds traditionally underrepresented in radiology. The subcommittee is also looking to develop opportunities for using social media to support the recruitment of diverse medical students and showcase the specialty.
The Medical Student Outreach subcommittee uses social media to connect with medical students. These relationships can help generate interest in radiology and encourage in-person meetups during the RSNA annual meeting to answer questions from medical students and identify sessions that will broaden their scope of knowledge about radiology.
Committee members noted that social media works best for casual and professional mentoring, since it can connect radiology professionals from all career levels from all around the world.
"Technology is assisting residents and fellows in connecting with each other, their mentors and RSNA via social media, especially Twitter," Dr. Raybon said.
Mentoring opportunities were also noted as a strong incentive to attend the RSNA annual meeting.
"The RSNA annual meeting allows residents to connect with mentors which is a great way to broaden your network," said Karen Rodriguez, MD, chair of the RFC Communications Subcommittee and a radiology resident at Dartmouth-Hitchcock Medical Center, Lebanon, NH. "Every year, I get the chance to meet with research mentors. This past year, one of my medical school mentors introduced me to an attending at the institution where I will be doing my fellowship."
Online Education Resources Vital
Online education tools and information provided by RSNA are essential resources as trainees transition into the profession. Board preparation was a crucial topic discussed by the RFC and many members use the RadioGraphics ABR Diagnostic Radiology Core Exam Articles Index to prepare for the exam. The RSNA/AAPM Physics Modules were also mentioned as an important resource.
"Technology plays a crucial role for board prep where we have access to hundreds of online textbooks and question banks on iPads or mobile apps," Dr. Rodriguez said. "Online RSNA resources are great tools to help strike a balance of being challenged but at the same time engaged."
Symposium Targets Early Career Transitions
This year's RSNA Resident and Fellow Symposium will include a variety of sessions on the early stages of a radiologist's career.
Residents and fellows looking for more information about career transition can review the videos of previous years' symposiums at RSNA.org/en/Education/ Trainee-Resources, said Casey A. Reed, MD, chair of the RFC Programming Subcommittee and chief resident, diagnostic radiology at the University of Cincinnati.
"The RSNA Resident and Fellow Symposium continues to address early career transition because the need for information is constant and the information is always changing," Dr. Reed said.
RSNA Resident and Fellow Symposium Topics Set for RSNA 2019
The RSNA Resident and Fellow Symposium will be held Tuesday, Dec. 3, during RSNA 2019.
Attendees must be registered for RSNA 2019 to attend. Visit RSNA.org/Registration-Packages.
Topics and speakers include:
- Job Market Update/Changing Practice Patterns, Darcy J. Wolfman, MD
- Making Major Career Decisions, Matthew Davenport, MD
- Transition to Early Career, Ann L. Brown, MD
- Personal Finance Essentials, Kurt Schoppe, MD
Career and Practice Type Panel:
- Academic: Alex Norbash, MD
- Private practice: Amy Patel, MD
- Hybrid: Laura Bancroft, MD
- Teleradiology: Eric Ledermann, MD