The latest updates and announcements
Register for Final RSNA Artificial Intelligence (AI) Webinar
The final in the RSNA series of 60-minute webinars on artificial intel­ligence (AI) featuring internationally renowned experts will be held on Thurs­day, Feb. 21.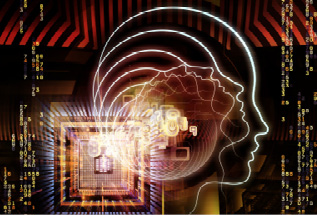 The webinar, "AI, an Ally or an Enemy?" will be a roundtable discussion featuring speakers Curtis P. Langlotz, MD, PhD, RSNA Board liaison for infor­mation technology and annual meeting and professor of radiology and biomedical informatics at Stanford University; Paul Chang, MD, professor of radiology and vice chair, radiology informatics, Univer­sity of Chicago; and Adam Flanders, MD, professor of radiology, co-director, neu­roradiology/ENT radiology and vice chair, imaging informatics at Thomas Jefferson University, Philadelphia. This webinar will be highly interactive with the panel answering questions from attendees.
The first three webinars of the series, "Intro to AI and Machine Learning: Why All the Buzz," "Current State and Future Perspectives of AI" and "Future Appli­cations of AI" are available for purchase on-demand.
Members can access the live webinars and the on-demand recordings for $35 per webinar. Non-members can access both versions for $50 per webinar. The live webinars offer CME credit and the on-demand versions offer SA-CME credit. For more information, visit RSNA.org/AI-Webinars.
RSNA/ASNR Comparative Effectiveness Research Training (CERT) Program
RSNA and the American Society of Neuroradiology (ASNR) jointly sponsor the Comparative Effectiveness Research Training (CERT) Program, an interactive course in com­parative effectiveness research (CER), targeted to junior faculty and senior trainees in imaging science. The CERT program provides an introduction to the methodology and tools for performing CER, including technology assessment, risk benefit analysis and cost-effectiveness evaluation. The CERT program is a series of online modules, a 1½ day in-person workshop and online didactic lectures and grant proposal review discussions. The next session begins in October.
Accepted participants are responsi­ble for travel expenses and onsite hotel accommodations. There is no fee for this course. Apply online at RSNA.org/CERT or contact RSNA staff at dor@rsna.org with questions.
Introduction to Research for International Young Academics
The Introduction to Research for International Young Academics (IRIYA) workshop encourages young radiologists from around the world to pursue careers in academic radiology.
During a four-day seminar held during the RSNA annual meeting, participants will learn about academic radiology, gain real-world insight from other RSNA mem­bers and network with future mentors.
Nominations must be submitted by a radiology department chairperson or training director. Applicants must be from outside the U.S. and Canada and a resident or fellow currently in a radiol­ogy training program, or a radiologist who is no more than two years out of training, and beginning or considering an academic career.
For more information visit RSNA.org/IRIYA.
2019 Physics Modules Now Offer SA-CME Credit
Beginning with the release of the 2019 RSNA/Association of Physicists in Medicine Physics Modules, the modules will offer SA-CME credit.
SA-CME credit is only available for topics released in 2019 and future models. Previously released Physics Modules do not offer SA-CME credit.
Serving as a refresher for learners seeking knowledge about medical-physics concepts, the Physics Modules also provide key information for residents preparing for the CORE exam.
The following modules will be released with SA-CME credit in the first quarter of 2019 (listed in order of release):
Interactions of Radiation and Tissue
Ultrasound — Concepts and Transducers
Basic Concepts in Radiography
Basic Principles of Nuclear Magnetic Resonance
MRI: Image Artifacts
MRI: Image Formation
PET/PET-CT/Image Quality
Radiation Dose and Risk
To view the Physics Modules, visit RSNA.org/Physics-Modules.
Writing a Competitive Grant Proposal Workshop
March 8 – 9, 2019
RSNA Headquarters
Oak Brook, IL
Registration is open for the Writing a Competitive Grant Proposal Workshop designed for researchers in radiology, radiation oncology, nuclear medicine and related sciences who are interested in actively pursuing federal funding.
The course fee is $225. Register online at RSNA.org/CGP.
Radiology Select: Imaging the Liver Offered at Discounted Rate
The online version of Radiology Select Vol. 7: Imaging the Liver, is available for purchase through Feb. 27, and is now offered at a 50 percent discounted rate.
The volume features 31 Radiology articles covering the most important advances in liver imaging with an emphasis on the role of preliminary or experimental studies. Subject areas include diagnostic imaging with ultrasound (US), CT and MRI; disease detection and characterization with diffusion MRI; quantitative imaging techniques; liver-specific contrast agents; and advances in treatment of liver diseases.
The volume includes 13 tests with an opportunity to earn 13 SA-CME credits through Feb. 27. The online version will no longer be available for purchase after Feb. 27, but articles will be available to those who purchased the volume. SA-CME credit is no longer offered after Feb. 27.
The discounted member rate is $32.50; the discounted non-member rate is $112.50.
For information about this and other Radiology Select products, visit RSNA.org/Radiology.