Explore Beyond the Walls of McCormick Place
The city of Chicago offers memorable activities for every RSNA attendee
BY LYNN ANTONOPOULOS
November 17, 2023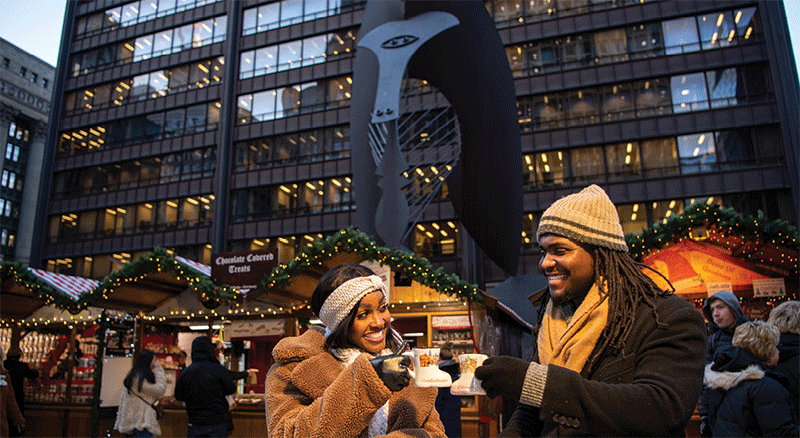 Whether you're traveling to Chicago for the first time, or if you call Chicago your home year-round, you'll find that the Windy City is an exceptional location. It is a diverse and vibrant place with a wide range of neighborhoods, each offering its own unique character, culture and atmosphere.
While you're discovering the latest ideas and innovations in radiology, you'll want to set aside some time to balance work and leisure using Chicago's unique setting to build connections and share experiences with fellow attendees.
Explore beyond the walls of McCormick Place and immerse yourself in the sights, sounds and tastes of a lively city that blends urban bustle with Midwestern charm. Find even more to do in Chicago in the About Chicago section under Attendee Resources in Meeting Central.
Enjoy Gourmet Eats and Sweet Treats
Indulge your taste buds with friends and colleagues in any of the gourmet restaurants and neighborhood eateries that make up Chicago's diverse culinary landscape.
Enjoy dim sum, Peking duck and hot pot in Chinatown. Indulge in gyros, souvlaki and baklava in Greektown. Find Swedish restaurants and bakeries in Andersonville, and taste tacos, tamales and authentic Mexican street food in Pilsen.
Don't forget to try Chicago favorites like deep dish pizza, premium steaks at any of the city's famed steakhouses, and artisanal goodies and seasonal treats available at specialty food markets.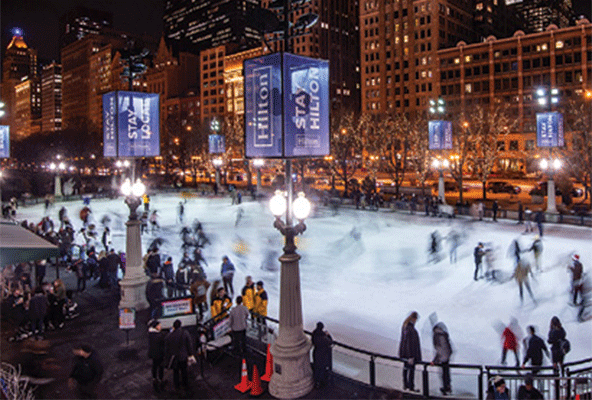 Experience Outdoor Chills and Thrills
Discover the rich history and architectural wonders of Chicago with one of many available tour options. Hop aboard a guided bus tour that will take you through the city's iconic neighborhoods, showcasing its diverse culture and impressive landmarks.
Or, explore Chicago on foot with knowledgeable guides who will share fascinating tales and insights about its history and architecture.
If you are attending the meeting with children, you won't want to miss the enchanting Lincoln Park ZooLights. Millions of twinkling lights illuminate the zoo's grounds, creating a magical atmosphere that's perfect for a leisurely walk before or after dinner. The zoo's animals join the festivities, with holiday-themed enrichment activities to keep them entertained.
If you're looking for something more energetic, glide into the heart of Chicago's famous Millennium Park for a memorable ice-skating experience. The McCormick Tribune Ice Rink and the nearby Maggie Daley Ice Skating Ribbon offer the thrill of skating amidst the stunning backdrop of the city's skyscrapers.
This year, the famous Cloud Gate sculpture, fondly known as "The Bean," will be closed for renovations. Look instead for other Instagram-able locations like the Chicago Riverwalk to capture the city's skyline reflecting on the icy river, Buckingham Fountain dressed up with holiday lights that can create a magical backdrop for winter shots, and the Lake Michigan shoreline where you can capture stunning views of the lake with possible snow-covered beaches and the city skyline in the background.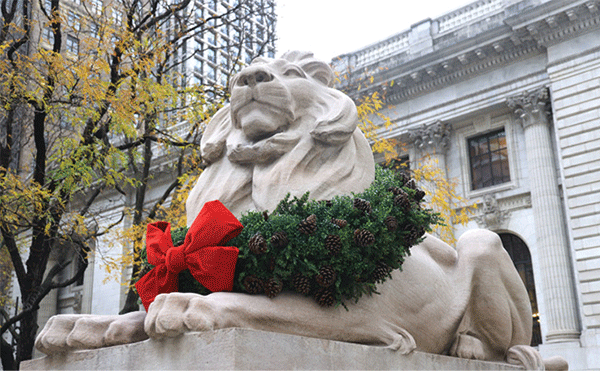 Immerse Yourself in Indoor Culture and Competition
Chicagoans are serious about their arts and their sports, and there are several opportunities in each category for annual meeting attendees to enjoy. Art enthusiasts can visit the renowned Art Institute of Chicago—home to an impressive collection of over 300,000 artworks.
The Museum of Contemporary Art, located just north of the Loop, features rotating exhibitions of contemporary paintings, sculptures and multimedia installations.
If you're looking for live stage performances, there's something for everyone in Chicago's theater scene. You'll find heartwarming holiday-themed shows and thought-provoking dramas taking center stage at the city's renowned theaters including the Cadillac Theater, the James M. Nederlander Theater, Steppenwolf Theatre Company and the Goodman Theatre.
For those who prefer the electric atmosphere of professional sporting events, both the Chicago Bulls and the Chicago Blackhawks are hosting rivals at home during meeting week. Check team sites online for dates, game times and tickets.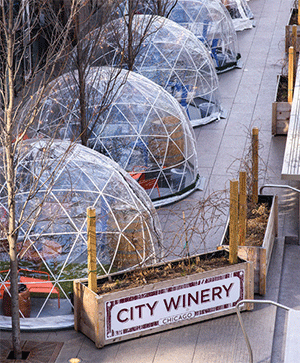 Delight in a Holiday Shopping Extravaganza
No Chicago story is complete without a mention of the world-class shopping available along the Magnificent Mile. Take care of holiday shopping and souvenir purchases in the top-notch stores, boutiques and designer shops, all decked out in festive decorations.
For a more unique shopping experience, visit the Christkindlmarket, a German-inspired Christmas market in Daley Plaza. Here, you can browse through handcrafted ornaments, wooden toys and festive decorations while enjoying a steaming cup of mulled wine. Look to Chicago's unique neighborhoods for other one-of-a-kind shopping experiences.
There is never a shortage of entertainment in the beautiful Windy City. Embrace Chicago's charm and warmth as you create lasting memories during your stay.
For More Information
Visit our About Chicago page.