MIDRC Town Hall to Discuss Access and Use of Data Resources
MIDRC data portal accepting contributions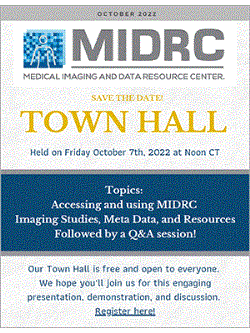 The Medical Imaging and Data Resource Center (MIDRC), a multi-institutional collaborative initiative driven by the medical imaging community, is hosting a Town Hall on Friday, Oct. 7 at noon CT. Registration is open.
Researchers participating in the Town Hall will explain how to access and use MIDRC imaging studies, meta data and resources and will answer related questions.
MIDRC unites engineers, physicians and scientists to collect and organize the data to answer crucial questions about how imaging could be deployed against COVID-19. The MIDRC data portal is open and accepting data contributions.
MIDRC is funded by the National Institute of Biomedical Imaging and Bioengineering (NIBIB), is hosted by the University of Chicago, and is jointly developed by representatives of RSNA, American College of Radiology® (ACR®) and the American Association of Physicists in Medicine (AAPM).
For More Information
Visit MIDRC.org.
Learn about the MIDRC monthly seminar series.
Read more about the RSNA International COVID-19 Open Radiology Database (RICORD).