Your Donations in Action: Simone Raiter, MD
Evaluating immune response to DEB-TACE in an animal model of HCC
---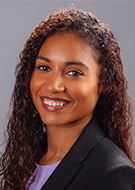 ---
Trans-arterial chemoembolization (TACE) is the standard of care for intermediate-stage hepatocellular carcinoma (HCC). However, it is limited by tumor revascularization and recurrence.
In her 2020 RSNA Research Medical Student Grant, Simone Raiter, MD, a PGY-1 resident physician at St. Joseph's Hospital in Denver, and colleagues at Northwestern University in Chicago, aimed to characterize the immune response to TACE using doxorubicin drug eluting beads (DEBs) in an immunocompetent rat model of HCC to inform combination therapy with immune checkpoint blockade (ICB).
The researchers chemically induced HCC in 40 Wistar rats using diethylnitrosamine (DEN). Later, after tumor presence was confirmed with MRI, the animals underwent hepatic artery catheterization via the gastroduodenal artery and subsequent embolization with either Bland Lumi beads or Doxorubicin beads.
The rats were euthanized at 24-hour, 48-hour, one-week, two-week or four-week periods in which the liver, spleen and lymph nodes were harvested. Liver samples underwent histopathology staining with H&E, trichrome and IHC PD-L1. Additional liver, spleen, and lymph node samples underwent flow cytometry evaluation to view expression of both immune cell presence and immune checkpoint markers at the different time points.
Preliminary results of flow cytometry suggested elevated CD4/CD8 T-cell ratio in the doxorubicin-treated rats after one or two weeks, with maximum peak at two weeks in the liver and one week in the spleen and lymph node.
Watch as Dr. Raiter discusses her research:
Histopathology analysis revealed positive stains for PD-L1 in the doxorubicin-DEB treated groups. Quantification of the PD-L1 stains for each time point is pending. "The results of this study support the feasibility of creating an immune profile with a focus on immune checkpoint blockade in a rat model," Dr. Raiter said.
"With this we can determine the optimal timing for the initiation of ICB post-TACE with the goal of translating these results into clinical practice."
Dr. Raiter received her grant through the R&E Foundation's minorities underrepresented in medicine (UIM) research medical student grant funding opportunity. She will start her interventional and diagnostic radiology residency at University of Colorado in 2023.
"With this grant came additional research funding, research awards and opportunities to present at conferences. I strongly believe this cascade that began with the R&E Foundation grant played a significant role in helping me match into my dream specialty," she said.
For More Information
Learn more about R&E Funding Opportunities.
Read last month's Your Donations in Action article.
Find Dr. Raiter on Twitter @RaiterSimone