---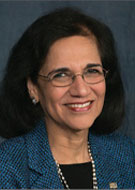 ---
A global authority on head and neck imaging and recognized for her health services research in radiology, RSNA past president Vijay M. Rao, MD, is the David C. Levin Professor and Emeritus Chair of Radiology at Sidney Kimmel Medical College of Thomas Jefferson University and senior vice president of Enterprise Radiology and Imaging at Jefferson Health in Philadelphia.
"Having worked closely with Dr. Rao on the RSNA Board of Directors, I am most appreciative of her service, dedication and leadership," said RSNA President Bruce G. Haffty. "Her contributions to health services research, head and neck radiology, and as a role model for young women in our field make her an ideal candidate for RSNA's Gold Medal."
Dr. Rao is a graduate of the All India Institute of Medical Sciences, India's premier medical school. After completing her radiology residency in 1978 at Thomas Jefferson University Hospital, she remained on the faculty. A passionate educator, she served as residency program director, associate chair and then vice chair for education, and co-director of the Neuroradiology/ENT division. In 2002, she was appointed chair of Jefferson's Department of Radiology, becoming the first female chair of a clinical department in Jefferson's history. In 2016, she was named senior vice president of Enterprise Radiology and Imaging at Jefferson Health. She is also a trustee of the Thomas Jefferson University Hospitals board.
A prolific researcher, Dr. Rao is widely recognized as a thought leader in health services research in radiology. She has published over 220 peer-reviewed articles, a dozen book chapters and 275 abstracts in medical literature and has edited a popular atlas textbook on MRI and CT of the head and neck. She has given 300 presentations at national and international radiology meetings.
Dr. Rao has held many leadership roles in national organizations, including president of the American Society of Head and Neck Radiology, the Association of Program Directors in Radiology (APDR) and the American Association for Women Radiologists (AAWR). She has served the RSNA R&E Foundation as a member of the Board of Trustees from 2008 to 2011 and 2019 to 2022. She currently serves as the R&E Foundation Board chair. In 2011, she was named to the RSNA Board of Directors, serving as president-elect in 2017 and president in 2018. She served on the board of the Academy for Radiology & Biomedical Imaging Research and the Pennsylvania Radiologic Society for several years.
Dr. Rao serves as a role model and source of inspiration for many radiologists worldwide. She has received numerous awards, including the APDR Achievement Award and the AAWR Marie Curie Award. She was awarded gold medals from the Association of University Radiologists, the Asian Oceanian Society of Radiology, and American Society of Head and Neck Radiology. She holds honorary membership in the Israeli Radiological Society, the European Society of Radiology, the Indian Radiological and Imaging Association, and the French Society of Radiology along with its Medal of Honor.
In 2005, Dr. Rao was honored by the Philadelphia Business Journal as one of 25 Women of Distinction throughout the region. She has been consistently chosen by her peers to be included on Philadelphia Magazine's annual list of Top Doctors and Best Doctors.