---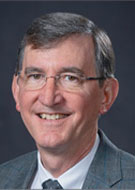 ---
An internationally known advocate for the monitoring and control of medical radiation exposure, James A. Brink, MD, is chair of the Department of Radiology at Brigham and Women's Hospitals, radiologist-in-chief at Massachusetts General Hospital, chief of enterprise radiology for Mass General Brigham health system, and the Juan M. Taveras Professor of Radiology at Harvard Medical School, all in Boston.
"I have known Dr. Brink for nearly 30 years since our days together at Yale," said RSNA President Bruce G. Haffty, MD. "He is most deserving of RSNA's Gold Medal given his contributions in advancing quality and value-based care, his service to RSNA and the specialty of radiology, and his leadership."
Dr. Brink also focuses on the critical role radiology plays in advancing quality care at an affordable cost. He champions radiologists as poised to use technological innovation toward medical imaging advances that will improve public health.
A leader in organized radiology, Dr. Brink is a past president of the American Roentgen Ray Society (ARRS) and the American College of Radiology. He currently serves as president of the International Society for Strategic Studies in Radiology and was previously vice chair of the Nuclear and Radiation Studies Board for the National Academies of Sciences, Engineering and Medicine.
The ARRS honored Dr. Brink's achievements with a gold medal, and he holds honorary membership in the European Society of Radiology, the Japanese Radiological Society, the Chinese Society of Radiology, the Italian Society of Medical Radiology, the American Association of Physicists in Medicine and the International Organization for Medical Physics. Dr. Brink was recognized by his alma mater, Purdue University, with the Outstanding Electrical and Computer Engineer award in 2019. The following year, he was also elected Distinguished Emeritus Member by the National Council on Radiation Protection and Measurements.
Dr. Brink earned a BS degree in electrical engineering at Purdue University and his medical degree at Indiana University before completing his residency and fellowship at MGH. During his fellowship Dr. Brink received an RSNA Research Fellow Grant.
He began his career at the Mallinckrodt Institute of Radiology at Washington University School of Medicine in St. Louis, where he rose to the rank of associate professor before joining the faculty at Yale University in 1997. He served as chair of the Yale Department of Diagnostic Radiology from 2006 to 2013.