RSNA 2022 Honorary Member
Evis Sala, MD, PhD, FRCR, FRCP
---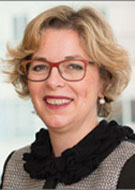 ---
A world-renowned cancer researcher, Evis Sala, MD, PhD, FRCR, FRCP, has significantly advanced the field's understanding of ovarian cancer. Her multidisciplinary research program integrates imaging, genomics, engineering and AI to advance patient care. Dr. Sala is a professor of radiology at Università Cattolica del Sacro Cuore and chair of the Department of Radiology at Fondazione Policlinico Universitario Agostino Gemelli IRCC, Rome, Italy. Previously, she was the professor of oncological imaging in the Department of Radiology at the University of Cambridge, U.K. and co-led the Cambridge Cancer Centre's Advanced Cancer Imaging Programme and the Integrated Cancer Medicine Programme. From 2013 to 2018, she served as the chief of body imaging service at Memorial Sloan Kettering Cancer Center in New York.
"I have had the pleasure of observing the significant contributions Dr. Sala has made in our BOOST program at RSNA. As a cancer researcher myself, I am most appreciative and admire the research Dr. Sala has contributed over the years," said RSNA President Bruce G. Haffty, MD. "Having witnessed her exceptional contributions to our oncologic imaging portfolio at RSNA, along with her contributions to medical imaging education and research, I consider her most deserving of Honorary Membership."
Dr. Sala's research focuses on the development and validation of functional imaging biomarkers to rapidly evaluate treatment response using physiologic and metabolic tumor habitat imaging. Her research in the field of radiogenomics has focused on understanding the molecular basis of cancer by demonstrating the phenotypic patterns which result from multiple genetic alterations that interact with the tumor microenvironment to drive the disease in several tumor types. Her work integrates quantitative imaging methods for evaluation of spatial and temporal tumor heterogeneity with genomics, proteomics and metabolomics. She also leads multiple research projects focusing on the development and implementation of AI methods for image reconstruction, segmentation and data integration.
Her contributions to cancer imaging span the development of functional imaging biomarkers to the creation of novel imaging-based virtual biopsy methods. Dr. Sala's ability and passion drive her to connect across disciplines and build creative teams at multiple world-class institutions.
A widely respected mentor, educator and orator, Dr. Sala earned the RSNA Honored Educator Award in 2014, 2017 and 2020. Her leadership extends to the most important international bodies in the field. She is a fellow of the International Cancer Imaging Society, the International Society for Magnetic Resonance in Medicine, the European Society of Urogenital Radiology and the Royal College of Physicians, U.K.
Dr. Sala serves as an associate editor of Cancer Research Communications and a senior consulting editor to Radiology: Artificial Intelligence.
After earning her medical degree at the University of Tirana Medical School in Albania, Dr. Sala earned a master's and PhD in epidemiology at the University of Cambridge. She completed fellowships at the World Health Organization in cancer research and cancer epidemiology.