Find everything you need to know to navigate the annual meeting
Radiologists worldwide will come together in person and online to experience the latest innovations in medical imaging science, education and technology. Join us to explore the ideas and solutions that affect radiology's critical role in multidisciplinary patient care.
Refresh your knowledge with our comprehensive education and expansive showcase of all the latest medical imaging technology.
The annual meeting program includes 400+ educational courses and scientific sessions from every subspecialty, in addition to 100+ industry presentations and demonstrations. Explore 600+ exhibitors, enjoy enhanced hands-on activities and engage in new networking opportunities to help build knowledge and connections.
For the best meeting experience, register for in-person and Virtual Access. Attendees with Virtual Access will be able to view all programming offered on demand until May 1, 2023.
Planning Your Week
Easily access meeting information and plan your week online with Meeting Central (Meeting.RSNA.org) or on-the-go with the meeting app.
Browse the annual meeting program, explore session details and view the exhibitor list on a range of handheld devices. With Meeting Central and the meeting app, you can choose sessions of interest, filtering by day and type, and explore theater presentations and networking events available throughout the week. Be sure to bookmark interesting speakers, sessions and events and create your custom schedule, accessible before and during the annual meeting.
Conveniently view the Case of the Day and Digital Posters, catch up on meeting news with the Daily Bulletin and claim CME credit. You will also find McCormick Place maps, transportation and dining information. While online, a live chat agent is available to answer your questions.
The RSNA 2022 meeting app is available for download at Google Play and the App Store.
The meeting app is sponsored by Hologic.
Networking Opportunities
Use the meeting app peer finder to identify exhibitors and colleagues to connect with during the meeting. Whether you are online or on the app, your schedule will sync for a seamless experience everywhere you go. All meeting attendees can access the Technical Exhibits, Virtual Exhibits and industry presentations.
Virtual Access
Registered Virtual Access attendees will use Meeting Central or the app to view sessions via livestream and on-demand with nearly 100% of all RSNA 2022 programming available until May 1, 2023, noon CT. Virtual Access lets you take the meeting with you, giving you the best opportunity to make sure you don't miss a thing.
Health and Safety Information
As a health care organization, RSNA is strongly committed to protecting the health and safety of all meeting attendees and personnel. The Society is actively working with the City of Chicago and McCormick Place to implement public health protocols and best practices to provide the safest possible meeting environment.
We will continue to monitor recommendations issued by the CDC and state/local health authorities and will adjust health and safety protocols as needed. RSNA will not require vaccine validation for RSNA 2022. Specific information regarding masking policies will be posted on RSNA.org.
Please help us keep everyone healthy and safe. Avoid traveling if you are feeling ill or experiencing flu-like symptoms or a rash. RSNA 2022 Virtual Access will feature nearly 100% of all annual meeting programming until May 1, 2023, and is ideal for those who cannot attend, as well as for attendees who wish to maximize their onsite experience.
A Robust Virtual Experience
Take RSNA 2022 beyond the walls of McCormick Place with Virtual Access. Attendees who register for Virtual Access will be able to view content online via livestream and on demand with access to 100% of all available annual meeting programming until May 1, 2023.
For the best overall meeting experience, register for both in-person and Virtual Access.
More Ways to Network
With more attendees planning a return to Chicago, RSNA is offering more ways to connect in person and network with colleagues and industry professionals. Our platform makes it easy to connect with exhibitors and colleagues during the meeting.
Whether you are online or on the app, your schedule will sync for a seamless experience everywhere you go.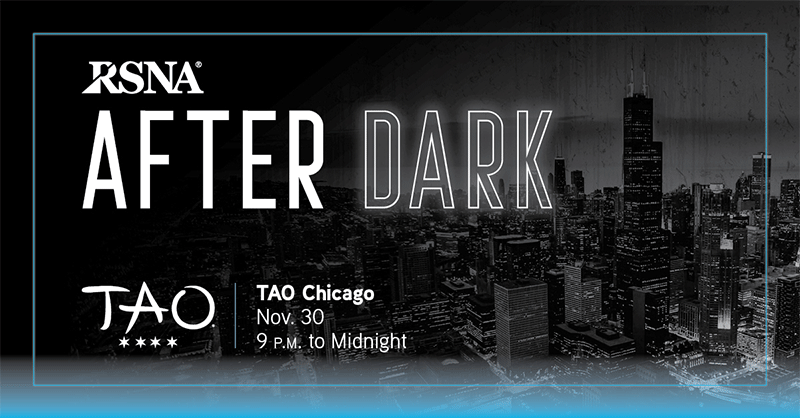 NEW! Get Social
Two new social events scheduled for Wednesday, Nov. 30, will extend connections beyond regular meeting hours.
From 2 to 4 p.m., don't miss Last Call at the Exhibit Halls, a free event that provides attendees with the opportunity to engage with exhibitors, friends and colleagues. Participating exhibitors will be serving appetizers and refreshments.
That same evening, join us from 9 p.m. to midnight for RSNA After Dark. This ticketed event takes place at TAO Chicago, a popular nightclub located in an historic building in the vibrant River North neighborhood. Advance purchase is required and can be completed at RSNA.org/Annual-Meeting.
Free Wi-Fi
Free wireless connectivity is available throughout McCormick Place. Please note: the wireless networks are not secure and should not be used for sending sensitive information.
Visit RSNA.org/Annual-Meeting for the most up-to-date information about RSNA 2022.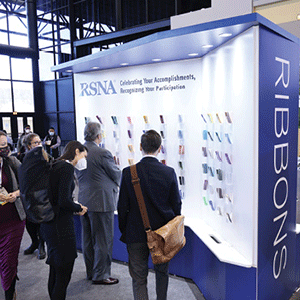 MEETING MATERIALS
Badge Pickup and Onsite Registration
Attendees are encouraged to complete their registration in advance online at RSNA.org/Register or at designated registration areas in McCormick Place.
Badges will not be mailed in advance and should be picked up at either of the two designated registration locations in McCormick Place. A valid photo ID is required.
Your badge serves as a virtual business card and is encoded with demographic information you provided during registration. Upon request, exhibitors who have lead retrieval may scan your badge to access your contact information.
Badge pickup and onsite registration is sponsored by Canon Medical.
Badge Pickup/ Registration Locations
South Building, Level 1, Room S100
Friday – Saturday 8 a.m. to 4:30 p.m.
Sunday – Wednesday 7 a.m. to 5 p.m.
Thursday – 7 a.m. to 3 p.m.
Lakeside Center East Building, Level 2, Hall E
Sunday – Wednesday 7 a.m. to 5 p.m.
Thursday 7 a.m. to 3 p.m.
Ribbon Pick Up
All badge ribbons for committee, council or group work will be available for pickup during the meeting on our self-serve Ribbon Wall located in the Connections Center.
Official Meeting Bag and Meeting Guide
Attendees can pick up the official meeting bag and Meeting Guide at the self-serve distribution areas located in the Lakeside Center East, Level 2 and South Building, Level 1 near S100 Registration. Please note, the full program is available online only.
The RSNA 2022 Meeting Guide is a convenient reference to course and event information, floor plans at McCormick Place, transportation and dining. In addition to the Meeting Guide, use the official meeting app or Meeting Central at Meeting.RSNA.org to find presentations and build your schedule.
Record of Attendance/Credit Claiming
Registrants will be able to access the self-service credit claim site from RSNA 2022 Meeting Central and at RSNA.org/Register. Review and adjust credit for education sessions attended, complete session evaluations and print and save your credit certificate or record of attendance.
Registrants who select Virtual Access, whether choosing in-person and Virtual Access combined or Virtual Access only, can maintain extended access beyond the week of the live meeting until May 1, 2023, to view and earn additional on-demand credits.
Attendees will have access to the credit claiming site until May 1, 2023, to print their CME certificate or Record of Attendance.
Additional credit claiming details can also be found in the Meeting Guide. For assistance with your attendance and credit claiming questions, visit the Information Desks in the Connections Center or the Grand Concourse.
STAY CONNECTED, STAY INFORMED
Daily Bulletin
Get all the latest news and information about RSNA 2022 through the print and online versions of the Daily Bulletin, the only official newspaper of the RSNA annual meeting.
Read featured news from the meeting including stories covering science and education sessions and presentations. You'll find must-see events and opportunities in this publication available in bins throughout McCormick Place.
Digital Daily Bulletin is available at RSNA.org/Bulletin and through the meeting app. Find exclusive online content, get an early look at articles ahead of print, view video interviews and participate in interactive quizzes and polls.
Get alerts on Daily Bulletin stories through social media at #RSNA22, on Facebook (Facebook.com/RSNAfans), Instagram (RSNAgram) or Twitter (@RSNA).
RSNA Right Now
This daily e-blast is sent to all RSNA 2022 registered attendees throughout the week of the annual meeting and features information about upcoming programming, events and promotional offers from our corporate partners.
Help Onsite
Need assistance? Visit one of our Information Desks in the Grand Concourse, Level 3 or in the Connections Center, Lakeside Center East, Level 3, where RSNA staff can assist with general information.
Want to get ahead of plans for the next annual meeting? Attendees can reserve RSNA 2023 hotel rooms at the Information Desk in the Grand Concourse.
International Services Help Onsite
The official language of the RSNA annual meeting is English, and limited translation assistance is available. Visit the Information Desks for additional information and assistance.
Register for the RSNA 5k Fun Run
Experience the early morning light and take a brisk breath of fresh air on Chicago's lakefront as you run, jog, walk or wheel to benefit the RSNA R&E Foundation.
The popular RSNA 5k Fun Run supports the Foundation in its efforts to provide grants and awards to individuals and institutions that advance radiologic research, education and practice.
The event takes place Tuesday, Nov. 29 at 6:30 a.m. Register in advance at RSNA.org/Fun_Run or at the RSNA 5k Fun Run Desk in McCormick Place, Grand Concourse, Level 2.5, Sunday – Monday from 7:30 a.m. to 6 p.m.
The advance registration fee is $40; onsite fee is $50. All registration fees are considered a donation and are nonrefundable.
Convenient Onsite Dining
Inside McCormick Place you'll find a tasty variety of midday dining options and ample seating that will give you an opportunity to relax and network with colleagues and friends.
Café RSNA
Find myriad high-quality food choices at Café RSNA. This food-court style café offers a casual dining atmosphere with a variety of available cuisines, prix fixe choices and open seating. Purchase advance tickets for $22 per meal or onsite for $23. Meals include an entrée, side and beverage.
Café RSNA is located in both the North and South Buildings in the Technical Exhibit Halls, open Sunday through Wednesday from 11 a.m. to 2:30 p.m. Purchase tickets at RSNA.org/Register.