RSNA 2022 Educational and Scientific Highlights
RSNA 2022 offers 400+ educational courses and scientific sessions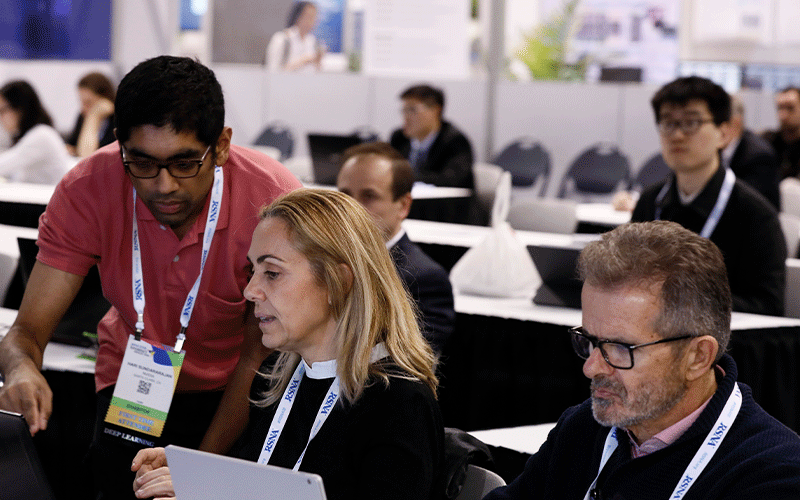 RSNA 2022 offers 400+ educational courses and scientific sessions from every subspecialty in a variety of formats across all career levels. Here is a sampling of courses you might want to include in your meeting agenda for the week.
RSNA 2022 offers varied session formats that allow you to easily identify sessions of interest and those that best suit your needs.
Adding Virtual Access to your registration guarantees that you can attend the meeting at your pace and your convenience, with more than 400 livestreamed and on-demand sessions to meet the needs of global attendees. Attendees who register for Virtual Access will be able to nearly 100% of the annual meeting programming until May 1, 2023, at noon CT.
Fast 5
Five speakers present for five minutes each in these fast-paced presentations. The innovative, non-clinical topics were selected by popular vote. Follow the conversation on social media at #RSNAFast5.
Tuesday, Nov. 29, 10:30 a.m. CT
Moderator: Sherry S. Wang, MBBS, FRANZCR
Samuel J. Galgano, MD
Palliative Care in Radiology: More Than Meets the Eye
Beth Vettiyil, MBBS
Increase Patient Access to Radiologists
Sanna E. Herwald, MD, PhD
Compensate Radiologists for Tumor Board Participation!
Peter Abraham, MD
Achieving Health Equity and Healthcare Systems Transformation Through Meaningful Community Engagement and Upstream Partnerships
Ali Shaj Tejani, MD
Bringing Patients to the AI Table
Image Interpretation Session
Monday, Nov. 28, 4:30 p.m. CT
Moderator: Mini N. Pathria, MD
The Image Interpretation Session is a single-session event that will cover multiple subspecialties and offer a cross-disciplinary opportunity to test your knowledge beyond your area of expertise.
Follow along as our panel of experts identify abnormal findings critical to making accurate diagnoses and recommending additional studies or procedures.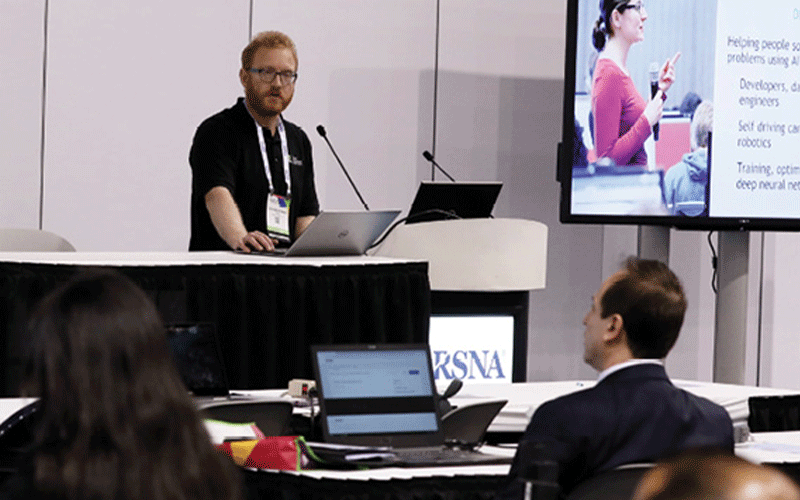 Special Session: Medicare and U.S. Healthcare Policy: A National Conversation
Tuesday, Nov. 29, 1:30 p.m. CT
Moderator: Amanda Starc, PhD
Join panelists Mark McClellan, MD, PhD, and Kavita K. Patel, MD, as they explore the latest health care policy developments and their impact on radiologists and the field of medical imaging.
Exciting Radiology Game Show: What's Your Emergency? Life in the STAT Lane
Wednesday, Nov. 30, 11 a.m.
This hit session is back with new cases to challenge the teams and audience. Moderated by Tarek N. Hanna, MD, and Jennifer W. Uyeda, MD, this lively session invites all to compete for bragging rights.
NIH Grantsmanship Workshop
Sunday, Nov. 27, Noon
This workshop introduces participants to the process of preparing a competitive research or training grant application.
Designed for junior faculty in academic centers who wish to pursue a career in radiologic research, this didactic workshop will cover elements of a good grant proposal, understanding the review process and planning the proposal. Workshop attendees must be registered for the RSNA annual meeting.
Quantitative Imaging Symposium
Wednesday, Nov. 30, 2 p.m.
Join clinical, research, and industry colleagues in Room E253AB to learn more about QIBA activities including the latest Profile conformance pilot studies, how QIBA is raising the performance bar around the world for quantitative FDG-PET/CT imaging and how QIBA is supporting the AI community through QI (quantitative imaging).
Case of the Day
Each day a unique and challenging case is available for meeting participants to submit answers. The correct answer is revealed the following morning. Answers must be submitted by midnight CT on the day the case is available online. Participants who submit the correct answer receive 0.5 AMA PRA Category 1 Credits™.
New this year, RSNA Case Collection™ Case of the Day is available with a new case featured every day. Cases and answers will be presented on a rotating basis. There is no CME offered for this activity.
RSNA Case Collection Workshops
Throughout the meeting, residents and trainees can also attend RSNA Case Collection Workshops. For workshop dates/times, visit RSNA.org/Annual-Meeting.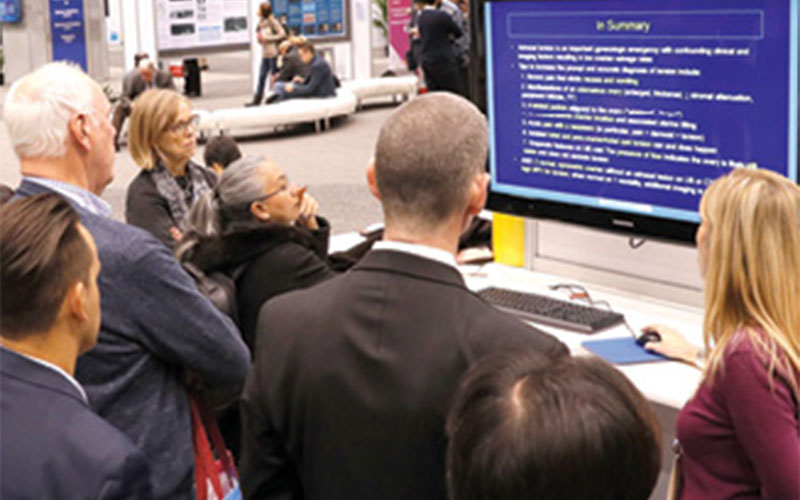 Educational Courses
RSNA 2022 offers a wide variety of different formats for its educational courses.
Traditional Lecture
These sessions cover late-breaking or high-interest topics in a traditional lecture format.
• The AI Revolution in MSK: Hot Topics
• Back to Basics: What Do Rads Need To Know About Radiology AI In 2022?
• Image Exchange: How Do We Ditch the Disk by 2024?
• Multi-system Imaging Manifestations of COVID-19 and Related Complications
• Demystifying Population Health: What Does It Mean for Radiologists in 2023
• Theranostics of NETS and Thyroid Cancer
• Prostate Cancer Theranostics
• Regulations, Governance, AI, and You: How Policy Will Impact Radiology AI and What You Need To Know
• Cutting Edge GU-specific Diagnostic Classification Systems
• Placenta Accreta Spectrum: Tips and Tricks for Best Diagnosis
• Global IR and Practice Development
• Imaging Ovarian Cancer: Radiologists as Partners in Cancer Care
Debate
These sessions feature a round table discussion between two or more presenters on a particular topic of interest.
• Is Co-signing With Private Equity Good for The Future of Radiology?
• Radiology AI Innovation: Academics vs Industry
Interactive Sessions
These sessions use an interactive audience response software to gather real-time information from attendees.
• New Modeling Approaches for Radiology AI
• Maximizing Your Career Trajectory: Negotiating and Refocusing
• Innovative Education for the Future of Radiology
• Taking Stock of AI: The Value Proposition and Economic Evaluation
• Shaping Your Online Brand through Social Media Use, Analytics, and Research
Hands-On
These sessions provide attendees the opportunity to be hands-on with a variety of technology.
• RSNA Simulation Lab
• Hands-on Breast US Biopsy
• Hands-on Pediatric Musculoskeletal US
Case-Based
These case-based sessions highlight topics using images and discussion about cases of particular interest.
• Musculoskeletal Trauma In the ER – Injuries You Don't Want To Miss! A Case-based Review of High Yield Do Not Miss Injury Patterns
• Medicolegal Issues and Managing Risk
• Muscle and Nerve Imaging: Case-based Review and Update
• PET/MR: Read with the Experts (Clinical and Technology Update)
• What Every Radiologist Should Know about Current Payer Issues
• Integrating O-RADS MRI in Your Practice: Why, When and How?
Cutting-Edge
RSNA's Cutting-Edge Research call for abstracts yielded content in four specific areas:
• Long COVID
• Photo counting CT
• AI and machine learning
• Molecular imaging
The selected abstracts will be presented at the Learning Center Theater. Visit Meeting.RSNA.org for a list of session titles and presentation times.
Professional Development
RSNA designates this Other activity (blended live and enduring material) for AMA PRA Category 1 Credits™. Physicians should claim only the credit commensurate with the extent of their participation in the activity.
The RSNA 2022 credit claim site is designed for self-service. All registrants, except for ARRT, will be able to review credit and adjust credit for education sessions attended, complete session evaluations, and print and save credit certificate or record of attendance at any time.
Virtual Access registrants can maintain extended access beyond the week of the live meeting, until May 1, 2023, to view sessions and earn additional on-demand credits. After May 1, 2023, no additional revisions to transcripts will be allowed; however, attendees will maintain access to the credit claiming site through May 1, 2024, in order to print their CME certificate or Record of Attendance.
RSNA 2022 will offer A+/A ARRT credit. In order to record and obtain A+/A continuing education (CE) credits, all ARRT-registered radiologic technologists and radiologist assistants must follow ARRT guidelines, including being present for 50 minutes of every scheduled hour of a live CE activity, checking in and out with your badge from each educational session and evaluating your RSNA 2022 courses online at Meeting.RSNA.org.
There will be no ARRT credit for attending virtual or on-demand sessions. RSNA 2022 does not offer Self-Assessment Modules (SAMs). Members are encouraged to visit RSNA's Online Learning Center for opportunities to complete SA-CME credit throughout the year.
For More Information
Register for the meeting at RSNA.org/Annual-Meeting.
Review the RSNA 2022 Program at RSNA2022.RSNA.org.
Review the RSNA 2022 Technical Exhibits Halls.