RSNA Celebrates International Day of Radiology 2022
Commemorative day highlights radiology's role in improving patient care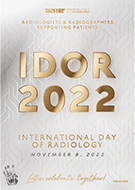 RSNA encourages medical imaging professionals across the globe to take time and celebrate the International Day of Radiology (IDoR) on Nov. 8.
This important day recognizes the value that radiology contributes to safe patient care and helps improve public understanding of the vital role radiologists and radiographers play in the health care continuum.
The IDoR 2022 theme, "Radiologists & Radiographers Supporting Patients" highlights the commitment of radiology professionals to improving patient care and safety as it relates to radiologic procedures and treatments.
Individuals and organizations, including national radiological societies, radiological subspecialty societies, radiographer societies and allied sciences societies worldwide are invited to share impressions of their day as they commemorate IDoR 2022.
To share celebration photos of you and your colleagues, send them to IDoR@myesr.org and include a brief description. You may also post them via social media using #IDoR2022.
We encourage all radiologists and radiographers to use this hashtag on Nov. 8 to amplify the visibility of medical imaging via social media.
For More Information
Learn more about the International Day of Radiology 2022.