RSNA 2022 Offers Variety of Diversity, Equity and Inclusion Sessions
Attendees encouraged to attend sessions designed to promote action and commitment
---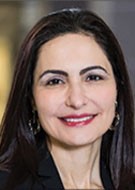 ---
Building a supportive and inclusive culture is important for radiology and all medical specialties. Diverse teams, equitable practices and inclusive messaging can help the specialty create healthy teams and create a culture of allyship.
RSNA's Committee on Diversity, Equity and Inclusion (CDEI) has worked diligently to propose and create educational content for the RSNA 2022 annual meeting. In particular, CDEI assisted in expanding the footprint of several diversity, equity and inclusion (DEI) sessions at the RSNA meeting which will benefit members in all career levels, from trainees to established leaders.
"In addition to this work, the committee has been working with the RSNA R&E Foundation to create an emerging issues grant that addresses interventions and solutions to health care disparities," said incoming CDEI chair, Maureen Kohi, MD, Ernest H. Wood Distinguished Professor and Chair of the Department of Radiology at University of North Carolina at Chapel Hill. "The committee also continues to advocate for and be a referral source for other RSNA committees working to improve the diversity and makeup of their existing committee memberships."
"The RSNA annual meeting is an incredibly comprehensivescientific meeting. I encourage our members to attend as many sessions on DEI as possible, as each is unique in their content, messaging and faculty."
MAUREEN KOHI, MD
Moving forward, Dr. Kohi will continue to build upon the successes of the committee under the leadership of Yoshimi Anzai, MD, MPH, current CDEI chair, who steps down at the end of the annual meeting.
"This year, I hope the CDEI will continue to evolve and create subdivisions within the committee to branch out even further, to increase membership engagement to enact change and encourage our trainees, particularly women and underrepresented in medicine learners, into the fields of diagnostic and interventional radiology," Dr. Kohi said. "I also hope to continue our mission of education and research excellence as the CDEI creates new and exciting sessions for the RSNA annual meeting and other activities throughout the year."
This year, RSNA 2022 includes numerous courses, scientific presentations, lectures and exhibits related to DEI and health equity, several of them sponsored by the CDEI. (See the session information below.)
"The RSNA annual meeting is an incredibly comprehensive scientific meeting. I encourage our members to attend as many sessions on DEI as possible, as each is unique in their content, messaging and faculty," Dr. Kohi said. "You may want to pay attention to the following DEI sessions at RSNA 2022, including the Monday morning session, Safety Net Hospitals, Health Disparities, and Unique Barriers to Care, the Tuesday afternoon session, Cultivating Allyship: Building an All-inclusive Specialty, and the Wednesday afternoon session, Beyond the Binary: Imaging Findings, Screening Guidelines and Radiology Practice Considerations for Transgender and Gender-Diverse Patients."
For members looking to support underrepresented groups who might aspire to the specialty, Dr. Kohi recommends mentorship and sponsorship as great avenues to engage with all students and introduce them to radiology.
"As we know, many students may not be exposed to radiology during their medical school training and therefore, focused radiology outreach programs such as medical student symposia or webinars are terrific activities to engage students, particularly women and URM students," Dr. Kohi said. "In addition, I am a fervent believer of 'you can't be what you can't see.' In order to improve the diversity of our field, we must have women and URM leaders at the table to serve as role models for our future generation."
For More Information
Register for the meeting at RSNA.org/Annual-Meeting.
Review the RSNA 2022 Program at RSNA2022.RSNA.org.
RSNA 2022: Sessions on Diversity, Equity, Inclusion and Health Equity/Disparities
Visit Meeting.RSNA.org to view the full program.
Educational Courses
Sunday, Nov. 27
• The URM Trainee Experience – Resident, Fellow and Medical Student Perspective (Sponsored by the RSNA Committee on Diversity, Equity & Inclusion)
Monday, Nov. 28
• Safety Net Hospitals, Health Disparities and Unique Barriers to Care (Sponsored by the RSNA Committee on Diversity, Equity & Inclusion)
Tuesday, Nov. 29
• Cultivating Allyship: Building an All-inclusive Specialty (Sponsored by the RSNA Committee on Diversity, Equity & Inclusion)
• Imaging Transgender Patients: What the Radiologic Technologist Needs to Know
Wednesday, Nov. 30
• Women in Radiology: Retrospective, Introspective and Prospective Analysis (Sponsored by the American Association for Women in Radiology)
• Beyond the Binary: Imaging Findings, Screening Guidelines and Radiology Practice Considerations for Transgender and Gender-Diverse Patients (Sponsored by the RSNA Committee on Diversity, Equity & Inclusion)
• Addressing Organizational Bias, Opportunity for Allyship, and Inclusive Leadership
Scientific Presentations and Education Exhibits
• Gender and Racial Diversity in Radiology: Current Status and Trends in the Last Decade
• Evaluation of Socioeconomic Disparities in Follow up Completion for Incidental Pulmonary Nodules
• Disparities in Cancer Imaging Trends During the COVID-19 Pandemic and Recovery at Four Hospitals in Massachusetts
• Impact of a Standardized Holistic Radiology Residency Recruitment Process on the Matching of Female Radiology Residents
• A Comprehensive Look at Disparities in Breast Cancer in the Non-Hispanic Black, Hispanic, and Transgender Community and What Policy Changes Should be Considered
• Medical Imaging AI in the Real World: Decoding Bias in Under-represented Populations
• Fostering Organizational Excellence Through Inclusive Leadership: A Practical Guide for Radiology
• A Program Director's Guide to Recruiting for Excellence and Diversity Leaders
• Microaggressions With a Macro-Impact: What the Radiologist Needs to Know About Microaggressions
• What Radiologists Need to Know About Gender-Inclusive Naming