Scott Appointed Chief Quality Officer
Established equity champion begins new role at NYC Health and Hospitals/Kings County
---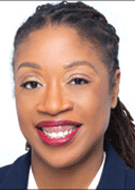 ---
Jinel Scott, MD, MBA, was promoted to chief quality officer and associate chief medical officer at NYC Health and Hospitals/Kings County in Brooklyn where she will focus on ensuring high quality, high value, safe, equitable patient care.
Dr. Scott previously served there as director of emergency radiology, quality improvement and patient safety in the Department of Radiology.
Elected to the RSNA Board of Directors in late 2021, Dr. Scott is an associate professor of clinical radiology in the Department of Radiology at State University of New York Downstate Health Sciences University. Highly regarded for her dedication to improving medical care for underserved patients, Dr. Scott is committed to providing high quality and safe care for all patients and focuses much of her time to making change happen in the health equity space.
Dr. Scott is the RSNA representative to the Radiology Health Equity Coalition and previously served as a member of RSNA's Committee on Diversity, Equity and Inclusion. She serves on the American College of Radiology (ACR) Appropriateness Criteria Expert Panel on Musculoskeletal Imaging and the General Radiology Improvement Database Committee. She is a member of the NYC Health and Hospitals System High Value Council. Dr. Scott is also chair of the Lung Cancer Screening Multidisciplinary Steering Committee of Kings County Hospital Center Department of Radiology, which coordinated the implementation of the Kings Healthy Lungs Program in June 2021.
Dr. Scott has received a variety of certifications, most notably focused on quality and safety including as a Certified Professional in Healthcare Quality (CPHQ).
For More Information
Read about Dr. Scott's role on the RSNA Board of Directors.
Read previous RSNA News stories featuring Dr. Scott: