Member Spotlight: Teresa Martin-Carreras, MD
Learn more about a fellow RSNA member
---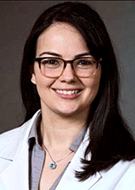 ---
Teresa Martin-Carreras, MD, is a musculoskeletal radiologist with the Medical Center Radiology Group based in Orlando, FL, which provides radiology services to the Orlando Health system of hospitals and imaging centers.
Dr. Martin-Carreras completed her diagnostic radiology residency and imaging informatics fellowship training at the Hospital of the University of Pennsylvania in Philadelphia. She later completed a musculoskeletal imaging and intervention fellowship at the University of Wisconsin-Madison.
Dr. Martin-Carreras has been an active member of RSNA since 2016. She has served as presenter, invited speaker and moderator at the RSNA annual meeting. She has also served on the Machine Learning Data Standards Subcommittee and most recently served as deputy editor for the Radiology: In Training editorial board.
What or who sparked your interest in radiology?
The first time I took a closer look at radiology as a potential specialty choice was during my third-year general surgery rotation in medical school. Each day during patient rounds, the surgical team viewed imaging exams across the spectrum of imaging modalities. While the group quickly read the radiology report and searched for the area in question before heading to the operating room, I was always eager to study the images in their entirety and to determine how a diagnosis was reached based on the imaging findings. After several weeks, I recognized that I had a keen interest in radiology and set out to explore the specialty further—the rest is history!
What has been the best professional accomplishment in your career?
As a clinical diagnostic radiologist, my biggest professional accomplishment is the opportunity to impact my patients' lives daily by providing pertinent clinical diagnoses from what may otherwise be a complex collection of images.
From an academic standpoint, it would have to be my 2019 RSNA Fast 5 talk on "Bridging the Gap: Patient-Centered Radiology Reports." Speaking at the vibrant Arie Crown Theater provided me with a platform for highlighting a topic I had spent many of my training years researching and about which I feel passionate—creating radiology reports that our patients can understand.
What has been the biggest challenge you have faced in building your career?
Providing value-added radiology in the era of new technologies, rising imaging volumes and declining reimbursement rates is a challenge facing our field that also impacts my daily practice. Facilitated by our use of PACS, referring providers can easily access images and this often results in fewer consultations between radiologists and their referring clinicians. While this may seem more expedient, it can lead to an "invisible radiologist," to commoditization of the specialty, and in some instances, to suboptimal patient care.
In many cases, an in-person or phone consultation will be more informative and allow radiologists to better understand the clinical picture and the primary clinical question. In my practice, this allows me to more accurately prioritize differential diagnoses and to discuss follow-up imaging recommendations when appropriate. As a bonus, these consultations often serve to strengthen rapport with referring clinicians and to enhance interdisciplinary relationships within the health care system.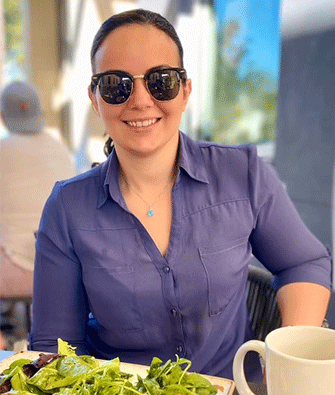 What RSNA resources do you use/have you used to assist you with your professional development and in your daily practice?
The RSNA annual meeting is at the center of my professional calendar. As a frequent attendee, it has served as an incredible opportunity to network learn and share knowledge with colleagues from around the globe. In my daily practice, I find RadioGraphics and Radiology journals to be invaluable, and I refer to them almost daily. This allows me to stay abreast of the most up-to-date literature in our field and to provide the best quality of care for my patients.
When you're not working, how do you like to spend your free time?
I spend as much time as possible with my partner and our two spoiled dogs. They are my secret to staying grounded. We enjoy farmers' markets, dog parks, trying new cuisines and restaurants, brunch, theme parks, beach days and anything outdoors!
Find Dr. Martin-Carreras on social media at:
For More Information
Keep up to date on RSNA member achievements, moves and news by visiting RSNA.org/News/Announcements/Member-Updates.