Is Kyphoplasty A Viable Treatment for Vertebral Fractures?
R&E Foundation grant supports research into whether this procedure benefits patients
BY MELISSA SILVERBERG
June 08, 2022
---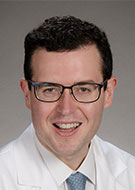 ---
Every year 750,000 people in the U.S. sustain osteoporotic vertebral fractures (OVFs), which can lead to chronic severe back pain, reduced function and lower quality-oflife. While there are minimally invasive vertebral augmentation treatments such as kyphoplasty commonly being performed, new research shows they may not be as effective as originally thought in younger patients.
Michael O'Reilly, MBBCh, MSc, MPH, a consultant radiologist at the University of Limerick in Ireland, used his 2019 RSNA Research Fellow Grant to study trends in vertebral augmentation, particularly kyphoplasty, and determine if it has an impact on morbidity, readmission rates, opioid usage and resource utilization. The team's work was published in Spine Journal in 2021.
Expensive Procedure Shows Little Benefit for Some Patients
Kyphoplasty is a minimally invasive procedure to treat spinal compression fracture that involves injecting bone cement into the fractured vertebrae to relieve back pain. Dr. O'Reilly, who worked on this project while pursuing his MPH and under the mentorship of Jeffrey Jarvik, MD, MPH, at the University of Washington, Seattle, said the retrospective study had two goals: first to understand if kyphoplasty was being used in patients under 65, and if so, was it effective.
Using the IBM® MarketScan® Commercial Claims and Encounters Database, one of the largest online collections of de-identified claims data, Dr. O'Reilly identified patients under 65 years old with OVFs from 2007 to 2018 and compared various outcomes of those who received kyphoplasty to those who did not.
"We used propensity score matching to better account for selection bias inherent in observational/claims database studies in which patients are selected for a given treatment in a non-random manner and compared with untreated patients," Dr. O'Reilly said. "We also matched on specific events, such as opioid use or additional imaging, that occurred between OVF and kyphoplasty. Thus, we obtained matched controls with similar acute care patterns and stronger controls for potential confounders, not typically performed in other retrospective research in this area."
Of the 15,197 patients identified, 1,969 (13%) received kyphoplasty. The group did not observe any differences in the likelihood of major medical complications within 30 days when compared to carefully matched patients who did not undergo the procedure. Patients who received kyphoplasty were more likely to have filled opioid medications within 30 days and had greater spine-related medical costs, such as spine injections, moving forward.
"We didn't find any clear benefit from having this expensive procedure done," Dr. O'Reilly said. "I was surprised. This is a procedure that is done all the time in patients both young and over 65. It's commonly promoted by thought leaders in interventional medical specialties so we should have found some signal of its benefits."
According to Dr. O'Reilly, those expected benefits could have been anything from not needing to fill pain medications following the first seven days after the procedure to lower health costs after the procedures since, hypothetically, they should not have needed to seek additional health care for their back pain.
"In medicine we can't be afraid to challenge the dogma that's out there. There may be things we thought were beneficial, but it turns out they are not. Basing our decisions on robust data, especially in radiology, is so important."
MICHAEL O'REILLY, MBBCH, MSC, MPH
R&E Grant Provides Protected Research Time
Due to what he considers the somewhat controversial nature of the research, Dr. O'Reilly was thankful for the grant support that allowed his research group to look for the best evidence in the data without any outside influences.
"Getting an osteoporotic fracture is a terrible thing. It is very painful and debilitating, so having a good treatment for it is what we want. What we don't want is a lot of people getting a procedure that does not have clear benefits," Dr. O'Reilly said. "In medicine we can't be afraid to challenge the dogma that's out there. There may be things we thought were beneficial, but it turns out they are not. Basing our decisions on robust data, especially in radiology, is so important."
Because OVFs, and vertebral augmentation to treat them, are much more common in older patients, Dr. O'Reilly said he hopes this research can be used for a large study of patients over 65 to look for benefits for that population. He is continuing to work with Dr. Jarvik's team on preliminary research and analysis in the U.S. Medicare population.
"It has been really interesting and inspiring to see such high-quality research being done," Dr. O'Reilly said. "Without RSNA's help I wouldn't have been able to complete this research and dedicate time to my master's studies."
For More Information
Learn more about R&E funding opportunities.
Access the Spine Journal study at journals.com/spinejournal.
Read previous RSNA News stories on R&E Foundation grant recipients: