Your Donations in Action: Cameron Callaghan, MD
Enhancing the Therapeutic Index of Radiation Therapy
---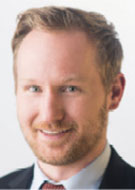 ---
DNA repair inhibitors are potent radiosensitizers, but concerns over non-specific increase in normal tissue toxicity have limited their clinical application. Pharmacologic ascorbate acts as a radiosensitizer in cancer cells by generating a hydrogen peroxide flux but acts as a free radical scavenger in normal tissue due to differences in redox metabolism.
In his 2019 RSNA Research Resident Grant, "Pharmacologic Ascorbate Combined with DNA Repair Inhibitors Enhances the Therapeutic Index of Radiation Therapy," Cameron Callaghan, MD, PGY5 radiation oncology resident at University of Iowa, Iowa City, and his team hypothesized that by adding pharmacologic ascorbate to the combination of an ATM inhibitor and radiotherapy there would be an opportunity for synergy in terms of radiosensitization of tumor cells. They also were interested if there would be a mitigation of the expected increase in normal tissue toxicity. The team found this to be the case while corroborating the hypothesis that pharmacologic ascorbate's mechanism of radiosensitization was by generating a hydrogen peroxide flux and a growing appreciation of ATM's role in the cellular response to reactive oxygen species.
The researchers specifically modeled a preoperative course of radiotherapy in rectal cancer. Currently, less than 10% to 20% of these patients achieve pathologic complete response and a growing body of evidence suggests that these patients can safely forgo a potentially morbid surgical resection.
"Increasing the rate of complete pathologic response with a radiosensitizer has the chance to improve the quality of life for a lot of patients, but with the normal rectal tissue no longer being removed with surgery, the long-term normal tissue toxicity of radiation becomes even more important," Dr. Callaghan said. "This research provides the foundation for combination therapy in a Phase I/II clinical trials."
The RSNA Research Resident grant was the first major grant awarded to Dr. Callaghan.
"Prior to receiving this grant, I knew that I wanted to do some sort of research, but that was about the extent of my plans," Dr. Callaghan said. "I now have an incredible array of basic laboratory knowledge and skill and will be applying for an NIH K-grant so that I can continue to a career as a physician scientist who does translational research for a living. The R&E Foundation grant has been a life and career changing experience and I could not have done it without the support of RSNA."
For More Information
Learn more about R&E Funding Opportunities.
Read last month's Your Donations in Action article.