Molecular Probe Offers Potential for Rapid Assessment of Treatment Response in Gastric Cancer
R&E Foundation grant helps identify changes in patients with treatment-resistant cancer
BY RICHARD DARGAN
January 05, 2022
---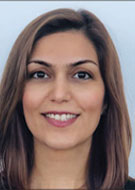 ---
A novel nuclear imaging probe can measure a gastric cancer patient's response to treatment within days, a potential breakthrough that could enable patients who aren't responding to treatment to get moved quickly to potentially more effective therapies.
Gastric cancer, also referred to as stomach cancer, is the fourth most common cancer and the second leading cause of cancer death worldwide. Most gastric cancers express a protein called human epidermal growth factor 2 (HER2) that promotes the growth of cancer cells. In recent years, treatments targeting HER2 have emerged as potentially effective options for many gastric cancer patients.
Anti-HER2 treatment often fails, however, due to the activation of a similar protein called human epidermal growth factor 3 (HER3). Clinically, HER3 is expressed in more than a third of gastric cancers and is associated with poor prognosis, cancer spread and recurrence.
The ability to identify the patients who are more likely to respond to anti-HER2 therapy would be hugely beneficial, sparing many patients from the time, expense and side effects of an ultimately ineffective treatment. Unfortunately, current imaging-based treatment assessments have limitations.
"Current imaging modalities show tumor size, but it may take weeks before any perceptible change is demonstrated that can indicate whether the treatment is working," said Shadi Abdar Esfahani, MD, MPH, a nuclear medicine specialist and instructor in radiology at Massachusetts General Hospital in Boston. "We need new imaging approaches so that we can scan the patients within a few days after receiving treatment to see if it's working or not."
"It's not easy to do research during your years of training. The grant offers a great opportunity for people who want to build a career and do basic science research."
Shadi A. Esfahani, MD, MPH
Potential New Probe Lights Up HER3 Levels Earlier
With the support of a 2018 RSNA Research Resident Grant, Dr. Esfahani developed a nuclear imaging probe that combines the radioisotope gallium with a peptide specific for HER3. The probe was developed to guide the addition of anti-HER3 inhibitors to the standard HER2 inhibition therapy. It enables measurements of HER3 levels by binding to gallium, which can be detected on PET scans.
Dr. Esfahani tested the probe on several gastric cancer sublines, beginning with a cell culture and using different doses of the same drug. HER3 levels did not increase in cancers that were resistant to treatment, while an elevation of HER3 was seen in the cancers responsive to that treatment. Dr. Esfahani then planted a treatment-resistant and a treatment-responsive cell line in mice. She treated the mice with the same drug and then imaged them before and after treatment with the HER3-targeting probe.
Within four days of treatment, there was a significant increase in the PET activity in the mice with the treatment-sensitive cancer line, compared with no significant change in those with the treatment-resistant cancer.
"The interesting thing was that the size of tumor didn't change in four days, but PET activity was already different," Dr. Esfahani said.
After several weeks of treatment, tumors in the mice with treatment-resistant cancers kept growing, while the tumors in the ones that were sensitive to treatment shrank.
"This confirmed the results I got from the PET scans done within four days of treatment," Dr. Esfahani said. "That's a really short period of time in which to potentially change the management of a patient."
Now that the probe has been tested in multiple mouse models, Dr. Esfahani wants to use it in clinical trials for patients with gastric cancer. It could also provide treatment assessment in patients with other solid tumor types that have HER3 on their surface, such as in certain thyroid, breast and lung cancers, to
stratify the patients who might benefit from addition of anti-HER3 inhibitors to the treatment regimen. Dr. Esfahani also discovered through her research that gastric tumors metabolize glucose differently.
With the support of a 2021 RSNA Research Seed Grant, she will study these changes in tumor metabolism with hyperpolarized MR spectroscopy to determine whether this is another early indicator of treatment effectiveness.
R&E Foundation Grant Provided Protected Research Time
Dr. Esfahani credits the research grant for providing a major boost to the early stages of her academic career. She was able to spend six months during the last year of her radiology residency in the lab, where she learned new techniques related to the project while generating useful data.
"It's not easy to do research during your years of training," she said. "The grant offers a great opportunity for people who want to build a career that incorporates basic science research."
The experience has also inspired her to seek larger grants, including a grant with the National Institutes of Health next year.
In the future, Dr. Esfahani hopes to continue to divide her time between the clinic and the lab.
"I'm going to use the knowledge and experience I get through patient care and test new strategies, new treatments and new imaging approaches and hopefully bring it back from bench to bedside," she said. "Improved patient care is the ultimate goal."
For More Information
Learn more about R&E Funding Opportunities.
Read previous RSNA News stories on R&E Foundation grants: