Fluoroscopic-Guided Technique Shows Promise for Migraine Relief
RSNA-funded grant demonstrates efficacy, cost-effectiveness of emerging procedure
BY EVONNE ACEVEDO
May 26, 2021
---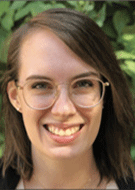 ---
A relatively simple fluoroscopic-guided procedure may provide relief for patients with chronic headaches including migraines but is not yet widely performed at U.S. medical centers.
A recent RSNA grant recipient is exploring how to change that — and to get the word out to physicians and patients about the emerging procedure.
Migraines affect roughly one in six adults in the U.S., costing $20 billion annually in medical care and lost productivity.
With her 2018 RSNA Research Medical Student Grant, Amy E. Crumb, BA, and her colleagues and mentors at the Medical College of Wisconsin (MCW), sought to shed light on why fluoroscopic-guided sphenopalatine ganglion block (SPGB) is underutilized compared with medications and alternative procedures that are more commonly covered by insurance.
Researchers also did a cost analysis of fluoroscopic-guided SPGB and other medications and procedures used for migraine treatment.
Crumb reviewed medical records for 66 patients enrolled in a fluoroscopic-guided SPGB regimen at Milwaukee's Froedtert Memorial Lutheran Hospital between 2017 and 2019. Ultimately, 37 patients were included in the study.
Crumb was excited about two findings in particular.
"First, no severe adverse events were experienced by our patients. Second, patients experienced improvement in their otherwise recalcitrant migraines after receiving this treatment," she said. These two findings combined suggest fluoroscopic-guided SPGB has the potential to help patients who have largely exhausted their options, Crumb said. "Although fluoroscopic-guided SPGB may not work for every patient, the risks are minimal," she said.
"We hope that the findings from this study make clinicians aware of this minimally invasive approach to treating migraines, that can positively impact patients' lives with minimal associated risks."
Amy E. Crumb, BA
A Safe, Effective Alternative
Fluoroscopic-guided SPGB is performed with an intranasal catheter that is advanced into the nares and lidocaine is dripped posterior to bathe the sphenopalatine ganglion.
This results in neuromodulation and prevents the nerves from sending the headache signal. Patients often report near-immediate relief. Surprisingly, Crumb and colleagues found that 5% of patients reported complete resolution of their migraines at follow up. The mechanism behind the long-term effects is not fully understood, Crumb said.
Prior to initiating the SPGBs, patients experienced headaches for an average of 18 years, had tried at least eight preventative/abortive medications and had three alternative procedures. The data revealed that 54% of patients had relief after SPGB, while 43% experienced no relief and only 3% (one patient) had a negative effect. Sixteen patients reported at least one minor adverse effect, including rebound headache, dizziness, nausea, rhinitis and hyperosmia.
Because minimal adverse events were reported, fluoroscopic-guided SPGB performed in the interventional radiology (IR) setting may offer a safe and effective alternative to medical therapy for the treatment of chronic headaches, the researchers concluded.
"We hope that the findings from this study make clinicians aware of this minimally invasive approach to treating migraines, that can positively impact patients' lives with minimal associated risks," she said.
Crumb also determined that the cost of image-guided SPGB isn't a significant factor compared to other therapies.
"Despite the perception that fluoroscopic-guided SPGB is an expensive therapy, a single image-guided-SPGB session is less expensive than an onabotulinum toxin A injection and of equivalent cost to common medication-based abortive procedures approved by insurance," the authors said.
Research, Insurance Coverage Lacking
As part of the project, Crumb and colleagues built a HIPAA-secure, shareable database to analyze the safety and efficacy of the SPGB procedure.
She is hopeful that database will support the safety and efficacy of SPGB with the goal of persuading insurance companies to cover the technique as a viable option for migraine treatment.
One reason the procedure isn't covered by insurance could be the lack of rigorous trials on fluoroscopic-guided SPGB, Crumb said.
"For that reason, many insurance companies therefore consider this an 'experimental' treatment," Crumb said.
The team also developed educational materials on the SPGB procedure for distribution by interventional radiologists and referring clinicians.
RSNA Grant Advances Career in Interventional Radiology
Crumb said that the RSNA-funded grant provided an invaluable learning experience for her. She was surprised by some aspects of the study — namely, the complexity of the cost analysis between SPGB and medications and other procedures.
"I also hadn't realized the broad range of medications patients could be prescribed for migraines, and there isn't one standardized regimen," she said.
Crumb said that this work wouldn't have been possible without support from the RSNA grant and the guidance of her mentor, Sarah B. White, MD, an associate professor of radiology in the Division of Vascular Interventional Radiology at MCW and also a two-time RSNA research grant recipient.
"The RSNA grant helped me meet living expenses during the gap in federal loans between the summer months of my first and second years of medical school, so I was able to focus on the research instead of juggling a short-term, full-time job to make ends meet," Crumb said.
She cites Dr. White's mentorship and RSNA support for advancing her career in IR, which she says factored into her performance in the 2021 National Resident Matching Program.
"In March, I found out I matched into an integrated interventional radiology position for residency. This is a goal that I, until very recently, thought unattainable," Crumb said. "I genuinely believe my early introduction to radiology research with help from RSNA, Dr. White and other mentors put me in a very favorable position to match into one of the most competitive residency fields."
Her RSNA grant experience highlighted the importance of having a well-structured study design, especially when dealing with subjective or often poorly documented objective variables.
Crumb also gleaned some valuable advice to pass on to other medical students.
"It's OK if your project does not produce positive results! Being able to say, for example, 'We wanted to compare variables, but the results demonstrated that there was no difference.' If that happens, it doesn't mean that your work is useless, wasted or any less valid," she said.
For More Information
Learn more about the RSNA R&E Foundation at RSNA.org/Research/Funding-Opportunities.
Read previous RSNA News articles on migraine: