Member Spotlight: Muhammad Sani Ahmadu, MBBS, FMCR
Learn more about a fellow RSNA member
---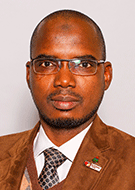 ---
Muhammad Sani Ahmadu, MBBS, FMCR, is an associate professor and head of radiology at the College of Medical Sciences, University of Maiduguri (UM), and a consultant radiologist/head in the Department of Radiology, UM Teaching Hospital, Maiduguri, Borno State, Nigeria.
Dr. Ahmadu earned his first undergraduate degree in human anatomy from UM where he also received his medical degree. He did his internship and completed his residency/fellowship training in diagnostic radiology at the UM Teaching Hospital where he served as chief resident. Dr. Ahmadu completed a visiting fellowship in neuroradiology at Thomas Jefferson University Hospital in Philadelphia. He obtained a certificate in Leadership and Management in Health from the University of Washington, Seattle.
Dr. Ahmadu has been a member of RSNA since 2012 and currently serves as a member in the Global Learning Center subcommittee of RSNA's Committee for International Radiology Education (CIRE). He also serves as a reviewer for RSNA Case Collection™.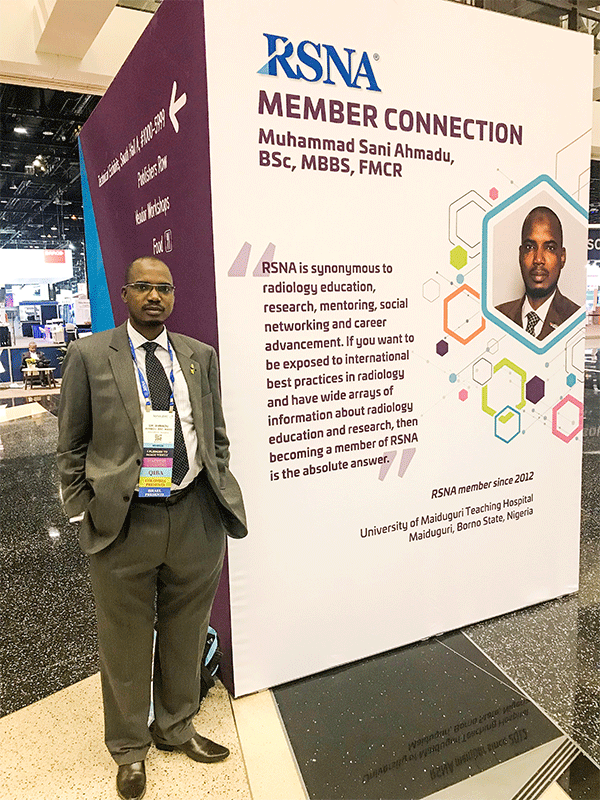 1. What or who sparked your interest in radiology?
I became fascinated in pursuing a career in radiology back in 1998 during my final undergraduate year in human anatomy while taking a course in radiologic anatomy. It was Professor Abdurrahman A. Tahir, my teacher and mentor, a renowned radiologist, who sparked the embers of my interest in radiology during those formative years. Professor Tahir's teaching methods, charisma and passion for radiology, and my interest in technology gave way for my core interest in a radiology career that I have continued to enjoy today.
Later during my radiology rotation, I further realized that radiology is the pivot on which other medical specialties rest when it comes to patient care. I also noticed that referring clinicians were coming to the radiology department for consultations with the radiologists to solve challenging cases and improve the health care management of patients. Throughout this time, I have been fortunate to come in contact with so many other mentors and teachers that have continued to shape my interest in radiology.
2. What has been the best professional accomplishment in your career?
Just as I was passionately encouraged, motivated and mentored to develop interest in radiology as a career, my best professional accomplishment is when I teach and mentor students and residents and see them excelling in their careers. It's always fulfilling for me to see a medical student develop interest in radiology as a career and to see a radiology resident succeed and qualify as a certified radiologist. It feels like I have "cloned" myself each time this happens.
3. What do you think is the biggest challenge facing radiology in the coming years?
In my opinion the biggest challenges facing radiology in the coming years are emerging diseases, like COVID-19 and emerging technologies, like AI, especially in developing nations with limited resources. The COVID-19 pandemic has really challenged and changed our perspective on many aspects of radiological management of patients, radiology education and research and has impacted on the way we interact globally. AI may seem to have tremendous contributions in patient care and management, especially in an era of increasing demand for imaging, but achieving global acceptability, affordability and maintenance of these emerging technologies may pose a challenge in the coming years.
4. What RSNA resources do you use/have you used to assist you with your professional development and in your daily practice?
Being an RSNA member has been extremely resourceful for me. The RSNA annual meeting has been invaluable to my professional development and practice. Through this meeting I have been able to meet with a diverse network of colleagues from around the world and that has tremendously added value to my professional development.
RSNA's educational resources like Radiology, RadioGraphics, RSNA Weekly, RSNA News, and RSNA Insider e-mails have greatly assisted me in my daily practice. RSNA's social media presence continues to be beneficial for me as a "social media doc" and a radiologist.
Reviewing manuscripts for RSNA Case Collection has helped me polish my research acumen on case reports. As an RSNA Committee for International Radiology Education (CIRE) member I have the opportunity to broaden my horizons on global radiology education and research.
5. When you're not working, how do you like to spend your free time?
I enjoy being with my family and friends. I also enjoy photography and writing about the importance of positive change on my blog.
Find Dr. Ahmadu on social media at #radiologistphotographer or at https://drahmadums.blogspot.com.