Innovative Solutions Showcased at RSNA 2021
Experience the latest technologies that will transform patient care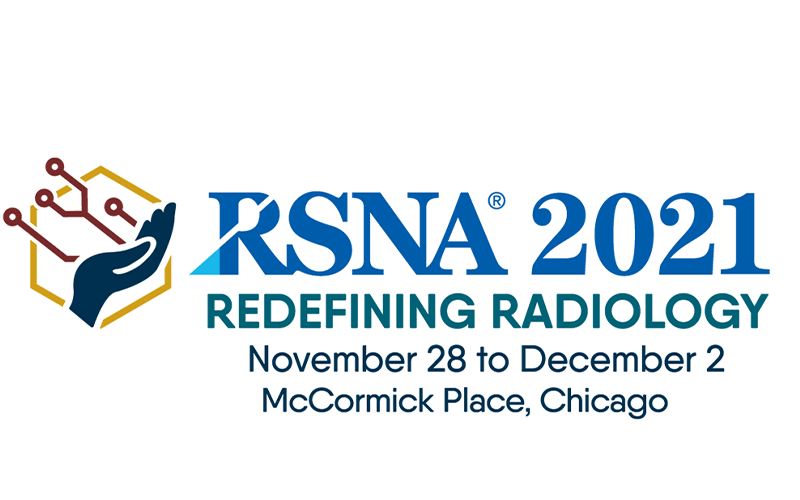 RSNA 2021 will showcase a variety of artificial intelligence (AI) and 3D printing products and services that introduce the latest technologies and clinical applications that are guiding radiology into a new era of patient care.
AI Showcase Highlights the Potential for AI in Radiology
Attendees looking to understand how AI is shaping diagnosis and workflow and impacting patient care should visit the AI Showcase. Located in the South Hall, the AI Showcase features more than 100 companies offering the opportunity to see the possibilities of AI firsthand. The AI Showcase is sponsored by AIRS Medical, annalise.ai and neurophet.
The RSNA AI Theater offers presentations on AI solutions that are fueling the future of imaging. A complete list of AI Theater presentations, offered daily between 10:30 a.m. and 3:45 p.m. Central Time (CT), is available at RSNA.org/Annual-Meeting/Program. (Click on Industry Program.)
Each day from 4 to 5 p.m. CT in the AI Theater, RSNA will offer sessions highlighting the Society's leadership in AI, including presentations about the new RSNA Imaging AI Certificate program, submitting content to Radiology: Artificial Intelligence, participating in the AI Challenges, and contributing data to Medical Imaging and Data Resource Center (MIDRC).
This year, the Imaging AI in Practice Demonstration is enhanced and presented live to showcase the new AI technologies and integration standards needed to embed AI into the diagnostic radiology workflow.
This multi-vendor interoperability exhibit uses real-world clinical scenarios and imaging studies to demonstrate AI tools and health information technology standards in action. The demonstration covers the radiology workflow, including imaging examination ordering, acquisition protocoling, image interpretation with AI clinical decision support at the point of care, reporting and incidental finding follow-up.
The informatics integration standards used in the demonstration include DICOM (Digital Imaging and Communications in Medicine), FHIR HL7 (Fast Healthcare Interoperability Resource, Health Level 7), the IHE (Integrating the Healthcare Enterprise) framework, CDE (Common Data Elements) reporting and others.
The Imaging AI in Practice Demonstration is a collaborative effort between industry partners, radiologists and imaging informaticists. Twenty-two vendors will demonstrate 32 live individual applications.
AI Challenge Award Recognition
The AI Challenge award winners will be recognized in the AI Showcase Theater on Monday, Nov. 29 at 4 p.m. CT.
This year's challenges are the SIIMFISABIO-RSNA COVID-19 Detection Challenge and the RSNA-ASNR-MICCAI BraTS 2021 Challenge. Winners will present their methods and results during the recognition program.
Learn more about the AI Challenges at RSNA.org/AI-Challenge.
3D Printing and Mixed Reality Showcase
Exhibitors in this dedicated showcase located in the North Hall feature the latest products in 3D printing, advanced visualization, holography and virtual reality. The critical role that radiology plays in creating the images used to develop models to assist in patient care and education will be evident in presentations and hands-on activities.
Experience the AI Deep Learning Lab
Attendees interested in deepening their understanding of AI applications can visit the RSNA AI Deep Learning Lab, located in the Learning Center. The Lab features 14 unique sessions developed by RSNA members covering a range of AI topics and skill levels including several beginner options. Many of the sessions will employ a combination of lecture and hands-on activities. Sessions will be held Sunday through Thursday. Attendees can bring their own devices for hands-on activities and to explore new tools, resources and topics in AI.
For More Information
Learn more about the RSNA 2021 Technical Exhibits at RSNA2021.Mapyourshow.com.
Find Exhibitors Alphabetically
Search Product Categories
Visit the Showcases and Pavilions
Learn about the First-Time Exhibitors
Review the Floor Plan