RSNA Webinar Will Discuss Workflow and Operations Challenges for Radiology
Learn how to prepare your organization for the future of streamlined patient care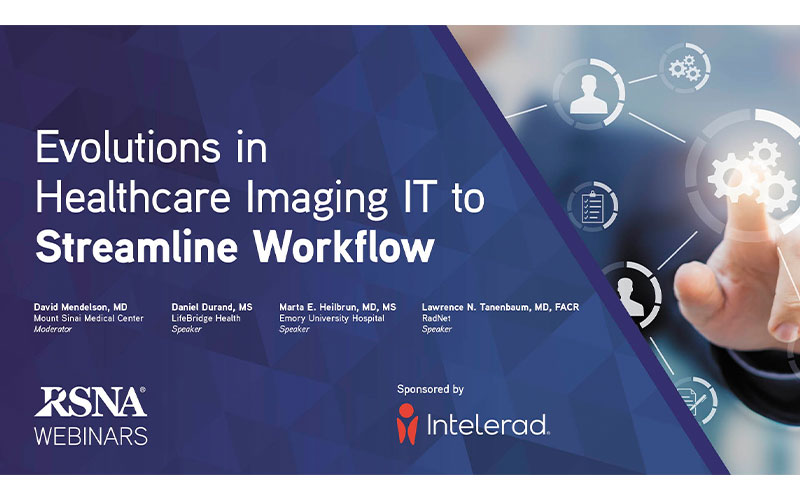 RSNA will host a webinar entitled, "Evolutions in Healthcare Imaging IT to Streamline Workflow," on Thursday, Sept. 23 at 11 a.m. (CT). This hour-long webinar is free and sponsored by Intelerad. Registration is required.
The webinar will discuss the challenges that large radiology groups, hospitals and hospital networks are faced with that can negatively impact their ability to deliver quality patient care. As a result of increasingly complex health care systems and workflow silos, many groups need to address suboptimal resource allocation, challenges with cost control and low visibility on business operations.
A panel of expert speakers will discuss key strategies for enhancing workflows and streamlining data, how to better leverage existing enterprise imaging investments and the importance of modernizing your infrastructure to properly prepare your organization for the future.
The webinar will be moderated by David Mendelson, MD, Mount Sinai Medical Center, NY.
Additional speakers on the panel include:
Daniel Durand, MD, LifeBridge Health, Baltimore, MD
Marta E. Heilbrun, MD, MS, Emory University School of Medicine, Atlanta
Lawrence N. Tenenbaum, MD, FACR, RadNet Inc., Riverside, CT
For More Information
Learn more about the webinar.
Read previous RSNA News stories related to workflow: