RSNA 2021 Plenary Lecture
Service Fanatics - How to Deliver Safe, High-Quality, Patient-Centric Care
Sunday, Nov. 28, 4 p.m. (CT)
---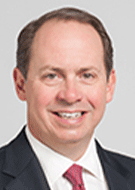 ---
As chief clinical transformation officer at Cleveland Clinic, James Merlino, MD, is responsible for helping to advance the success of Cleveland Clinic's performance and supporting its vision to become the best place to receive care anywhere.
Recognized as an expert in improving the patient experience, Dr. Merlino is frequently invited to speak on strategies to redefine care around the needs of the patient. In his lecture, "Service Fanatics —How to Deliver Safe, High-Quality, Patient-Centric Care," Dr. Merlino will discuss how radiologists can adapt his proven strategies to improve health care delivery at their own institutions.
"Good execution at the operational level requires us to have a solid handle on details," Dr. Merlino says. "As people move into the C-suite, they hold on to their operational persona and likely feel the need to do more. But success in the C-suite comes from our ability to be more strategic and trust that we have selected highly qualified people to take our places."
At Cleveland Clinic, Dr. Merlino oversees enterprise safety and quality and the Office of Patient Experience and Continuous Improvement.
With more than 30 years of health care experience, Dr. Merlino rejoined Cleveland Clinic in 2019 following five years at Press Ganey. At Press Ganey, he served as president and chief medical officer of the strategic consulting division and chief transformation officer. He led the development of an integrated organizational strategy to broaden the definition of patient experience to include safe, high quality, patient-centered care situated on a foundation of an aligned and engaged health care culture.
Dr. Merlino has led C-suite strategic sessions with more than 70 of the largest and most successful health care organizations in the U.S. and regularly coached CEOs, C-suite leaders and health care boards on health care strategy.
Prior to joining Press Ganey, Dr. Merlino served as chief experience officer and associate chief of staff at Cleveland Clinic, as well as a practicing staff colorectal surgeon in the Digestive Disease and Surgery Institute.
Dr. Merlino was named to Health Leaders Magazine's list of "20 People who make Healthcare Better," and Becker's list of top 50 experts in health care safety four consecutive years. He has been widely published in academic papers, and is the author of the book, Service Fanatics: How to Build Superior Patient Experience the Cleveland Clinic Way. He is an editor of the best-selling safety book Zero Harm: How to Achieve Patient and Workforce Safety in Healthcare.
Dr. Merlino earned his bachelor's degree in business administration from Baldwin-Wallace College in Berea, Ohio, and his medical degree from Case Western Reserve University School of Medicine in Cleveland. Dr. Merlino completed his general surgery training at University Hospitals of Cleveland and a colorectal surgery fellowship at Cleveland Clinic.