RSNA 2021 Honorary Member
---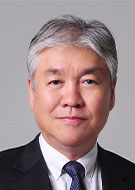 ---
A natural leader dedicated to advancing knowledge worldwide, Seung Hyup Kim, MD, PhD, is a professor emeritus of radiology and urology at Seoul National University Hospital and founder of the public education-driven K Radiology Clinic.
"Dr. Kim is an exemplary leader and educator," said RSNA President Mary C. Mahoney, MD. "His contributions, particularly his ongoing efforts to train our next generation of radiologists, are inspiring."
A trailblazer in the field, Dr. Kim's devotion to open global collaboration is clear. He served as secretary-general of the 11th Congress of the World Federation for Ultrasound in Medicine and Biology (WFUMB), held in Seoul in 2006. His work was instrumental in transforming the Korean Society of Ultrasound in Medicine (KSUM), and he expanded the society's annual congress to an international one, using the tagline "KSUM Open" and adopting English as a congress language. From 2019 to earlier this year, Dr. Kim served as president of WFUMB.
Dr. Kim continues to share his expertise on a worldwide scale. He has written two volumes of the Radiology Illustrated series — Uroradiology and Gynecologic Imaging. He also leads a research institute dedicated to the investigation of treatment for nutcracker syndrome, a disorder in which the major arteries compress the renal vein. Dr. Kim asserts that although this condition is widely known as a rare disease, it may in fact be much more common than previously thought.
Dr. Kim received his medical degree in 1979, his master's degree in 1982, and his PhD in 1988 at Seoul National University (SNU). After military service, he became a radiology instructor at SNU and was a visiting radiologist at the Hospital of the University of Pennsylvania. At SNU, his work focused on genitourinary imaging, serving as a professor of radiology and of urology. He was named associate dean of the university in 2002, served as chair of the Department of Radiology from 2008 to 2010, and then was appointed vice president of the university hospital.
Now retired, Dr. Kim continues to serve as a consultant in kidney ultrasound and urogenital CT and MR, most notably at the Ewha Women's University Mokdong Hospital in Seoul.
Dr. Kim also directs a professional imaging clinic in a nephrology hospital, and he has established the website k-radiology.com to freely share tutorials with colleagues and trainees on urogenital topics that may not be extensively taught in clinical settings. He encourages his fellow senior specialists to share their own knowledge on the site for new generations of trainees.