---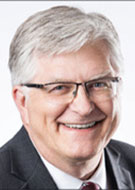 ---
An innovative leader with a passion for reimagining technology, Richard L. Ehman, MD, is a professor of radiology and the Blanche R. and Richard J. Erlanger Professor of Medical Research at the Mayo Clinic in Rochester, MN.
"Dick Ehman is an extraordinary thinker and enormously successful researcher," said RSNA President Mary C. Mahoney, MD. "He has played an important role in shaping the approach to radiology research by emphasizing the importance of clinical impact."
Dr. Ehman has spent decades researching and refining novel medical imaging techniques. He is the inventor of MR elastography, and he holds more than 80 U.S. and international patents for the technologies he has developed — with a focus on rapid transition to clinical practice.
Born in Saskatoon, Saskatchewan, Canada, Dr. Ehman earned an undergraduate degree in physics in 1974 and his medical degree in 1979 from the University of Saskatchewan, then moved on to an internship and residency at Foothills Medical Centre in Calgary, Alberta and the University of Calgary. He completed a research fellowship at the University of California, San Francisco, and his subsequent clinical fellowship at Mayo Clinic, joining the staff there in 1985 and rising to the rank of full professor of radiology within ten years.
Known for his contributions in clinical practice, education, research and leadership, Dr. Ehman was deeply involved in the early exploration and translation of body imaging applications of MRI. Throughout his career, he has advocated for rethinking the use of advanced medical imaging technologies, placing a focus on value, to extend the utility and accessibility of the most powerful techniques.
Dr. Ehman brought this philosophy to his RSNA presidency, addressing the community at RSNA 2017 with the premise that innovations in radiology with extraordinary clinical impact have often been powered by a unique fusion of biomedical and physical sciences and a "use-inspired" research strategy. While radiology has led the way, the value of this approach is now being increasingly recognized by the rest of the medical research community.
Internationally recognized for his talent and vision, Dr. Ehman was elected to the U.S. National Academy of Medicine in 2010. He has served as chair of the National Institutes of Health Radiology and Nuclear Medicine Study Section, and as a member of the National Institute of Biomedical Imaging and Bioengineering Advisory Council. He is a past president of the Academy for Radiology and Biomedical Imaging Research, the International Society for Magnetic Resonance in Medicine and the Society for Advanced Body Imaging. Dr. Ehman, a past RSNA Research Scholar Grant recipient, also used his expertise to advise the RSNA R&E Foundation as a member of the Board of Trustees.
Dr. Ehman has been awarded gold medals by the International Society for Magnetic Resonance in Medicine, the Asian Oceanian Society of Radiology and the Society for Advanced Body Imaging. He is a fellow of the National Academy of Inventors and an honorary member of the European Society of Radiology, the Chinese Taipei Society of Radiology, the Chinese Society of Radiology and the American Association of Physicists in Medicine. He was named RSNA Outstanding Researcher in 2006 and twice recognized as an RSNA Honored Educator.