Behind the Scenes of RSNA's Technical Exhibits
See the Innovative Possibilities in the Live and Virtual Technical Exhibits
BY CINDY ZINKOVICH
October 27, 2021
---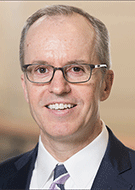 ---
Pull back the curtain on the Technical Exhibition at the world's largest medical imaging forum, RSNA's Scientific Assembly and Annual Meeting, and you'll see 18 months of preparations, thousands of people, state-of-the-art technology and a level of pizazz rivaling Disney.
This year is no exception.
"When you visit the RSNA 2021 Technical Exhibits you will find the innovations and advancements that are transforming the future of radiology," said Curtis P. Langlotz, MD, PhD, RSNA Board liaison for information technology and annual meeting. "Whether you attend the exhibit hall in person or via the Virtual Exhibition, you will find all the information you need about the products, services and technologies that enhance your practice."
Six months before the annual meeting and while in the throes of supporting the current year's exhibitors, RSNA's technical exhibition team is already starting to envision the following year.
Space rates are set and floor planning begins for the spectacular show, which, based on exhibition net square footage, earns spots annually on Trade Show Executive's Gold 100 and Trade Show News Network's Top 250.
In addition to RSNA's dedicated exhibition staff and the members who serve on the Technical Exhibits Committee, staffers from the Society's corporate relations, meetings and marketing departments are involved throughout the year.
"We're always looking at keeping the show fresh and what hot areas we can develop," said John P. Jaworski, CEM, RSNA director of Meeting and Exhibition Services. "When we develop new showcases, we have to carve out space on the show floor, create packages and have everything ready to roll one year out, in time for the current meeting. At one point, we had sample kiosks for the AI Showcase to present to exhibitors so they would know what they were purchasing for the next year and what it will look like."
The popular AI Showcase and Theater and the 3D Printing & Mixed Reality Showcase are returning this year, along with the First-Time Exhibitor Pavilion, Educators Row and Recruiters Row.
RSNA Technical Exhibits By The Numbers
1,000 The number of people who help load-in and build exhibits
20,000 The number of technical exhibits floor staff during an RSNA meeting
125 The number of first-time exhibitors each year
500+ The number of expected exhibitors at RSNA 2021
18 months The time it takes RSNA staff to develop each technical exhibit floor
450,000 The square footage of space taken up by the RSNA Technical Exhibits
Building a Technical Exhibits Floor From the Ground Up
RSNA exhibitors spend eight days moving into McCormick Place for the meeting, engaging the services of approximately 800 people from global event agency Freeman. Another 157 companies have been approved to work the show floor on behalf of participating exhibitors, who registered nearly 20,000 personnel for RSNA 2019.
Exhibitors occupy 450,000 square feet in a typical year and some of the biggest booths are half the size of a football field. The aisles in between require nearly enough carpet to extend the entire length of Chicago from north to south.
During the annual meeting, RSNA's exhibition team expands to include three floor managers and 25 RSNA members, or microvolunteers, who welcome new and returning exhibitors and help ensure a good experience.
All the behind-the-scenes preparation and onsite organization is working. Eight in 10 exhibitors return annually, and areas such as the expansive AI Showcase have been known to nearly sell out a year in advance. Approximately 125 new exhibitors sign on each year.
Live Meeting Taps All Senses
Participating companies create multisensory experiences for attendees. From massive video displays and elaborate motion graphics to signature scents and coffee foam depicting corporate logos, every detail is taken into account.
"Exhibits have become very hands-on," said Jorie Dydo, CEM, RSNA senior manager of Exhibition Services. "There are presentations, scans and a lot of interaction. You'll see doctors with goggles on and they're doing the entire IR portion of a procedure."
Added Features for 2021 Live and Virtual Attendees
With more than 500 technical exhibitors confirmed and a COVID-19 vaccination requirement in place to attend, it's full steam ahead for RSNA 2021 in Chicago. Although there are no formal social distancing requirements currently in place, exhibitors are incorporating additional precautions such as extra booth cleaning and wider spaces, touchless elements, digital experiences and journey mapping with dedicated entry and exit into their booths.
Virtual attendees can engage with exhibitors in real-time this year via elements such as live interactive demonstrations and live chat. All meeting registrants can access the Virtual Exhibition and industry programming through April 30, 2022.
"Companies and attendees are excited about returning to Chicago to meet in person and engage in this year's apropos theme, Redefining Radiology — a meeting that will showcase new ideas and technologies that redefine what it means to work as a radiologist," Dydo said.
For More Information
Learn more about the RSNA 2021 Technical Exhibits at RSNA2021.MapYourShow.com.
Register for RSNA 2021 at RSNA.org/Annual-Meeting.